San Antonio Spurs: One offseason trade with every team – Orlando Magic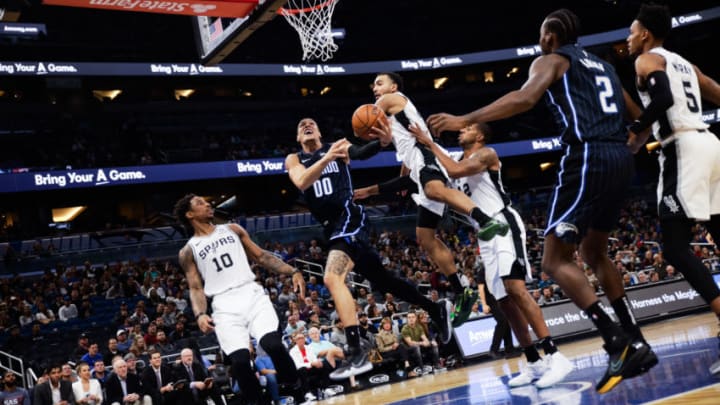 ORLANDO, FLORIDA - NOVEMBER 15: Aaron Gordon #00 of the Orlando Magic attempts to score against the defense of the San Antonio Spurs in the first quarter at Amway Center on November 15, 2019 in Orlando, Florida. NOTE TO USER: User expressly acknowledges and agrees that, by downloading and/or using this photograph, user is consenting to the terms and conditions of the Getty Images License Agreement. (Photo by Harry Aaron/Getty Images) (Photo by Harry Aaron/Getty Images) /
After years of red-hot pursuit, the Orlando Magic might get their chance to trade for the San Antonio Spurs' star wing this offseason.
Why yes, this is another article about the San Antonio Spurs and Orlando Magic making a DeRozan deal! We haven't touched on this in some time, but let's revisit where these teams are at these days. Orlando has been an eighth-seed contender in the Eastern Conference for two seasons now but didn't make much progress between this year and the last one.
As a matter of fact, the Magic regressed during the 2019-20 season as a whole. They sit at 10th in Defensive Rating, 24th in Offensive Rating and 18th in Net Rating through 65 regular-season games. That's two spots worse in both Offensive and Defensive ratings compared to their 2018-19 campaign and four spots worse in Net Rating.
For the most part, this team is very similar to what it was the year before with three major differences: Jonathon Isaac has a greater role, Markelle Fultz is blossoming into the player many hoped he'd be coming out of Washington and injuries screwed up this group's trajectory.
While Fultz did his best to be a lead playmaker for this group, averaging a team-high 5.2 dimes per game, the Magic still don't have a go-to guy to create plays for them. None of their players command a dominant offensive presence, which has been crucial in their difficulties over the last few years. Therefore, trading for a dominant offensive player whose defensive weaknesses can be masked by the rotation is probably a better option than settling for mediocrity.
After extending his contract, the San Antonio Spurs send DeMar DeRozan and Chimezie Metu to the Orlando Magic for Aaron Gordon and Mo Bamba.
We've already discussed what I find to be a feasible contract extension for DeMar DeRozan in this series — three years, $100 million is in the range of what a team like Orlando could pay for DeRozan. With Evan Fournier and D.J. Augustin as the highest-paid players on their team to hit free agency this offseason, they could relinquish a few contracts and go over the cap by using their bird rights to flesh out the roster.
Adding Chimezie Metu to the deal softens the blow of losing Mo Bamba, who the Spurs could implement as a backup center or the next man up if Jakob Poeltl gets a big offer elsewhere. Bamba is a game-changer on defense whose shot-blocking and expansive offensive repertoire would become unexpendable assets to the Spurs if developed within the system.
The main piece in this deal, however, is Aaron Gordon. Known mostly for being a high-flyer, Gordon has transformed himself into a much more complete player. A willing passer from the forward spot, Gordon can fit into multiple positions and mucks up plays on defense using his verticality and instincts. Now in his sixth season, it's clear that he's not going to be the star that Orlando hoped he might be. However, San Antonio provides him with a great learning experience that won't lean on him as heavily, allowing him to focus on the things that make him great.
More from Air Alamo
Gordon peaked through 12 games in February in which he averaged 18.6 points, 8.9 rebounds, 5.7 assists and 1.2 steals on 47.9 percent shooting from the floor and 39.6 percent on 53 attempts. This is the version of Gordon that the Spurs would look to harness while parting ways with a franchise player who never fit with the dynamic of the team's youth anyway.
Creating win-win scenarios is very difficult in this league and for Orlando, making this move would take some sacrifice. Fans would be wary to part with Gordon's high-flying antics and the hope of what Bamba could become, but they'd ultimately be a better team for it. Gordon and Isaac are a bit redundant and it's plain to see that Isaac is the right choice over Gordon here. Spurs fans fantasize about getting the former Florida State big, but it's simply unrealistic.
From a salary standpoint and his value as a trade asset, Gordon is the more likely player to land in silver and black than Isaac is and quite frankly, it's one of the better returns for DeRozan.
You can find other articles in this series by clicking on the team name below:
Western Conference: LA Clippers, Sacramento Kings, Los Angeles Lakers, Phoenix Suns, Golden State Warriors, Portland Trail Blazers, Utah Jazz, Oklahoma City Thunder, Denver Nuggets, Minnesota Timberwolves, New Orleans Pelicans, Houston Rockets, Dallas Mavericks, Memphis Grizzlies.    Eastern Conference: Indiana Pacers, Cleveland Cavaliers, Chicago Bulls, Detroit Pistons, Milwaukee Bucks, Charlotte Hornets, Atlanta Hawks, Miami Heat.