San Antonio Spurs: One offseason trade with every team – Chicago Bulls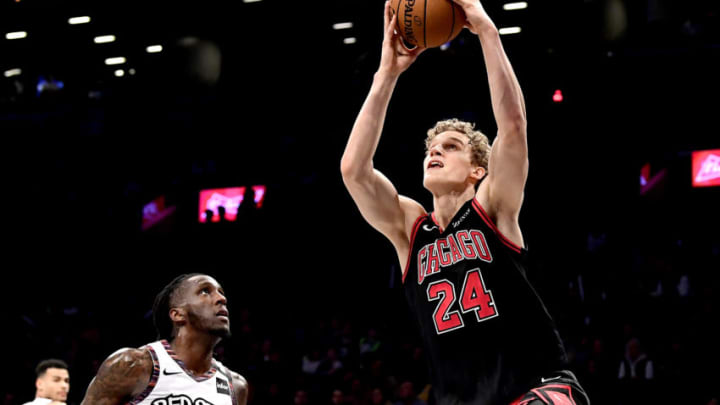 NEW YORK, NEW YORK - MARCH 08: Lauri Markkanen #24 of the Chicago Bulls scores a basket on a layup against the Brooklyn Nets in the second half at Barclays Center on March 08, 2020 in New York City. NOTE TO USER: User expressly acknowledges and agrees that, by downloading and or using this photograph, User is consenting to the terms and conditions of the Getty Images License Agreement. (Photo by Steven Ryan/Getty Images) /
No one would be surprised to hear that the Chicago Bulls are changing things around this offseason and the San Antonio Spurs could benefit.
The San Antonio Spurs should be perusing the trade market for decent suitors and they might have one in the Windy City. Now that there's a new front office in town, the Chicago Bulls could be bound for a retooling. It's all been downhill since the infamous Jimmy Butler trade in 2017 and the organization finally parted ways with its horrid front office combination of Gar Forman and John Paxson. With Artūras Karnišovas assuming responsibilities, I doubt anyone would be surprised if they shake it up.
One of the best ways to do that is to start moving around pieces that don't make much sense in the long-term and the main issue here is the Bulls' frontcourt. This is a team full of offensive firepower that can't seem to make it work while remaining pretty mediocre on defense. Most of the offensive workload gets carried by Zach LaVine, who I expect to remain in Chicago for the duration of his contract.
That leaves a plethora of young players who don't mesh together along with a few nobodies taking up cap space. Karnišovas comes from a Denver front office that knows the importance of building a defensive-minded unit around score-first players, which leads me to believe they'd be interested in the deal proposed below.
Lauri Markkanen and Cristiano Felicio land with the San Antonio Spurs in exchange for Jakob Poeltl (S&T), a 2020 second-pick pick and a future second.
The first aspect that's crucial to touch on here is that defensive stud Jakob Poeltl is getting a contract outside of what the Spurs would be willing to pay. By my estimation, that's the only way to get him out of San Antonio since he's a restricted free agent and the Spurs can match any offer sheet he receives. In this instance, the Bulls would be giving him the same deal that Jonas Valanciunas just got from the Memphis Grizzlies: three years, $45 million.
It sounds wild until you remember what they paid Cristiano Felicio just a few years ago and Thaddeus Young more recently than that. By bringing in Poeltl, they can dump the final year of Felicio's deal and move on from the Lauri Markkanen era that went so poorly for them. Now, Wendell Carter Jr. can slot into the four-spot and start playing at a position that fits more naturally for his measurements and playstyle.
More from Air Alamo
For San Antonio, they part with second-rounders that they probably don't need to bring in a new project in Markkanen. The 23-year-old from Finland has averaged 16.1 points and 7.6 rebounds in 170 NBA games. He's a floor spacer who can handle the ball better than most players his size and can be relied upon as an underrated passer.
There's still star potential here for Markkanen and if any team could get it out of him, it's the Spurs. If he pans out then San Antonio adds another crucial piece to its young core but if not, they can simply move on rather shortly. There's really no telling what Markkanen is going to get when he hits restricted free agency in 2021 but I can assure you this —If the Spurs aren't sold on having a star on their roster right now and want a scorer to lead the way in the future, Markkanen is a better bet than Poeltl.
They'd be sacrificing Poeltl's defense for Markkanen's offense, but in this scenario, Poeltl was halfway out the door already anyway. This was, they can get something for him and he can go find the larger role that he is looking for in the immediate future.
You can find other articles in this series by clicking on the team name below:
Western Conference: LA Clippers, Sacramento Kings, Los Angeles Lakers, Phoenix Suns, Golden State Warriors, Portland Trail Blazers, Utah Jazz, Oklahoma City Thunder, Denver Nuggets, Minnesota Timberwolves, New Orleans Pelicans, Houston Rockets, Dallas Mavericks, Memphis Grizzlies.    Eastern Conference: Indiana Pacers, Cleveland Cavaliers.