Spurs' opponents are making unfortunate history at ATT Center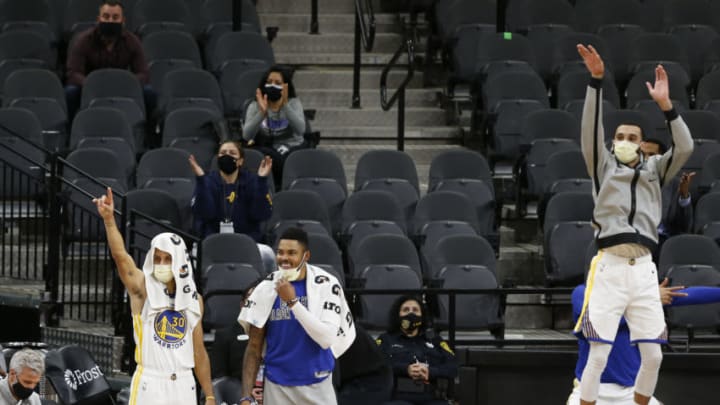 Golden State Warriors (Photo by Ronald Cortes/Getty Images) /
San Antonio Spurs /
JJ Redick Mandatory Credit: Derick E. Hingle-USA TODAY Sports
It started with the San Antonio Spurs giving up a staggering 21 made threes to the Utah Jazz in the sixth game of the season. The main culprits? Donovan Mitchell and Bojan Bogdanovic. Both good shooters capable of getting hot — fair enough.
A few weeks later, Memphis traveled to San Antonio and made 17-of-35 from distance, including a 4-for-7 night for career 31.7 percent outside shooter De'Anthony Melton. Two days later, he buried five more threes in nine attempts while Gorgui Dieng nailed all three of his attempts.
Right around the time 30.4 percent 3-point shooter Eric Paschall nailed his third three in as many attempts Tuesday at the AT&T Center, I decided I needed to do some digging when I got home. Surely this trend wasn't all in my head.
The biggest issue the San Antonio Spurs have to address
Upon doing some diving into opponents' 3-point shooting in San Antonio, my feeling was confirmed emphatically. Let's first start with the overall 3-point shooting percentage the Spurs are allowing through 25 games. With 38.9, San Antonio is tied for fifth-worst in the league — not great, but not atrocious.
On the road, the Spurs are allowing opponents to shoot just 35 percent from beyond the arc, which is sixth-best in the NBA. If you understand how averages work, you know what this must mean for how badly San Antonio has defended the 3-point line from home so far.
Next: The Dreadful Stat
San Antonio Spurs /
San Antonio Spurs Lonnie Walker Mandatory Credit: Daniel Dunn-USA TODAY Sports
Opposing shooters are loving the AT&T Center
As of Tuesday's loss to Golden State, San Antonio has allowed 41.3 percent shooting at home through 19 games. That's by far the worst in the league this season and on pace to be the worst since NBA.com has been tracking that specific stat. Cleveland is second at 40.8 percent but gives up two fewer made threes per game than San Antonio.
The Spurs are not only allowing the highest 3-point percentage at home, but they're tied for third-worst in made threes surrendered. That's a lethal combination.
For reference regarding the unprecedented percentage the Spurs are allowing, here's a look at the worst team in this category since tracking of it began in 2013-14, along with the percentage teams have given up.
2013-14: 76ers – 40 2014-15: Mavericks – 37.8 2015-16: Suns/Raptors – 38.4 2016-17: Hawks – 37.1 2017-18: Cavaliers – 39.5 2018-19: Cavaliers – 38.8 2019-20: Warriors – 39.2 2020-21: Spurs – 41.3
There's only been one time a team finished the season allowing 40 percent or better 3-point shooting at home, and that was seven years ago. The Spurs have played over half of their home games for the season, so still being at this pace is alarming.
Now that we know the overlying problem, the first question is, how is this happening?
Next: Where the Spurs are slipping
San Antonio Spurs DeMar DeRozan (Photo by Ronald Cortes/Getty Images) /
Where the San Antonio Spurs are faltering
There have been a few unexplainable nights at the AT&T Center this season — ones where teams are catching fire despite decent Spurs defense. However, the overarching issue San Antonio has had all season is failing to contest 3-pointers.
Opponents are averaging 7.6 made wide-open 3-pointers made per game against the Spurs this season overall, home and away included. That's 23 points San Antonio is giving up from the outside without a defender even within six feet.
On the road, the Spurs are tied for sixth-best at limiting wide-open 3-pointers made, giving up just 6.1 per game on 36.5 percent shooting. They're dead last in the same category at home, giving up 8.5 made wide-open threes per game on 45.2 percent shooting.
It's a bizarre disparity, given that it's not as if the Spurs change their personnel on the road as opposed to home. Still, it's too big of a disparity to ignore, with almost 35 percent of the season completed.
Could the issue be the Spurs just miss their fans that much? Do they not focus enough on closeouts when there aren't thousands of people shouting 'defense'? That might be part of it, but a Gregg Popovich-coached team is usually more disciplined than needing to rely on such a thing.
Perhaps the Spurs get too relaxed at home and have no choice but to lock in on the road?
Let's just say the annual Rodeo Road Trip couldn't have come at a better time. The next seven games will likely say a lot about whether San Antonio will be a shoo-in for the playoffs this season. They'll also show if this surprising trend is just an anomaly or a real issue.
San Antonio's seven-game road trip begins Friday at 7:30 PM ET in Atlanta.