San Antonio Spurs: One offseason trade with every team – New Orleans Pelicans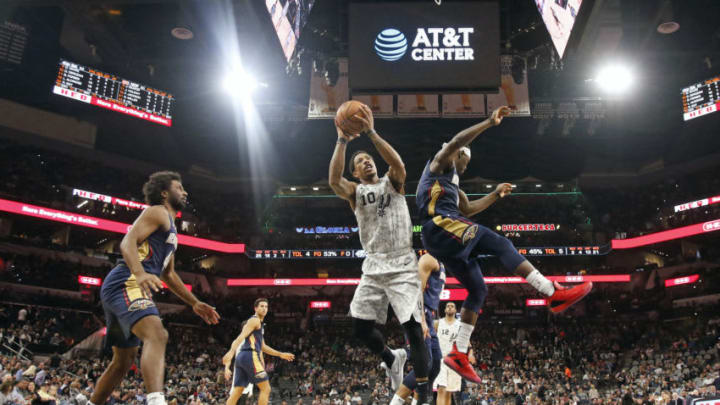 SAN ANTONIO, TX - FEBRUARY 2: DeMar DeRozan #10 of the San Antonio Spurs shoots past Jrue Holiday #11 of the New Orleans Pelicans at AT&T Center. (Photo by Ronald Cortes/Getty Images) /
Moving to inner-division trades is tricky, but the San Antonio Spurs and New Orleans Pelicans have players who can complement each other's teams.
Oh man, it's so tempting to trade Zion Williamson to the San Antonio Spurs in this deal but I don't think the New Orleans Pelicans would give a second thought to any offer for Zion at this point. He's got it all—He's marketable, flashy, fun, effective, plays hard on both sides of the floor and is one of the greatest physical anomalies in sports history.
So yeah, a hypothetical trade for Zion is out. I also considered looking at the sign-and-trade possibilities to bring Brandon Ingram to the River City, but they're probably going to match anything that he's offered anyway. For more on that possible trade, you can read an article I wrote about it by clicking here. The likelihood is slim, but it's not a sure-fire impossibility.
While most of these trades have been to make the Spurs younger, this one is to buy-in and try to make the most of this next season with DeRozan and Aldridge, assuming the former opts-in and the latter gets healthy. While it's not ideal for the young guards, bringing in this veteran could be huge for San Antonio in making a playoff push before their whole cap sheet evaporates in 2021.
For Jrue Holiday and Zylan Cheatham, the San Antonio Spurs ship off Patty Mills, Rudy Gay, Keldon Johnson and their 2020 second-round pick.
So yeah, that seems like a whole heck of a lot, but the biggest loss here is rookie Keldon Johnson whose going to have a hard time cracking the rotation as it is. While he's got a ton of heart and in reality, I look forward to watching him develop with the Spurs, he's got some trade value right now that might entice Pelicans to embrace that youth movement.
Given the NBA's difficult financial circumstances because of COVID-19 and their issues with China, the league is going to be incentivized to minimize their contracts ASAP. With that being the case, the Pelicans could look to move Jrue Holiday for expiring deals so they can pay Ingram without being concerned with the cap-sheet implications moving forward.
They get to surround Williamson with experienced, floor-spacing veterans who can come off the bench and give New Orleans some firepower while bringing in an absolute dog on defense in Keldon to help ease the transition to playing without Jrue. The fact that Patty and Rudy are both expiring gives them more financial flexibility in a loaded 2021 free-agent class.
More from Air Alamo
Meanwhile, the Spurs get back one of the game's most underrated killers in Holiday to form the best defensive guard rotation in the NBA between him, Dejounte Murray and Derrick White. Holiday can hit the deep-ball, lock-up on defense and set the tempo for the rest of the team on both ends of the floor with his floor general-mentality. It'd give the Spurs a chance to go out and compete ASAP while keeping in a similar position to what they're in right now with a veteran player's impending player-option in 2021.
The most underrated part of this trade is getting back two-way big man Zylan Cheatham on a two-way contract. He's a player who I vouched for first-hand coming out of last year's draft since I saw him up-close and personal at ASU before he declared for the 2019 NBA Draft. This is a tenacious, two-way forward who can play three positions comfortably, defend near the rim and on the perimeter, space the floor at times and serve as a tertiary passer.
San Antonio would be getting him in a sign-and-trade off of his two-way deal, essentially bringing him in on a three year, $4.5 million rookie contract. That way, they can bring something back in the deal to make up for their second-round pick from this season.
You can find other articles in this series by clicking on the team name below:
Pacific Division: LA Clippers, Sacramento Kings, Los Angeles Lakers, Phoenix Suns, Golden State Warriors — Northwest Division: Portland Trail Blazers, Utah Jazz, Oklahoma City Thunder, Denver Nuggets, Minnesota Timberwolves.