San Antonio Spurs: One offseason trade with every team – Oklahoma City Thunder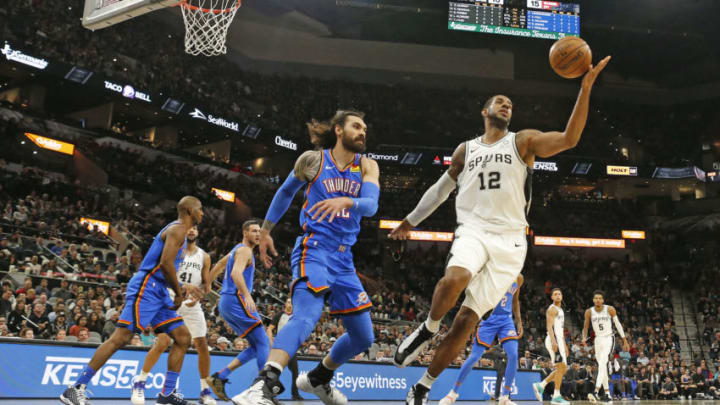 SAN ANTONIO, TX - JANUARY 2: LaMarcus Aldridge #12 of the San Antonio Spurs reaches for a loose ball agains Steven Adams #12 of the Oklahoma City Thunder during first half action at AT&T Center on January 2, 2020 in San Antonio, Texas. NOTE TO USER: User expressly acknowledges and agrees that , by downloading and or using this photograph, User is consenting to the terms and conditions of the Getty Images License Agreement. (Photo by Ronald Cortes/Getty Images) /
If the San Antonio Spurs could pull off a deal that taps in the OKC Thunder's wealth of future draft capital, it'd bode well for their impending rebuild.
Expiring contracts are an underrated commodity in the NBA and the San Antonio Spurs have a lot of them ahead of the jam-packed 2021 offseason. This year is going to cut into that a bit, but San Antonio has about $87.7 million coming off the books next offseason including the deal of a future Hall of Fame candidate in LaMarcus Aldridge, who's terrorized the OKC Thunder in years past.
The Thunder are in an interesting spot as the No. 5 seed in the Western Conference heading into the Orlando Bubble. Their best players have a 14-year age gap between them, but that hasn't stopped them from becoming a feisty playoff team with the potential to make a splash in the near future. With that in mind, it may be wise to add some more low-risk, high-reward talent to accommodate CP3 before going all-in on the SGA era in Oklahoma City.
Swapping rotation players for a fresh start might be just what the Spurs need to get back into the playoff picture. There's been an underlying attraction between center Steven Adams and San Antonio for some time now and his expiring deal leaves the door open for a world of possibility after the 2021 season. He won't get anything close to the $27.5 million he's earning next season, so the Spurs can retain him and still have enough money to go big-game hunting in free agency.
The San Antonio Spurs swap offense for defense, send LaMarcus Aldridge and Trey Lyles for Steven Adams, Terrance Ferguson and the LA Clippers' 2022 first-round pick.
For as great as Lyles has been in his first year with the Spurs, he's not going to make a world of difference for this team in the long-run. He's got the potential to be an elite role player for years to come, but San Antonio invested the 19th pick in 2019 in Luka Samanic, a versatile power forward who you've got to suspect is being groomed for a starting role in the future.
Parting ways with him and an aging Aldridge opens up more opportunities for younger players. For as talented of a scorer and rim-defender, Aldridge is at this point in his career, he doesn't make much sense for the future of this organization. Whether DeMar DeRozan returns or not, San Antonio is going to start leaning more heavily on its young players as soon as the Orlando bubble.
Adams doesn't command as much offensive attention, but he's one of the game's best screeners and offensive rebounders while remaining comparatively agile for a player of his size. He's one of the strongest men in the NBA, which helps him when banging bodies down low, and he's extremely coachable, which bodes well for his fit in the River City. He won't require as many minutes as Aldridge, opening the way for Jakob Poeltl to fill a larger role next season.
LaMarcus Aldridge dropped a career-high 56 PTS in 2OT win over the Thunder ? pic.twitter.com/DP21CwGR3S
— Bleacher Report (@BleacherReport) January 11, 2019
More from Air Alamo
San Antonio also returns a promising third-year small forward in Terrance Ferguson, who doesn't fit well in OKC long-term. He had a rough season with his role being minimized and a slew of personal issues, but that doesn't take away from the fact that he's a very talented wing defender with the potential as a multi-faceted scorer. He became way too accustomed to playing with Russell Westbrook, which put him in an awkward position this season when three different facilitators with very different styles began to run the offense.
Ferguson has the potential to be the crowned jewel of this trade for the Spurs as head coach Gregg Popovich can help unlock some of his scoring potential by putting him in positions to succeed. They need his defense more than anything, which is the basis of the deal.
Since the Thunder are getting back the best player in the deal by a considerable margin, it's not out of pocket to ask for one of those extra draft picks that OKC is stashing. They can have as many as 13 picks in the next seven drafts, which is way more than any team needs. General manager Sam Presti doesn't have to be stingy with those draft assets and Aldridge is one of the better players who could be available this offseason. Having a CP3/Aldridge pick-and-roll sounds phenomenal.
This feels to me like one of the few deals in professional sports in which both teams win.
You can find other articles in this series by clicking on the team name below:
Pacific Division: LA Clippers, Sacramento Kings, Los Angeles Lakers, Phoenix Suns, Golden State Warriors       —       Northwest Division: Portland Trail Blazers, Utah Jazz