San Antonio Spurs aiming to welcome back fans sooner than expected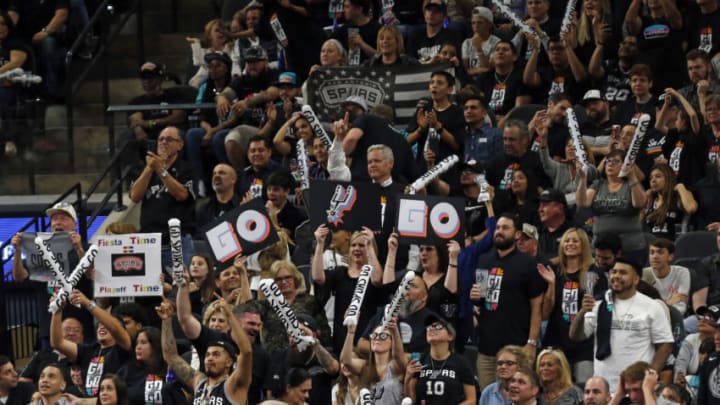 San Antonio Spurs fans (Photo by Ronald Cortes/Getty Images) *** local caption *** /
Pretty soon, the San Antonio Spurs might not have to play to near silence at home. Tuesday night will be the 15th game at the AT&T Center without fans as the city continues to combat the coronavirus pandemic. After the rematch against Golden State, the Spurs will embark on a seven-game road trip spanning 13 days before heading back home.
According to an AP statement after Monday's 105-100 victory over the Warriors, a limited amount of fans could be returning to cheer on the Spurs as early as the last game in February.
The full release is as follows:
"The Spurs are targeting a return by fans for late February or early March following the city's annual Stock Show & Rodeo, according to an email sent to season ticket holders last week. The Spurs invited family members as well as full-time staff members to attend Monday's game as part of a test run for whenever fans can return."
Going by the date range specified, the games San Antonio could be targeting would be one of the final four games of the first half of the season, which will all be at home.
2/27 – New Orleans Pelicans @ San Antonio Spurs, 6 pm ET3/1 – Brooklyn Nets @ San Antonio Spurs, 8:30 pm ET3/2 – New York Knicks @ San Antonio Spurs, 8:30 pm ET3/4 – Oklahoma City Thunder @ San Antonio Spurs, 8:30 pm ET
As of Monday evening, San Antonio's Bexar County had reported 183,436 cases of COVID-19, with 2,362 resulting in fatalities, according to SanAntonio.gov. The number of daily cases has slowly been dipping since February 2nd, but still not at a rate we'd like to be seeing.
Given that the Spurs won't be home for another 18 days after Tuesday's game, they are likely optimistic that the city will have things more under control by the end of the month. Still, the team and arena alike have been among the safest in the NBA, so it wouldn't be a surprise if they held out hosting fans until after the All-Star break.
We'll continue to monitor the situation as the end of the road trip approaches and keep you updated accordingly.