Evaluating LaMarcus Aldridge's long-term future with the San Antonio Spurs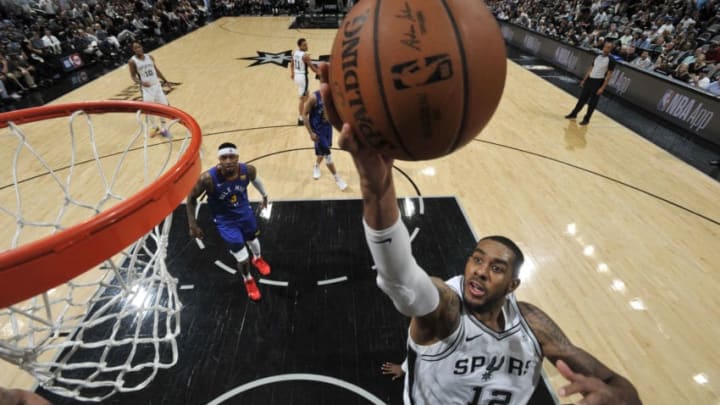 SAN ANTONIO, TX - APRIL 20: LaMarcus Aldridge #12 of the San Antonio Spurs shoots the ball against the Denver Nuggets during Game Four of Round One of the 2019 NBA Playoffs on April 20, 2019 at the AT&T Center in San Antonio, Texas. NOTE TO USER: User expressly acknowledges and agrees that, by downloading and or using this photograph, user is consenting to the terms and conditions of the Getty Images License Agreement. Mandatory Copyright Notice: Copyright 2019 NBAE (Photos by Mark Sobhani/NBAE via Getty Images) /
Even though he's been the rock of the San Antonio Spurs for the last few years, LaMarcus Aldridge isn't guaranteed to stay with the team past this season.
Although it took some adjusting from all parties, the San Antonio Spurs and LaMarcus Aldridge have ultimately been a good fit over the course of the last four seasons. With three all-star bids and consecutive playoff appearances to show for it, Aldridge has worked his tail off to stay in-shape and adjust his play style to the teachings of Gregg Popovich.
Aldridge has served as a transitionary piece between Tim Duncan the player and Tim Duncan the coach – he's a link between eras for this organization. He's done his job to the best of his ability and has become a more well-rounded player for it.
Unfortunately, all good things come to an end and the Aldridge-era in San Antonio may close sooner than anticipated. Our very own Andrew Ites recently discussed Aldridge's continued longing to return to Portland. For nine years, Aldridge set his roots in the Pacific Northwest before returning to his home-state for a better basketball experience. Now that the Spurs are ushering in a new group of young talent, Aldridge could very well opt to move on to the final chapter of his career.
This is the final guaranteed season of Aldridge's stint in San Antonio. The 34-year-old has a team option following this contract, but if LaMarcus wants out, there's a decent chance that the Spurs will grant him the opportunity to seek more money or a different role elsewhere. While Portland is the obvious landing spot should he make his way out of San Antonio, other more desperate organizations would consider throwing money in his direction for corporate knowledge and stabilization.
More from Air Alamo
Aldridge formulated some solid on-court chemistry with San Antonio's newest elite acquisition in DeMar DeRozan – another pivotal Spur entering a contract year. Their futures may be intertwined as an early departure from one could easily influence the other.
San Antonio would welcome Aldridge back with open arms, but his price tag will be a point of contention. Considering the size of the market and the team's blatant lack of cap space, newly-appointed general manager Brian Wright will likely look for Aldridge to take a hometown discount to open up roster flexibility and direct the team's cap space toward young, expiring contracts like Dejounte Murray, Jakob Poeltl and Bryn Forbes.
The team also selected forward Luka Samanic to fill the power forward position with the No. 19 overall pick in this year's draft. For his last pick as the man in charge, R.C. Buford left Wright with a parting gift that he expects to produce for years to come. If Aldridge is unhappy, Pop will need to proceed forward with his young players anticipated to take noticeable leaps forward.
We're officially in the player empowerment age of the NBA and Aldridge can dictate his own future. Whatever comes next is in his hands.