San Antonio Spurs: LaMarcus Aldridge hints at returning to Portland again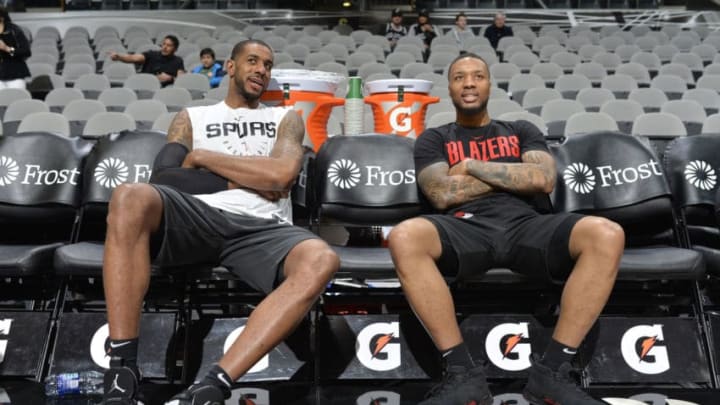 SAN ANTONIO, TX - MARCH 16: LaMarcus Aldridge #12 of the San Antonio Spurs and Damian Lillard #0 of the Portland Trail Blazers talks before a game (Photos by Mark Sobhani/NBAE via Getty Images) /
San Antonio Spurs big man LaMarcus Aldridge has eluded to a return to Portland in the past, and he has reportedly expressed that interest again to Pau Gasol.
The San Antonio Spurs agreed to a contract extension with LaMarcus Aldridge in October of 2017 and that two-year deal is set to kick in this season as he turns 34 years old.
Aldridge is set to make $26 million next year and could potentially make $24 million in the 2020-21 season, but only $7 million of that year is fully guaranteed.
After that contract is up, LaMarcus' future in San Antonio is murky and it's become even murkier thanks to multiple rumors that he wants to finish his career in Portland.
The Athletic's Jason Quick wrote an article about five months ago that dove deep into Aldridge's relationship with Damian Lillard.
More from Air Alamo
That piece made some waves as LaMarcus was quoted saying he certainly wants to return to Portland before his playing days are over.
He has always spoken highly of Portland, and Aldridge now has a strong relationship with Lillard after they had a rough go of it during their time as teammates.
The latest rumor regarding Aldridge's desire to return to Portland comes from Bleacher Report's Sean Highkin who tweeted, "Pau Gasol says LaMarcus Aldridge has spoken very highly of Portland to him and has even hinted he may want to play there again someday."
Gasol and Aldridge played together in San Antonio from 2016 until Pau's contract was bought out last season. Pau has now signed a one-year deal with the Blazers and might've gotten some advice from Aldridge that led him to the Pacific Northwest.
Losing LaMarcus after this season, or once his contract is officially up in two years, wouldn't be a death blow for the Spurs.
Aldridge will be 36 by the time this deal is over, and San Antonio has a young pipeline of talent that will need contract extensions soon.
Luka Samanic and Jakob Poltl are hopefully the Spurs' frontcourt of the future, and they may be ready to take the mantle from Aldridge by the time he wants to head back to Portland.
Want your voice heard? Join the Air Alamo team!
Where there's smoke there's fire, and it sounds like a Blazers-Aldridge reunion is close to inevitable at this point.
Fortunately, San Antonio will be ready to move on from the Aldridge era in one to two years and it will probably be best for the organization and player to split ways once this contract is up.