San Antonio Spurs Draft
When is the 2018 NBA Draft?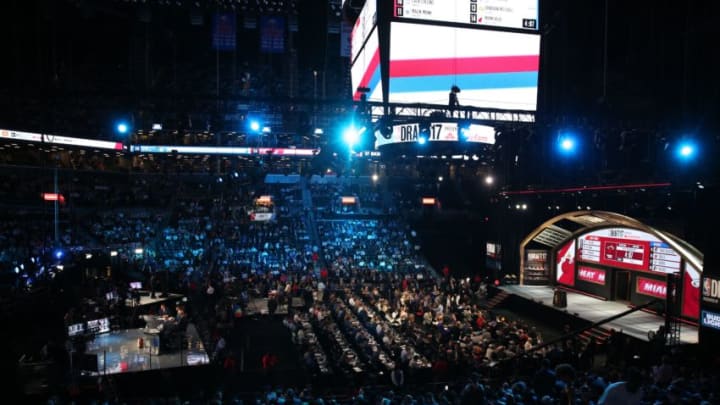 NEW YORK, USA - JUNE 22: A general view of Barclays Center during NBA Draft 2017 in Brooklyn borough of New York, United States on June 22, 2017. (Photo by Mohammed Elshamy/Anadolu Agency/Getty Images) /
The 2018 NBA Draft will arrive soon, but when can San Antonio Spurs fans expect it to happen?
The 2018 NBA Draft will take place on Thursday, June 21 at 7:00 p.m. ET on ESPN. It's set to be a multi-hour event that goes into the late-night hours, with two rounds and two hours of picks. Factor in the time between selections and how long each team gets to choose, and it only extends things further.
The Spurs will make selections at No. 18 in Round 1 and No. 49 in Round 2. Their first-round pick is the highest one, not counting the Kawhi Leonard trade of 2011, since the 1997 NBA Draft.
In recent seasons, Shane Larkin, Tyler Ennis, Sam Dekker, Henry Ellenson and TJ Leaf have gone No. 18 overall. All five players remain in the NBA, so there's an okay track record here, even if none of them are stars.
Will the Spurs move out of this pick? There's nothing to indicate that they will, but with the aforementioned 2011 trade, at least some history remains behind this possibility.
What about Leonard, though? If he gets placed on the trade block before the draft, will the Spurs entertain offers on this night and potentially acquire a top pick from someone in the lottery?
The official order was confirmed at the lottery. Let's look at how it lines up:
Washington Wizards
Phoenix Suns (via Heat)
Milwaukee Bucks
San Antonio Spurs
Atlanta Hawks (via Timberwolves)
Minnesota Timberwolves (via Thunder)
Utah Jazz
Chicago Bulls (via Pelicans)
Indiana Pacers
Portland Trail Blazers
Los Angeles Lakers (via Cavaliers)
Philadelphia 76ers
Boston Celtics
Golden State Warriors
Brooklyn Nets (via Raptors)
Atlanta Hawks (via Rockets)
Next: Top 25 players in SAS history
It should be one of the NBA's most intriguing nights of the offseason. Collegiate and international prospects will receive the opportunity to live their dream and join one of the 30 teams. So who will go No. 1 overall?