San Antonio Spurs: Takeaways from the in-person eye test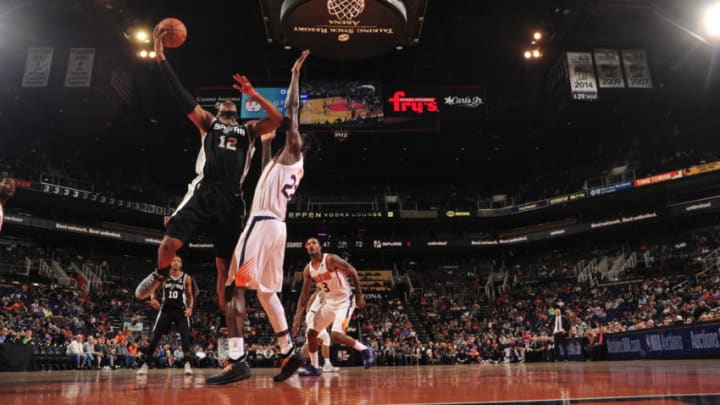 PHOENIX, AZ - OCTOBER 31: LaMarcus Aldridge #12 of the San Antonio Spurs shoots the ball against the Phoenix Suns on October 31, 2018 at Talking Stick Resort Arena in Phoenix, Arizona. NOTE TO USER: User expressly acknowledges and agrees that, by downloading and/or using this Photograph, user is consenting to the terms and conditions of the Getty Images License Agreement. Mandatory Copyright Notice: Copyright 2018 NBAE (Photo by Barry Gossage/NBAE via Getty Images) /
PHOENIX, AZ – OCTOBER 31: LaMarcus Aldridge #12 of the San Antonio Spurs handles the ball against the Phoenix Suns on October 31, 2018 at Talking Stick Resort Arena in Phoenix, Arizona. (Photo by Michael Gonzales/NBAE via Getty Images) /
Watching the San Antonio Spurs play on television can help develop an opinion, but witnessing a game in person puts things into perspective.
I had the opportunity to witness the Spurs' 120-90 victory over the Phoenix Suns in-person on Halloween and boy did it help me understand this team better.
First and foremost, I have to address that they played a Devin Booker-less Phoenix team, so essentially an AAU team. No. 1 overall pick Deandre Ayton is impressive and they've added some solid veterans to the squad this year but it's still far from a winning basketball team.
More from Air Alamo
Still, I was very impressed by what I saw from San Antonio on Thursday night. The team operated as a single unit with a clear game plan in mind. Operating under that system takes a huge amount of commitment and a high basketball IQ. Luckily, this collection of players seems to have what it takes to run the offense implemented by head coach Gregg Popovich.
The All-NBA Second team duo of DeMar DeRozan and LaMarcus Aldridge looked great, as usual, combining for 49 points on 20-of-25 scoring. I've come to realize that it doesn't matter how many mid-range jumpers they take, as long as they make them at an efficient rate. Yes, the game has shifted toward a three-point oriented mindset, but the points add up if they're being scored at an efficient rate.
This was my first opportunity to witness DeRozan in-person and rest assured, he's very good at what he does. His ability to find slashing and open teammates on the drive is extremely useful, especially with the blatant lack of point guard play that this team has been forced into.
While neither point guard necessarily disappointed, both Bryn Forbes and Patty Mills leave something to be desired from a playmaking perspective. As scorers and teammates, they're both excellent additions to the lineup, but this team will benefit greatly from the return of combo guard Derrick White, whose two-way potential and court vision make him an ideal complement to DeRozan.
With these notes in mind, let's jump into my primary takeaways from the Spurs' victory over Phoenix.
Next: Some things just come naturally
SAN ANTONIO, TX – OCTOBER 7: DeMar DeRozan #10 and Rudy Gay #22 of the San Antonio Spurs exchange high fives (Photo by Nathaniel S. Butler/NBAE via Getty Images) /
For most players, certain aspects of the game come easier than others. Some players are more accurate shooters from the day that they first pick up a basketball while others tend to play better defense or drive hard to the basket by nature.
After finally getting the chance to see him live, it's clear to me that DeRozan's knack for scoring is just instinctual for him. The first thing that stood out to me was his precise and effective footwork with the ball in his hands.
I've spent my whole life watching and studying the way that Spurs legend Tim Duncan perfected his craft, so footwork is something I pay close attention to. The way that DeRozan positions himself to make the next move at every chance is extremely overlooked, especially for his position.
His ability to create shots for himself or others out of the post is founded in the way he positions his feet. At all times, DeRozan is positioned for the next step in his progression of dribble moves and movements. Even in the midrange, DeRozan will change his stance based on the type of shot he's planning to take. This is where the Kobe Bryant-influence became clear to me in DeRozan's scoring attack.
Alongside him at the small forward position was Rudy Gay, who finished with a modest 12 points and eight rebounds on the night. While I also took notice of his commendable footwork, it was the ability to read where the ball will come off the rim that stood out to me. Despite it being a secondary skill for the scoring wing, Rudy always seems to find rebounds in traffic.
"I feel like I learned a lot about myself."@RudyGay reflects on returning from his Achilles injury and being healthy this season. pic.twitter.com/sSVNYMXp1k
— San Antonio Spurs (@spurs) November 2, 2018
And I almost forgot to mention, he's definitely got his swagger back. He began the game with a ferocious one-handed spike off of a defensive miscommunication by Ayton and small forward T.J. Warren. He later welcomed sophomore Josh Jackson to his poster with a reverse slam.
To put it in layman's terms, the dude is a flat out baller.
In addition to Rudy and DeMar being very obviously good at basketball, I found a new appreciation for the little things that Pau Gasol does in his limited time on the floor. I've never been a big fan of Pau in big minutes, but he remains one of the craftiest big men in the NBA.
He only played 16 minutes off the pine, but he ended up with the second most assists on the team with four in the contest. These weren't simple dump off passes or easy passes to the perimeter either, Pau was dropping dimes.
Gasol has always been one of the game's smartest players, so this shouldn't have come as a surprise, but he managed to create passing lanes that many players couldn't conceive of.
Next: Bryn's got some work to do, but he's improving
SAN ANTONIO, TX – OCTOBER 24: Bryn Forbes #11 of the San Antonio Spurs talks with San Antonio Spurs assistant coach Becky Hammon (Photo by Edward A. Ornelas/Getty Images) /
Bryn Forbes has been one of the most interesting Spurs to watch progress over the past three seasons. I'm of the mindset that if Pop trusts a player then I should too, but I was never truly sold on him. He's shown flashes throughout his tenure in the silver and black and it's clear as day that he gives maximum efforts 100 percent of the time he's on the floor.
More from Air Alamo
Still, I haven't quite given him the benefit of the doubt despite taking note of his strengths. He's still a relatively young player at just 25-years-old and is trying SO hard to be great.
I need to emphasize this one more time because it stuck with me heavily after seeing him run for 22 minutes: Forbes gives maximum effort at all times.
It seems like a simple concept, but the truth of the matter is that you don't notice how hard many NBA players are trying because they make it seem so easy from a fan's perspective.
You can tell by the way that he plays that Forbes is a workhorse, he's always ready to put in the hours to become the best version of himself. This is what spectators should look for in any player that dons the silver and black, since it's the mindset that brought five championships to the franchise.
It's clear that he's still not totally comfortable as a primary ball handler. He'll lose his handle from time to time and sometimes makes errant passes when there are better options available. These are skills that he can continue to develop with time and reps. He's got a great opportunity to become one of the team's most important spark plugs, regardless of the role he carries into the future.
Said it last year and I'll say it again: Bryn Forbes is the only guy in the gym who thinks he's an All-Star, but sometimes that works.
— Mike Finger (@mikefinger) October 28, 2018
Lastly, don't get upset when he takes contested mid-range jumpers. For whatever reason, he seems to make a whole lot of shots that he shouldn't. Whether he's fading, contested, unbalanced or all of the above, his ability to make tough shots is outstanding.
Considering the current state of the team's point guard rotation, now's the time to embrace Forbes for who he is and support him through his growth.
Next: Filling in the gaps
San Antonio, TX – OCTOBER 27: Dante Cunningham #33 of the San Antonio Spurs signs autographs with fans (Photo by Mark Sobhani/NBAE via Getty Images) /
No successful Spurs team is complete without a band of characters fit for specific roles within the system. It's a timeless recipe that's brought success to the game's best franchises: surround your star players with teammates that will fit your game plan and work to their strengths/weaknesses.
As he's done for the entirety of his run in the Alamo City, general manager R.C. Buford, in conjunction with Coach Pop, built a surrounding cast that greatly compliments this team.
Let's start off with the fan favorite, sharpshooter Marco Belinelli. Defenses move differently with Marco on the floor simply because of the threat he poses from the perimeter. His ability to catch and shoot forces a defender to follow him, limiting opportunities for help defense.
This opened up the floor for both DeRozan and Aldridge against Phoenix and will continue to cause headaches for opposing coaches for the foreseeable future. He off-ball movement is stellar and his motor never stops.
Bringing Beli back during the team's transition to a new phase was a fantastic idea.
https://twitter.com/spurs/status/1058026876877373440
While playing a similar floor-spacing role, power forward Davis Bertans can also transform the dynamic of the game. His lengthy frame isn't well suited for strong matchups, but Bertans doesn't seem to care who he's up against whilst on the floor.
I watched as Bertans spent just about every offensive possession setting off-ball screens to free up his teammates. He's committed to taking on a physical role despite lacking the frame to do it as effectively as some of his peers. Still, his screens were extremely useful in creating opportunities for others, so kudos to him.
On the flip side, small forward Dante Cunningham sets some of the hardest picks I've seen for a guy of his size, let alone a player of any size. I witnessed players bouncing off of his chest and shoulders while trying to fight through screens.
The guy is jacked, for a lack of a better term.
His defensive stance is as perfect as I've seen. Whether he's defending on or off the ball, Cunningham is always prepared to make the smart defensive play and fight for his own.
No, he's not going to stuff the stat sheet or wow you with his scoring, but I'm beginning to understand his value with this team. Cunningham is an enforcer, a lockdown defender and a valuable asset to this new-look Spurs team.
All in all, this looks to be an inspired bunch with the potential to do something truly outstanding with the odds stacked against them.
Even after a summer of tremendous turnover, the San Antonio Spurs are sticking to their ideals and playing their incredible brand of basketball.