San Antonio Spurs 2018-19 Player Previews: Bryn Forbes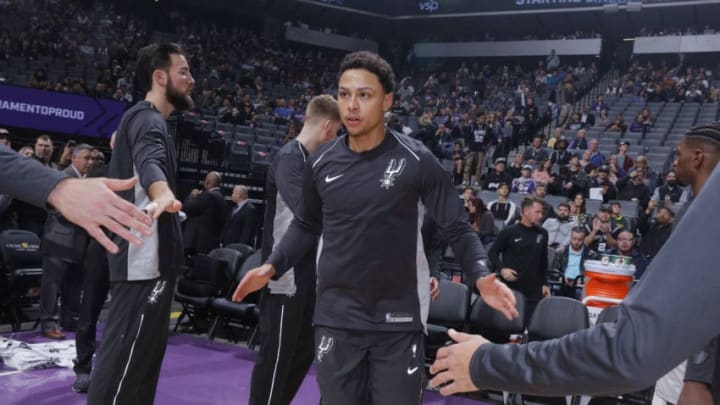 SACRAMENTO, CA - JANUARY 8: Bryn Forbes #11 of the San Antonio Spurs gets introduced into the starting lineup against the Sacramento Kings on January 8, 2018 at Golden 1 Center in Sacramento, California. NOTE TO USER: User expressly acknowledges and agrees that, by downloading and or using this photograph, User is consenting to the terms and conditions of the Getty Images Agreement. Mandatory Copyright Notice: Copyright 2018 NBAE (Photo by Rocky Widner/NBAE via Getty Images) /
Bryn Forbes signed a two-year deal during the offseason. Will he channel his inner 'Klay Thompson' or will he struggle to make an impact with the team as a contributor in the Spurs lineup?
Guard Bryn Forbes sat on the bench on an early November night in 2017 at the AT&T Center, anxiously awaiting his turn to run on the floor. At the 5:37 mark of the first quarter, Coach Pop turned to the young guard and said something along the lines of "get in the game." Forbes jumped up from his chair without hesitation and made his way to the scorers table. He took off his warmup gear as he got there, sprinted in place, and crouched in preparation for the next dead ball.
As he watched, Manu Ginobili drove past Charlotte Hornet Dwayne Bacon, and then maneuvered around Marvin Williams for the pretty finish – as only Manu does. On the next defensive possession, Rudy Gay committed a foul on Dwight Howard and headed to the free throw line. It was Forbes' time. Pop shouted some instructions, and as he readied to enter the game, he received directive to return to the bench, and Brandon Paul went in instead. Bryn put his warmups back on and took a seat.
More from Air Alamo
His time finally came early in the second quarter, substituting for Paul. At about two minutes in, his defensive assignment, guard Jeremy Lamb, went on to help on LaMarcus Aldridge and forgot all about Forbes, LA kicked it out to him, Lamb ran back in desperation as Bryn put up the shot, and fouled him shooting the three-point shot. Forbes hit two of three, and after that he became unstoppable.
Forbes finished the game with 22 points in 22 minutes, shooting 8/11 from the field, and 3/5 from distance, including a four-point play. He also closed the first half on a Curry-esque floater from the right-wing as time expired, perhaps implanting an idea of Forbes' ceiling in Coach Popovich's mind.
Fast-forward a month to a game against the Miami Heat. Forbes lit it up from three, shooting 5/5 from distance and finishing with 17 points. The next day, reporters asked Coach Popovich about his young shooter, and whether he reminded Pop of previous Spur three-point specialist Gary Neal. Pop's answer caught the media by surprise.
Pop was asked if Bryn Forbes reminds him any of Gary Neal.Pop: "No. … He reminds me of Steph Curry."Me (because I'm me): "Did you say 'Steph' or 'Seth?'
— Jeff McDonald (@JMcDonald_SAEN) December 7, 2017
Obviously, Pop must've still been excited from Forbes' performance the night prior, perhaps not only influenced by his ability to make threes, but also those floaters like the one mentioned above. However, Coach Pop is not too far off with this comparison.
The Michigan State product's offensive numbers are similar to Curry's Splash brother and Forbes' inspiration, Klay Thompson. Since Thompson played significantly higher minutes, we'll take a look at their per 36 numbers.
Thompson 2nd NBA season (per 36 mins): 42% FG, 40% 3P, with 16.6 points, 3.7 rebounds, 2.2 assists, and 1.0 steals per game.
Forbes 2nd NBA season (per 36 mins): 42% FG, 39% 3P, with 13.2 points, 2.6 rebounds, 1.9 assists, and 0.7 steals per game.
His shooting stroke and swag are comparable to Thompson's and he doesn't lack any self-confidence.
Lol in case you missed it, Bryn Forbes is "Ice Cube's son." #GoSpursGo pic.twitter.com/tWq1oblaYq
— Maddy Skye (@MaddySkye) September 5, 2018
Forbes does have Stephen Curry potential. During his time in the G-League, his numbers resembled Curry's 2015-2016 MVP season. Yes, it's quite a stretch to compare G-League numbers vs. NBA numbers, but please allow me to indulge.
Stephen Curry 2015-2016 MVP season: 50% FG, 45% 3P, 90% FT, with 30 points, 5.4 rebounds, 6.7 assists, and 2.1 steals per game.
Bryn Forbes G-League numbers (19 games): 50% FG, 46% 3P (6.4 attempts per game), 87% FT, with 23.4 points, 3.5 rebounds, 2.7 assists, and 1.3 steals per game.
This comparison is not to say that Forbes will become Steph Curry, but merely to highlight his offensive value and potential with the team if properly developed.
The Spurs' best offensive players will be commanding plenty of attention inside of three-point territory, and lethal outside shooting will be at a premium – that's where Forbes comes in.
https://ssl.cdn.turner.com/nba/big/teams/spurs/2018/09/11/2250209/caption/1536676033795-Bryn_and_Mahone_Shootaround_v2-2250209_1280x720.mp4
However, Forbes faces an incredible challenge to obtain solid minutes this upcoming season. One would think that the departures of Manu Ginobili, Tony Parker, and Danny Green opened up the door for him to shine, but that's simply not the case.
The Spurs welcomed a few shooting guards to the team. DeMar DeRozan has the starting shooting guard position on lock. Marco Belinelli has an established track record of marksmanship and ability to deliver in high-leverage situations. Quincy Pondexter has size and offers a more suitable defensive presence, although he lacks the offensive prowess of Forbes. And last, but certainly not least, 18th pick in the draft Lonnie Walker IV has tremendous potential and will find his way on the floor.
Gaining time at the point guard will be difficult as well. For starters, he hasn't shown an ability to handle the ball and run the offense, but also, the starting role belongs to Dejounte Murray. It's clear that Patty Mills and Derrick White will provide backup roles behind Murray.
San Antonio is simply loaded at both guards positions, something that hasn't always been the case for the team. And while it is a good problem to have, something's gotta give. Forbes could find himself at the end of the bench with minimal playing time with the Silver and Black if his numbers don't improve from last season.
It's definitely sink or swim time for Bryn, will he become some new sort of "Killa Bryn," or will he allow himself to fade away? We'll find out soon enough.