San Antonio Spurs: Top five one-hit wonders of all-time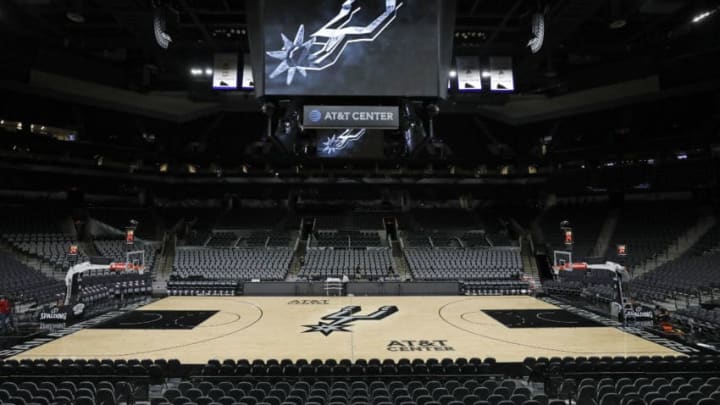 SAN ANTONIO, TX - OCTOBER 24: A view of the San Antonio Spurs court in the AT&T Center before a game against the Indiana Pacers on October 24, 2018 in San Antonio, Texas. NOTE TO USER: User expressly acknowledges and agrees that, by downloading and or using this photograph, User is consenting to the terms and conditions of the Getty Images License Agreement. (Photo by Edward A. Ornelas/Getty Images) /
A view of center-court at AT&T Center, the arena that's been home to the San Antonio Spurs since the 2002-2003 season, which culminated in an NBA championship victory. (Photo by Edward A. Ornelas/Getty Images) /
The San Antonio Spurs have been spoiled by legends who spent most of their careers with them, but some stars only spent one season in the Alamo City.
Looking at the modern NBA, it seems to be a thing of the past that stars stay with one team throughout their careers. LeBron James is fresh off his fourth title with three different teams, while Kevin Durant will be playing for his third franchise next season. The San Antonio Spurs are among the last remaining franchises that have enjoyed decade-plus tenures from their top players.
There have been plenty of stars that joined the Spurs in the twilight of their careers, including several that the world probably forgot about when it comes to seeing them in Silver and Black. Guys like Tracy McGrady and Nick Van Exel are widely-recognized names that were in their 30s before suiting up for San Antonio for brief stints.
However, beyond those guys are some stars and borderline stars that could've enjoyed more success with the Spurs if circumstances had allowed for it. From solid role players to bonafide Hall of Famers, here are five guys that had memorable one-and-done seasons with the San Antonio Spurs.
Next: No. 5
LOS ANGELES, CA – JANUARY 05: Former San Antonio Spurs forward Hedo Turkoglu #15 of the Los Angeles Clippers looks on during warm-up prior to the NBA game at Staples Center in 2015. (Photo by Victor Decolongon/Getty Images) /
5. San Antonio Spurs, 2003-04: Hedo Turkoglu
Coming off their "1999 wasn't a fluke" NBA championship in 2003, the San Antonio Spurs had an impressive follow-up campaign the following season, going 57-25 to finish third in the Western Conference. While their play was steady throughout the season, they jumped at the chance to upgrade their roster when the Sacramento Kings and Indiana Pacers came calling.
Needing a way to make sure they get value for Brad Miller, the Pacers used the Spurs as a third team to ensure they'd be able to trade the All-Star center to the Sacramento Kings. In the deal, San Antonio received a sharpshooting 6-10 forward in Hedo Turkoglu and Ron Mercer in exchange for trading Danny Ferry to Indiana.
Turkoglu made an immediate impact on the team, using an outside sniping threat to help spread the floor for the Big There. In 42 starts, he averaged 9.2 points and 4.5 rebounds on 41.9 percent shooting from the outside. *Note: While other one-year players certainly could bump Hedo statistically for this spot, many of those were in the older days of the Dallas Chaparrals, which I'm not including in this list.
When the playoffs came around, Hedo's lack of decent defensive capabilities wasn't enough to help overcome a Los Angeles Lakers squad that was stacked with Hall of Famers, and the Spurs fell in the second round, 4-2.
Under Gregg Popovich, you don't see much playing time if you don't put forth an effort on defense (unless you're Bryn Forbes), so it wasn't a surprise to see Turkoglu walk that summer to play for the Orlando Magic.
Next: No. 4 & 3
MALIBU, CA – JANUARY 9: Former San Antonio Spurs player Mychal Thompson watches as the Pepperdine Waves plays against the Loyola Marymount Lions on January 9, 2010, at Firestone Fieldhouse. (Photo by Jeff Golden/Getty Images) /
4. San Antonio Spurs, 1986-87: Mychal Thompson
The mid-to-late 1980s were a rough stretch for Spurs fans. From 1983-89, San Antonio either lost in the first round or didn't make the playoffs each season. In the 1986 offseason, the Spurs traded away Steve Johnson for the high-scoring, 6-10 center/forward Mychal Thompson out of Portland.
Drafted first overall by the Trail Blazers in 1978, Thompson averaged 16.7 points and 8.9 rebounds through seven seasons with them. In San Antonio, Mychal only started in six of his 49 games but made the most out of his 24.7 minutes per game.
Thompson scored in double figures in 34 of those 49 games, highlighted by his 29-point performance against the Utah Jazz in a December matchup. Despite his contributions and Alvin Robertson leading the team, Bob Weiss couldn't get the Spurs to be consistent on either end of the floor, and they finished the season with a dismal 28-54 record.
After playing with the Spurs for just a half of a season, Thompson was traded to the Lakers, where he immediately won back-to-back titles.
3. San Antonio Spurs, 1989-90: Maurice Cheeks
A draft gem selected by the Philadelphia 76ers in 1978, Maurice Cheeks proved to everyone that he should've been taken much sooner than 36th overall. The 6-1 point guard became a pivotal player for the Sixers, starting in 79 games on the 1983 championship team.
While putting up 12.2 points per game in Philly, Mo established himself as an elite defender and was selected to an NBA All-Defensive Team for five straight years from 1983-87. As his career was winding down, the Sixers traded Cheeks to the Spurs to begin the 1989-90 season.
The timing was fortunate in that he was able to play alongside rookie sensation David Robinson, who led the Spurs to an incredible increase of 35 wins from the season prior. Though he averaged a respectable 10.9 points and 6.0 assists per game in 50 contests, San Antonio opted to trade Cheeks to New York for the up-and-coming guard Rod Strickland.
If the Spurs were able to get a prime Maurice alongside David Robinson, they could've had greater postseason success much earlier than they did. Unfortunately, the timing just didn't work out.
Next: No. 2
25 Jun 1997: Derek Anderson of the Cleveland Cavaliers shakes hands with NBA Commissioner David Stern during the NBA Draft at the Charlotte Coliseum in Charlotte, North Carolina. /
2. San Antonio Spurs, 2000-01: Derek Anderson
The 1997 NBA Draft had an impact on the San Antonio Spurs besides giving them their franchise cornerstone for the next two decades. While drafting Tim Duncan changed the team's future forever, some serviceable role players in that class also spent time in San Antonio, including Antonio Daniels, Ron Mercer, and Derek Anderson.
After averaging a career-high 16.9 points per game with the Clippers in 1999-00, Anderson wanted to win, opting to sign with the Spurs for $2.25 million for the 2000-01 season. It took some adjusting from Derek, as he was accustomed to a losing culture that included lackadaisical practices and bad habits.
In an ESPN column during Anderson's lone season with the Spurs, David Aldridge discussed the transition period.
"You just had to break him out of coming from a losing situation," said Avery Johnson. "There's a certain way we like to practice. There's a certain way, when we travel, everyone needs to be on time."
Still, Anderson's impact on both ends of the floor was undeniable for San Antonio. As Aldridge wrote, Kevin Garnett once called Derek the X-Factor that the Spurs have always missed with his abilities to slash and score.
Anderson scored to the tune of 15.5 points per game while starting all 82 games for the Spurs, who finished 58-24 that season. Derek's 39.9 percent shooting from beyond the arc was also the best he ever shot in his 11-year career.
Everything was going well for the Spurs until Game 1 of the Western Conference Semifinals, in which they took on the Dallas Mavericks. Noticeably overmatched, Mavs forward Juwan Howard committed a frustrated foul on Anderson as he was going up for a dunk that resulted in disaster.
Howard was ejected from the game for the flagrant act, and Anderson was forced to miss the rest of the playoffs with a separated shoulder. Just like that, San Antonio went from a title favorite to easy fodder in the Western Conference Finals.
One could argue that Derek was tied with David Robinson as the team's second-best player in 2001, so it's tough to see the Spurs' season ending with a lowly sweep at the hands of the Lakers if he never got hurt.
To compound the heartbreak, talks between the Spurs and Anderson broke bad the following summer, eventually leading to his departure to Portland.
Next: No. 1
ATLANTA, GA – DECEMBER 14: Former San Antonio Spurs player and Hall of Famer Dominique Wilkins attends Detroit Pistons vs Atlanta Hawks in 2017 at the Philips Arena. (Photo by Moses Robinson/Getty Images) /
1. San Antonio Spurs, 1996-97: Dominique Wilkins
When your team's superstar goes down with a season-ending injury, you don't usually turn to a 37-year-old. Dominique Wilkins, however, was no ordinary 37-year-old. After having a Hall of Fame career with the Atlanta Hawks, Wilkins spent some time with the Clippers and Celtics before heading to the Greek league.
More from Air Alamo
The 1996-97 season was one to forget overall, as David Robinson suffered two injuries that allowed him to play in just six games overall. In what seemed to be a choice to bolster the bench as well as keep selling tickets, the Spurs turned to Dominique Wilkins, who didn't disappoint.
The Human Highlight Film not only had the Alamodome buzzing on a nightly basis, but he also led the Spurs in scoring despite only starting in 26 of his 63 games played. With 18.2 points and 6.4 rebounds per game, Wilkins did everything you could expect him to do given the miles on his body by the time the Spurs came calling.
Sometimes, you just have to tread water until reinforcements arrive, and the Spurs did just that in 1996, finishing only 20-62 without their Admiral. The following season, Robinson returned in a big way, joined by another force known as Tim Duncan. The Spurs were the last stop in which Wilkins was still an exceptional NBA player, as he did show up in 27 games for Orlando at age 39 but scored just 5.0 points per game in that span.
We have Dominique to thank for still keeping Spurs fans entertained during what became a transition season that led to a new, dominant era.