San Antonio Spurs: Perfect offseason execution required for Spurs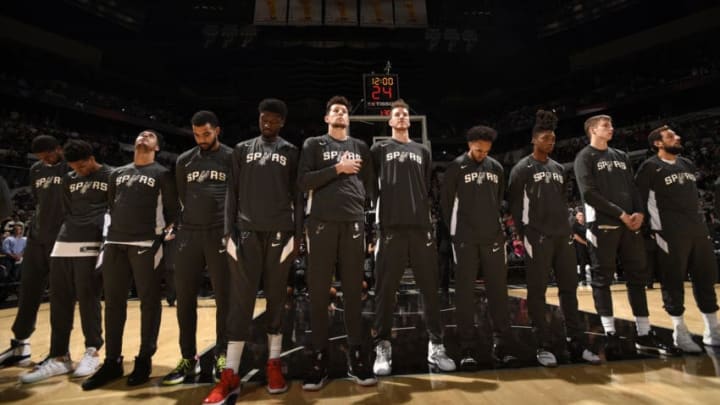 SAN ANTONIO, TX - OCTOBER 18: The San Antonio Spurs. (Photos by Logan Riely/NBAE via Getty Images) /
The San Antonio Spurs will need a perfect offseason to return to contention
The atypical 2019-2020 NBA season ended with the San Antonio Spurs outside the postseason for the first time since 1997 and their rival Los Angeles Lakers as the reigning champions. You can't blame Spurs fans for putting last year firmly in the rearview and focusing on the upcoming offseason.
Despite the unfamiliar territory for many Spurs fans and the differing views on the best direction for the franchise – ranging from complete rebuild, going all-in or a simple retool, and run it back next year – the recent NBA finalists can provide some inspiration.
Both the Miami Heat and Los Angeles Lakers were in the same situation the Spurs found themselves this year: On the outside looking in. In one offseason both teams made key changes to their roster that helped position them for a title run.
For the Lakers, it was going all in and trading for a superstar talent that had demanded a trade.  The Heat retooled through a variety of moves that helped position them in contention for both the present and future while also maintaining cap space for the 2021 free agency bonanza.
If management believes the current squad is a sound foundation and can compete with some slight adjustments then this offseason will be critical.  It will require the Spurs brass to nail all aspects of team building. Let's take a look at some options for each of the team building avenues that could put the Spurs back in the playoffs.
Next: Nailing the 2020 NBA Draft
San Antonio Spurs /
Feb 8, 2020; Auburn, Alabama, USA; LSU Tigers forward Darius Days (0) reaches against Auburn Tigers forward and potential San Antonio Spurs pick Isaac Okoro (23) at Auburn Arena. (Marvin Gentry-USA TODAY Sports)
San Antonio Spurs need to nail their upcoming pick in the 2020 NBA Draft
Draft day is set for November 18, 2020, which gives teams less than a month to finalize their draft plans.  Leading up to draft day there will be a lot of chatter as to what teams will be moving up or down the draft board.
Regardless of who the Spurs select with their first selection, they need a player who can contribute immediately.  Fans who watched the NBA Finals were able to see Tyler Herro play heavy minutes and a crucial role for the Heat.  Whoever the Spurs draft here's hoping he is the player they had a top their draft boards and are ecstatic to have him aboard. Whether the Spurs trade up or stand pat, their first pick should be someone that could come in and play 20 to 25 MPG from day one.
Aside from their top pick the Spurs next pick, whether it is an additional first-rounder or second-round pick, will need to net a solid rotation piece.  Why the emphasis on a late first-round pick or second-round pick?  Because the Spurs do not have the luxury to waste any avenues that can add talent to the roster.
Even second-round picks have value as Nikola Jokić and Goran Dragić reminded us this postseason.  Getting the pick right will provide the team with more flexibility to do some two for one trades or let other players walk in free agency when their price tag becomes too high.
Next: Making moves in free agency
San Antonio Spurs /
Jan 20, 2020; Phoenix, Arizona, USA; San Antonio Spurs forward DeMar DeRozan (10) warms up prior to facing the Phoenix Suns at Talking Stick Resort Arena. Mandatory Credit: Joe Camporeale-USA TODAY Sports
How should the San Antonio Spurs handle the 2020 free agency?
If you want to upset San Antonio residents mention to them that no NBA free agent wants to play in the Alamo City.  Whether there is any truth to the dig or not is actually unimportant. Show someone the money and they will play in any NBA city.
What the Spurs do lack is a tentpole superstar that automatically makes everyone else on the roster better.  During the Tim Duncan era, many players were willing to take lesser roles and paychecks for the chance to compete for Larry O'Brien trophies. San Antonio is lacking a player with that kind of draw right now.
This offseason the Spurs have limited cap space even if DeMar DeRozan opts out of his $27.7 million player option.  Despite the limited cap space, the Spurs are not prohibited from adding talent in free agency.  There are several players that may be looking for a change of scenery or opportunity to play who should be taken into consideration as "buy low" candidates. Among them: Harry Giles, Serge Ibaka, DeMarcus Cousins, and Michael Kidd-Gilchrist.
I understand that none of these players inspires much excitement but that is what happens when you shop in the bargain aisles.  Kidd-Gilchrist is the one to keep an eye on as he is still only 27 years old, has good size & athleticism, and could help revitalize a Spurs defense that was one of the worst in franchise history this year.
Next: Working the trade market
San Antonio Spurs /
Dec 15, 2018; San Antonio, TX, USA; Chicago Bulls power forward Lauri Markkanen (24) shoots the ball over San Antonio Spurs small forward Rudy Gay (22) during the first half at AT&T Center. (Soobum Im-USA TODAY Sports)
Could San Antonio Spurs make plays in the trade market?
Let's be clear and upfront – the Spurs have no chance at trading for Giannis Antetokounmpo.  Even if Giannis reversed course and asked for a trade as Anthony Davis did, the Spurs do not have the trade assets to make it happen.
There is however a long list of current or former All-Stars that are rumored to be on the trade market such as Chris Paul, Russell Westbrook, Bradley Beal, Victor Oladipo, Buddy Hield, Kevin Love, and Jrue Holiday.
As available as some of those players may be, it might not be in the Spurs' best interest to trade off young players and picks in search of an established superstar when the incoming player is tied to a massive contract. The Spurs are going to have tons of cap space in 2021, eating into right now isn't the best path forward.
But if we look at players with fewer years of experience and fewer accolades there may be some trade candidates of interest.
The most commonly discussed trade scenario over the last year has been trading with the Orlando Magic for forward Aaron Gordon.  Adding a young, athletic, and talented forward to the team is definitely a good thing.  The real question is at what cost?
More from Air Alamo
If acquiring Gordon requires the Spurs to part with DeMar DeRozan then count me among those in the opposition camp.  If Gordon could be pried from Orlando for a lesser trade package then I would be strongly in favor.
This past week another intriguing trade was proposed where the Spurs would get Lauri Markkanen in return for sending LaMarcus Aldridge to the Bulls.   A trade like this would help position the Spurs for success both for the immediate future and longterm.
One last option would be a sign and trade deal involving Christian Wood.  He is a unique player who has many prime years ahead of him.  He has been vastly underpaid and will get his compensation this offseason.  He is such an intriguing player that he has already been discussed as a key offseason target by Air Alamo Site Experts Ethan Farina and Dylan Carter.
Whatever trade the Spurs pull off in the offseason or before the trade deadline of the ensuing season, one thing all Spurs fans can agree on is that they don't trade for a veteran player who ends up akin to the Richard Jefferson experiment.
If the Spurs execute their offseason plans to perfection and ace the draft, free agency, and trade market there is hope that they can once again enter contender status and be amongst the league's elite teams.