San Antonio Spurs: Orchestrating an NBA Draft night trade for Lauri Markkanen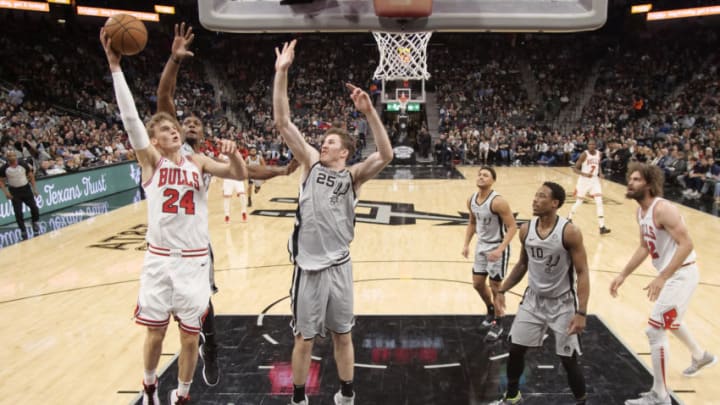 Dec 15, 2018; San Antonio, TX, USA; Chicago Bulls power forward Lauri Markkanen (24) shoots the ball over San Antonio Spurs small forward Dante Cunningham (behind) and Jakob Poeltl (25) during the first half at AT&T Center. (Soobum Im-USA TODAY Sports) /
San Antonio Spurs /
Dec 15, 2018; San Antonio, TX, USA; Chicago Bulls power forward Lauri Markkanen (24) shoots the ball over San Antonio Spurs small forward Rudy Gay (22) during the first half at AT&T Center. (Soobum Im-USA TODAY Sports)
The San Antonio Spurs need an upgrade at power forward going into the 2021 season and beyond. Chicago PF Lauri Markkanen fits exactly what they need.
The San Antonio Spurs have a plethora of question marks going into the 2021 season and beyond. With no true identity going forward, here's what we do know about this organization going into this year's NBA Draft and the following season:
They're committed to the young guys — players like the Dejounte Murray, Derrick White, Lonnie Walker IV, and Keldon Johnson. With their two best players in DeMar DeRozan (should he pick up his player option) and LaMarcus Aldridge both on expiring contracts after this season, San Antonio has to commit to a rebuild or one final push to become a playoff contender hopeful for an NBA Finals appearance.
Whichever route they go, two things are for certain. The 2020 NBA Draft doesn't have superstar potential outside of the top five and lacks a plethora of second-tier prospects that can become solidified second-options on a championship team. With that being considered, that makes their No. 11 pick in the 2020 NBA draft expendable.
If there's not a prospect that they love at No. 11, looking to trade that pick away along with an asset or two can upgrade this team quicker than developing a prospect that has a 50/50 chance of actually working out. Should they go the route of trading the pick, there's nobody that fits what this team needs more than Chicago Bulls big man Lauri Markkanen.
The days of the dominance at the power forward position with guys like Kevin Garnett, Tim Duncan and Dirk Nowitzki are gone in this era of the modern NBA. Markkanen fits exactly what you want from a modern forward.
Luckily for the San Antonio Spurs, that position still haunts them to this day, as they have no answer, no filler for that spot. Acquiring Markkanen is a task in itself, but one that will pay huge dividends later down the road. Potentially, trading for the Finland-native can push them over the hump to make the playoffs once again in 2021. This deal gives them a true modern forward to commit to for years down the road."
Next: Why should the Spurs pursue Markkanen?
San Antonio Spurs /
Dec 15, 2018; San Antonio, TX, USA; San Antonio Spurs small forward Rudy Gay (22) attempts to save and pass the ball around Chicago Bulls power forward Lauri Markkanen (24) at AT&T Center. (Soobum Im-USA TODAY Sports)
Why should the San Antonio Spurs pursue Lauri Markkanen?
Even though they don't want to admit it, the San Antonio Spurs have realized that they must take a more modern approach to NBA basketball. This past season led me to believe they're finally buying into the pace-and-space era we see on a nightly basis in the NBA. This was exemplified with the insertion of Trey Lyles to the starting lineup while Aldridge became a spot-up 3-point shooter.
Despite caving into what the modern NBA offense has become in a sense, the Spurs' personnel still doesn't fit well amongst each other going forward. Lyles is a below-average rebounder and defender, who's "icy-hot" from deep. Aldridge isn't capable of defending the rim nor the pick-and-roll like he once was able to. The frontcourt needs a breath of new life.
San Antonio needs a versatile offensive forward who can benefit from the numerous off-ball actions that they run. One that can run both slots in the frontcourt, space the floor for guys like DeRozan, Murray and Walker. They additionally need somebody to rebound and run the floor for catch-and-shoot situations.
That one time Lauri Markkanen got Steph ? pic.twitter.com/EmTPHrNnPe
— SportsCenter (@SportsCenter) April 11, 2020
With Aldridge playing all but five percent of his total minutes at the center spot, San Antonio needs to pair him with a much more modern player in the frontcourt.
Markkanen's skill set fits the bill. He has a unique blend of size and versatility that makes him an issue for opposing defenses. While Markkanen has claimed he wants to be more than a "3-point shooter," his skillset currently isn't limited to just that.
His numbers outside of the spot-up shooting category won't "wow" you, but to his defense, that's all Jim Boylen had him running. Even Markkanen has claimed he has been underutilized and undervalued in this Boylen-run offense. Despite Boylen's misuse of the 23-year-old, Lauri still shined despite filling a one-dimensional role in Chicago.
Markkanen is a career 43 percent field goal shooter, who shoots 36 percent from three and 85 percent from the free-throw line. On face value, those numbers don't "Wow" you, but considering how vanilla his role was in that offense and the number of attempts he's shooting from deep, you can see the foundation for consistent offensive impact.
In San Antonio, head coach Gregg Popovich will put a lot more on his plate on both ends of the floor considering his fit with the team will be much smoother than what it is in Chicago. A skillset like Markkanen's fits well for the numerous off-ball actions the Spurs run. He can work well off the Spurs off-ball actions like the weakside exchange and pick-and-roll lifts, as well as in drive-and-kick situations where he can flare to the wing or rotate into the corner to hit a trey.
Over 90 percent of his career points come off of assists, which only makes his fit in this Spurs offense even better. He's somebody who can impact games on the offensive end without pounding the ball into the pavement.
The fit here will work excellently with the abundance of playmakers the San Antonio Spurs currently has. There's no question that the addition of Markkanen in San Antonio will give this team both depth and a long term answer in the front-court.
Next: Floating a trade offer
San Antonio Spurs /
Dec 15, 2018; San Antonio, TX, USA; Chicago Bulls power forward Lauri Markkanen (24) shoots the ball over the San Antonio Spurs including center Jakob Poeltl (25) during the first half at AT&T Center. (Soobum Im-USA TODAY Sports)
The San Antonio Spurs' trade offer for Lauri Markkanen:
After breaking down in fully understanding NBA trade rules, a deal here was easier than you'd expect.
San Antonio and Jakob Poeltl must sit down and have a meeting on what his role will be going forward and how much money he wants per year. With Poeltl's patience seemingly running out, a split here seems to be more and more likely. Jakob wants a bigger role on both ends — He's looking to start at the center position and finally make some long-term money in the NBA. If the Spurs cannot commit to both of those things, they should look to get something back for him in the sign-and-trade market.
Chicago has no answer at the center position going forward. Each of the young players at that position, Daniel Gafford and Wendell Carter Jr., have struggled to stay healthy. They're each looking both raw and unpolished while failing to consistently make an impact throughout a season. The Bulls can look to add one of the better screen-setting big men in the NBA.
Jakob fits well in an offense where they need a big to do the dirty work. Set hard screens that spring guards like LaVine and Coby White open, clean the glass on both ends of the floor, and protect the rim at a high caliber level. Poeltl has shown an ability to do all of that in San Antonio.
Coupled with the fact that the Bulls have a top-four pick in the draft that they can very well use to select somebody like Deni Avdija who works well in the pick-and-roll, Jakob's fit here looks better and better. San Antonio might need to add a small piece to make the money work, along with their low lottery selection, but in the end, they can work out a deal to bring Lauri Markkanen to the Alamo City.
More from Air Alamo
The Bulls find an answer in the front-court long-term. They get their big man of the future, one that will work excellent in pick and roll and will do his job to his best extent. The Spurs wind up with an answer in the frontcourt long-term. Lauri is entering the final year of his deal. Luckily for San Antonio, they'll have over 80 million in cap space in the 2021 offseason.
Lauri is a seamless fit into an offense that desperately needs his skillset both for the now and the future. So far in Chicago, he's shown that he's just scratching the surface on his true offensive potential. Coach Pop will only benefit his development and he gets a fresh start in a city that will love another foreign player.
Markkanen has played nearly a quarter of his career NBA minutes at the center position as well. Should a Luka Samanic emergence become evident for the Spurs, Lauri has shown an ability to play multiple positions effectively when need be. A career rebounding clip of nearly eight boards per game, just averaging below one steal and block per game, "The Finnisher" can slide in at the five for stretches during a game.
With just about a month until the NBA draft, the San Antonio Spurs will be in a position that they haven't been in, for over 20 years. This draft will set them up for the next decade, and maybe it'll bring a face like Lauri Markkanen to San Antonio somehow, someway.