Dejounte Murray's emergence as a 3-point threat key for Spurs future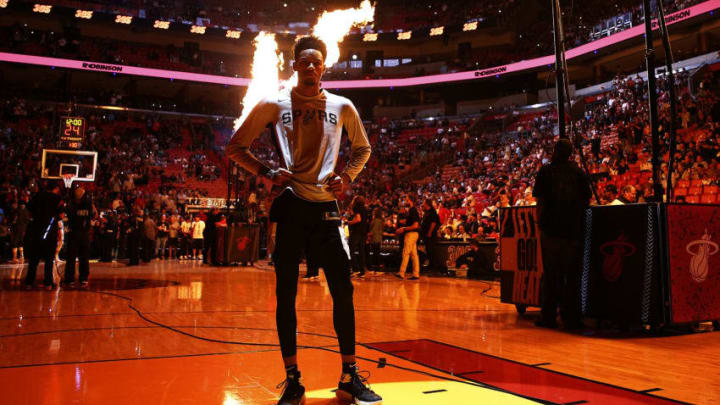 MIAMI, FLORIDA - JANUARY 15: Dejounte Murray #5 of the San Antonio Spurs looks on prior to the game against the Miami Heat at American Airlines Arena (Photo by Michael Reaves/Getty Images) /
Dejounte Murray's growth as a 3-point threat is key for San Antonio Spurs
As he recovered from a torn ACL that robbed him of his 2018-19 season, we frequently saw San Antonio Spurs point guard Dejounte Murray working on his 3-point shot. Improving as an outside threat was a major point of emphasis for Murray last year. This season we saw all of the hard work he had put in finally pay off.
In his third full season in the league, Murray worked his way back to full strength, played the high-level defense we all know that he's capable of, and showed off an improved outside touch that we all had been waiting to see. While his playmaking and defense are important, continuing to improve as an outside shooter might be the most important thing for Murray to focus on going forward.
Over the past five years, the San Antonio Spurs have consistently shot some of the fewest 3-pointers in the league. As the rest of the league has pushed offense outside the arc more often, the Spurs have been happy to be one of the league leaders in shots inside the 3-point line.
Now with the future of some of their few high-volume 3-point shooters in question, the Spurs are going to need young guards like Murray and Derrick White to step up even more. Murray's continued development as a 3-point threat has never been more critical.
San Antonio Spurs need Murray to continue to improve from deep
During the 2017-18 season, you would consistently see defenders ducking under screens when they were matched up Murray as if they were daring him to beat them with his jumper. We still saw that happen this year, but as the season went on Murray recognized when a defender was sagging off and took that opportunity to knock down a mid-range jumper or 3-pointer that he looked increasingly comfortable shooting.
https://videos.nba.com/nba/pbp/media/2020/03/03/0021900909/254/1480dbf2-f379-eaef-2410-d5c49a66a800_1280x720.mp4
Here you'll see Miles Bridges attempt a half-hearted closeout, just barely throwing up an arm as Murray releases his jumper. Shortly after it finds the bottom of the net you can hear the Hornets announcers comment how Dejoutne doesn't make three's very often. Opponents broadcasts need to take notice of what happened this year, Murray is developing into a solid 3-point threat.
After shooting just 26.5 percent from behind the arc in his second season in the league Murray took a leap and was knocking down 37.8 percent of his 3-point shots when the season was suspended. Another great success story of a San Antonio Spur gradually growing into a deep threat thanks to the tutelage of Chip Engelland.
The next step for Murray is to start ramping up the amount of three's that he's taking. The top-six 3-point shooters on San Antonio's roster will all be unrestricted free agents within the next two years, two of the top-five are approaching unrestricted free agency this summer. Someone is going to have to step up to fill that void and Murray looks like a strong candidate.
More from Air Alamo
To the Hornets announcers credit, they were right about how infrequently Murray let it go from deep. Even as his percentage reached a near career-high he was still hesitating to grow into a volume shooter. It could come from still preferring to get to the rim, erring away from hunting for his own shots in favor of setting up teammates, or a multitude of other factors but the fact remains that Murray wasn't shooting from behind the arc as often as the Spurs will soon need him to.
Murray shot just 3 3-point attempts per 100 possessions last year. For perspective, noted shooters like Thon Maker and Goga Bitadze shot 4.1 and 4.3 per 100 possessions, respectively. He's proven that he can be accurate from behind the arc, now Murray needs to try to maintain that accuracy while ramping up his volume.
His dedication to his craft this year was clear. Murray did an excellent job of handling his devastating injury and returning as an even better player. We've covered who he can study this summer, now all that's left is for DJ to continue to put in the work. If he does that he should have no problem realizing the All-Star potential that we believe he has.
The San Antonio Spurs struggled this year, but with talented guards like Dejounte Murray leading the way the future looks bright for our favorite team.