Dejounte Murray's improved shooting is opening up the Spurs offense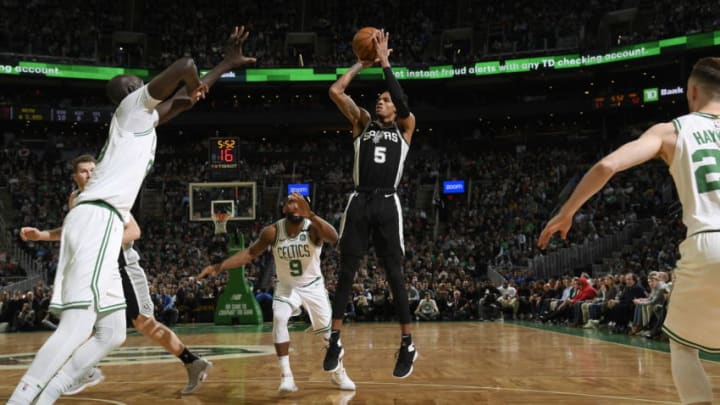 Dejounte Murray of the San Antonio Spurs. (Photo by Brian Babineau/NBAE via Getty Images) /
Dejounte Murray has found his shooting stroke over the past month and it's opening up the San Antonio Spurs offense.
Some of the biggest questions surrounding Dejounte Murray coming into this season, other than those around the health of his surgically repaired knee, were on his shooting ability. Would the San Antonio Spurs fourth-year guard develop a reliable three-point shot? Would he be able to punish defenses for going under screens?
Over the past month, we've seen the San Antonio Spurs start to turn the corner after an uncharacteristically slow start to the season. It's been a full team effort but a fair amount of credit should be given to a few Spurs players who have expanded their ranges over the past few weeks.
LaMarcus Aldridge has been a revelation for San Antonio. He's caught fire from behind the arc and has been letting it fly from deep at a rate that we've never seen from him. While Aldridge's embracement of a stretch-five role has gotten more attention, Dejounte has also been dialed in since mid-December.
Murray has knocked down 59 percent of his three-point attempts since December 12th. That's probably not sustainable but his increased willingness to shoot the deep ball is important for the Spurs. Murray was 10 of 17 over that same stretch. That might not seem like a lot but you have to consider that this is coming from a guy who hit just nine three's throughout his second regular season.
https://twitter.com/spurs/status/1212436323765587969
The long ball is important for Murray but he's also been a vastly improved mid-range shooter this year. He's connecting on 47.5 percent of his attempts between 10 feet away and the three-point line. That's a huge improvement from his sophomore season when he shot 35.5 percent from the same area. Defenders used to be able to slide under screens without fear, DJ is capitalizing on those opportunities now and he's making defenses pay.
Developing a consistent jump shot was a major point of focus for Murray as he prepared to enter his fourth season with the Spurs. We all saw the videos of him putting in work in the gym over the summer to improve his shot. It's great to see all of that hard work paying off.
His improved shooting, while important, probably isn't a difference-maker this season. It'll help the Spurs, it might even push them into the playoffs and capture that coveted 23rd consecutive playoff appearance, but it's putting them into title contention. At least not yet.
More from Air Alamo
Looking forward, the future of the San Antonio Spurs is centered around Murray, Derrick White, Lonnie Walker, and Jakob Poeltl. All three of those guards have taken leaps forward in their time with the Spurs and their collectively improved shooting ability makes playing the three together a legitimate possibility.
Walker has taken off this year and has all the makings of a future star. White has also quietly improved and has consistently shown an ability to play off the ball, which is crucial for his future potential with Murray. White and Walker are hitting on 39 and 37 percent of their three-point shots, respectively. Even as he improves as a shooter, Murray still seems to prefer attacking the rim. White and Walker's ability to space the floor and leave driving lanes open for DJ will allow him to do just that.
These three, along with Poeltl, will help the Spurs transition into a more modern four out offense over the next few years. The only missing piece is another stretch forward who can help space the floor. Luckily the Spurs have just the man for the job. Luka Samanic is still a year, and a dozen pounds of muscle, away from being a viable starting option but his performance in the G-League thus far has given us plenty to look forward to.
After an ugly start to the season, Dejounte Murray and the San Antonio Spurs have finally found their stride. It was ugly for a while but the future looks bright and things should only get better from here on for the Silver and Black.