San Antonio Spurs: 3 Games postponed in wake of positive COVID tests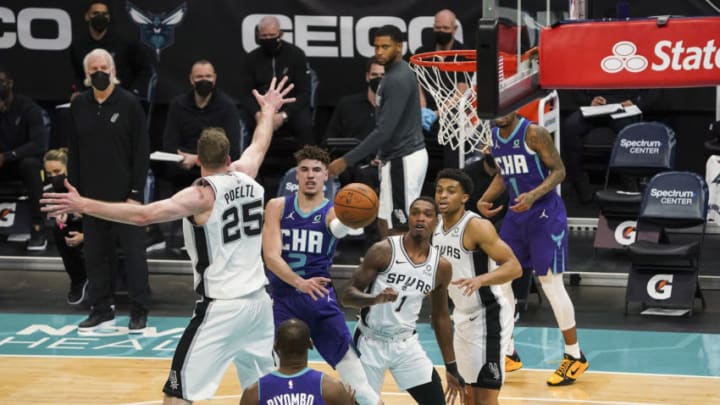 Feb 14, 2021; Charlotte, North Carolina, USA; Charlotte Hornets guard LaMelo Ball (2) passes off to center Bismack Biyombo (8) against the San Antonio Spurs during the first quarter at Spectrum Center. Mandatory Credit: Jim Dedmon-USA TODAY Sports /
Up until this point in the season, the San Antonio Spurs have been fortunate enough to avoid multiple positive COIVD tests. But I think we all knew it was a matter of if, not when, COIVD started having a more visible impact on the team.
That time has come as ESPN's Adrian Wojnarowski was the first to report that the Spurs have had their next three games postponed after four players tested positive for COVID-19. The Spurs have remained in Charlotte since Sunday night's game. The Hornets have also undergone contact tracing and have had their next two games postponed.
How do the San Antonio Spurs move forward from positive COVID tests
First and foremost, we hope that every player or staff member who tests positive for COVID-19 makes a full and swift recovery. Exactly who tested positive remains unclear at this time but we're all hoping that everyone on the team is doing everything they can to remain safe and healthy right now.
What this means for the Spurs in the long term is more unclear. Their next three games, especially the ones against the Knicks and Cavaliers, would've been great for a team that was finally getting back to full strength. But that's life in the NBA in 2021, the team will have to find a way to move forward.
What do know for certain is that guys are going to have to step up in the wake of these positive tests. Any player who tests positive must wait at least 12 days since the conclusion of their symptoms in order to return to play. With the four positive tests, this means the Spurs could be without four players for almost two weeks. Given the uncertainty around exactly who tested positive it's impossible for us to say right now who will be asked to take on larger roles.
I want to reiterate that all of this comes secondary. The first and foremost concern for San Antonio Spurs fans and the team should be the safety and well-being of the players and staff. We will continue to update this story as we know more.