San Antonio Spurs crumble with Kawhi Leonard, LA Clippers in town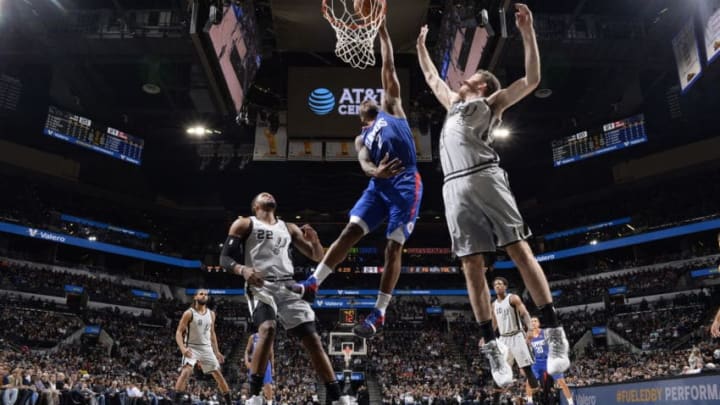 SAN ANTONIO, TX - DECEMBER 21: Kawhi Leonard #2 of the LA Clippers dunks the ball during the game against the San Antonio Spurs on December 21, 2019 at the AT&T Center in San Antonio, Texas. NOTE TO USER: User expressly acknowledges and agrees that, by downloading and or using this photograph, user is consenting to the terms and conditions of the Getty Images License Agreement. Mandatory Copyright Notice: Copyright 2019 NBAE (Photos by Logan Riely/NBAE via Getty Images) /
The San Antonio Spurs gave up more than 33 points in three of the four quarters of their 134-109 loss to the LA Clippers on Saturday night.
Hosting former-Finals MVP Kawhi Leonard is always emotional for the San Antonio Spurs' fans and players. His untimely departure from the Alamo City caused mayhem for a franchise known for stability. It doesn't help the fanbase to heal when he comes to town on a random Saturday and runs the score up 25 points.
San Antonio was walloped from the second quarter after holding the deficit to just two. The Clippers built a little bit of momentum in the second quarter, finishing the half 72-61. Scoring wasn't the issue for the Spurs in the half, making 54.8% of their field goal attempts and 6-of-16 triples.
Continuing the trend of lighting up the Clippers, DeMar DeRozan scored 20 points on 8-of-12 shooting in the first half. His attacks to the rim were relentless and his jump shot was smooth, though he fizzled out in the second half and finished the game playing just 25 minutes.
Veteran wing Marco Belinelli had a strong opening offensively with some signature off-balance triples and still managed to be detrimental to the team because of his horrid defense. He certainly provides strong floor spacing, but at this point, it's not worth having him on the floor.
Belinelli wasn't the only player that Leonard and his co-star Paul George targetted. Each switched off of screens to attack All-Star LaMarcus Aldridge (12 points and four rebounds in 24 minutes) and starting 2-guard Bryn Forbes, who was pulled from the game after 19 minutes for getting abused on the defensive end.
More from Air Alamo
Head coach Gregg Popovich made some interesting decisions, playing center Jakob Poeltl for only 16 minutes in the contest. This was especially quizzical considering the Spurs gave up boatloads of points in the paint tonight and Poeltl was the only player usually logging minutes without a negative +/- tonight.
Pop also refused to put Lonnie Walker IV or DeMarre Carroll in the game during the first half despite the team's obvious need for versatile defenders on the floor.
The two bright spots of this game were starting point guard Dejounte Murray (10 points, six assists, five rebounds, two steals and a block) and combo guard Derrick White (10 points, five assists). They shot a combined 56.3% on 16 shots and were just about the only consistent defenders throughout the night.
Next up, the Spurs will hit the road for a short two-game road trip against inner-division rivals: the Memphis Grizzlies and Dallas Mavericks. The Spurs tip-off against the Grizzlies on Monday night, take a brief break for Christmas, and return on the 26th in Dallas.