San Antonio Spurs: Dejounte Murray can takeoff without minutes restriction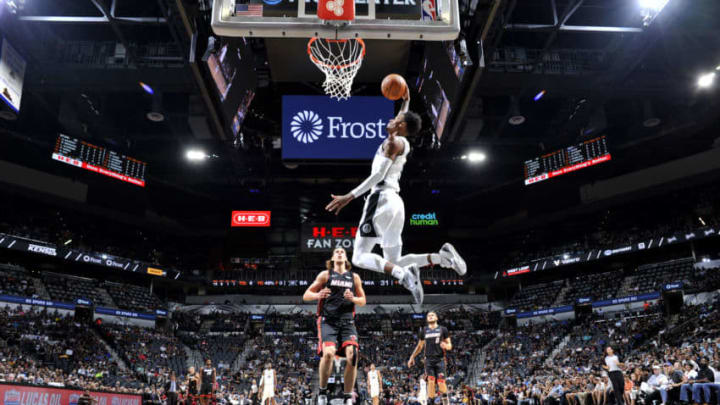 SAN ANTONIO, TX - SEPTEMBER 30: Dejounte Murray #5 of the San Antonio Spurs dunks the ball against the Miami Heat during a pre-season game on September 30, 2018 at the AT&T Center in San Antonio, Texas. NOTE TO USER: User expressly acknowledges and agrees that, by downloading and or using this photograph, user is consenting to the terms and conditions of the Getty Images License Agreement. Mandatory Copyright Notice: Copyright 2018 NBAE (Photos by Mark Sobhani/NBAE via Getty Images) /
After a cautious beginning to the season, the San Antonio Spurs will no longer hold Dejounte Murray to a designated minutes restriction.
Heading into the 2019-20 season, it was widely determined that the greatest addition the San Antonio Spurs would bring along wasn't a free agent or draft selection—it's the return of their starting point guard, Seattle-native Dejounte Murray. Though he's been pushed back to the bench, for the time being, the Spurs continue to rely on their breakout candidate for defensive intensity, balanced playmaking and fiery intensity.
However, Murray has been forced to play roughly 25 minutes or less in every game so far this season after tearing his ACL during the 2018 preseason.
That changed in Friday's overtime victory against the Sacramento Kings, in which Murray sealed the game with a late mid-range jumper to give his team a one-point lead with the game on the line. After the game, head coach Gregg Popovich responded to reporters inquiry about the point guard's 32 minutes logged, provoking this answer:
"As far as I'm concerned. Nobody scolded me or anything like that afterwards, so I think we're good."
Dejounte wanted the ball in his hands at the end of the game, and his teammates responded to that. The standout guard scored 14 points on 50% shooting along with seven boards, three assists and three steals. Although he still logged his fair share of errors (four turnovers and three fouls), it's abundantly clear that this isn't the same Dejounte Murray from two years ago.
Now that the reins are being loosened and Murray is allowed to log extra minutes, he can finally get comfortable being the Spurs' primary floor general once more. Although he still makes sloppy mistakes sometimes and isn't the team's best passer – that nod would go to either Patty Mills, Derrick White or DeMar DeRozan – Murray makes the offense flow much better just by moving the ball and drawing defensive attention throughout the court.
More from Air Alamo
Murray leads the team in assist ratio (25.9) and assist percentage (26%) so far this season, as his presence on the floor equates to better ball movement and a higher chance that the team will establish it's sets.
Though it's taken some adjustment to get back into the flow of things, Dejounte is trending upward again after taking his move to the bench to heart. With increased minutes, he'll grow better chemistry with the starters of last season and hopefully play alongside White, whose three-point shooting has been exquisite for the Spurs this year.
With Murray on the floor, the Spurs are a much more effective fastbreak team. Not only does he create opportunities by intercepting passes and stripping the ball from defenders, but he leaks out and slams down fastbreak dunks whenever possible. He's tied with two-guard Bryn Forbes for the most fastbreak points per game on this team.
Getting reacclimated has been a tough battle for Dejounte Murray, but his work ethic and instincts will overcome. Now that he's no longer on a short leash, he can really make a splash for his struggling team.