San Antonio Spurs could make a statement against LeBron, Lakers in second meeting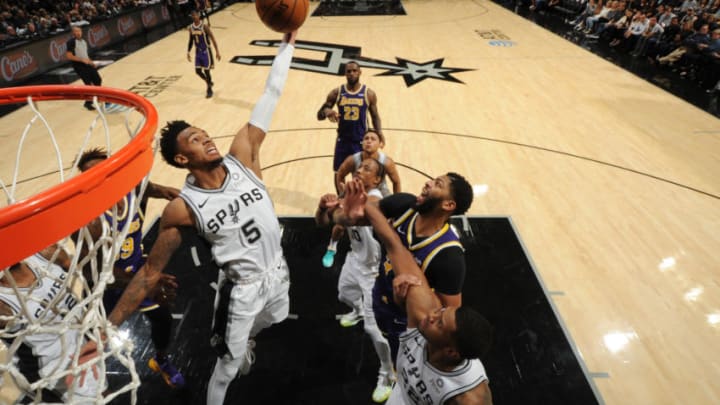 SAN ANTONIO, TX - NOVEMBER 3: Dejounte Murray #5 of the San Antonio Spurs grabs a rebound against the Los Angeles Lakers on November 3, 2019 at the Toyota Center in San Antonio, Texas. NOTE TO USER: User expressly acknowledges and agrees that, by downloading and or using this photograph, User is consenting to the terms and conditions of the Getty Images License Agreement. Mandatory Copyright Notice: Copyright 2019 NBAE (Photo by Bill Baptist/NBAE via Getty Images) /
For the second time this season, the San Antonio Spurs host the Los Angeles Lakers on Monday and could change their narrative.
Teams don't suddenly shift things around and break bad habits – it's a gradual and difficult process in which a team must come to grips with its identity and find common ground for its players. Now that the San Antonio Spurs have snapped their horrendous eight-game losing streak, they could change the narrative surrounding them by taking down two familiar juggernauts in LeBron James and Anthony Davis.
San Antonio kept the first meeting between these two teams close on a tremendous fourth-quarter push led by point guard Dejounte Murray, who historically performs well against the Lakers and LeBron-led teams. With a chip on his shoulder and a chance to impress one of his greatest mentors and supporters around the league, Murray enters this game with fresh legs after resting during Sunday's win against the Knicks.
However, Murray can't do it alone. He'll need to see significant output from the team's two stars in DeMar DeRozan and LaMarcus Aldridge. Lots of the blame from the team's recent drought belongs to the group's leaders, but the duo has been relatively consistent throughout the year on offense. If they can raise their individual intensity and force the Lakers to divert attention to their combined efforts, DeRozan and Aldridge could secure a win.
More from Air Alamo
Implementing wing DeMarre Carroll to help guard the Lakers' hefty frontcourt will be huge in the Spurs' efforts while center Jakob Poeltl will be tasked with defending the rim against a tirade of talented bigs in Dwight Howard, JaVale McGee and Davis. These two have been influential for San Antonio so far this year and deserve to see significant minutes given the matchup and their recent performance.
There are no reported injuries for the Spurs while the Lakers will likely be without defensive-minded guard Avery Bradley. Likewise, point guard Alex Caruso missed the last game due to injury and has been one of the team's best defenders up to this point. If he sits again, the Spurs could really attack the Lakers' guards and light it up from the three-point line.
With a win against the league-leading Lakers, San Antonio could not only show an old rival that they won't back down but prove to the league that they won't go down without a fight. National media has turned toward the Spurs now that they're losing after largely disregarding them since the 2016-17 season.
It's time for this team to play physically, aggressively, thoughtfully and methodically – just as the Spurs are historically known to.