San Antonio Spurs: Rondae Hollis-Jefferson could provide energy as a FA addition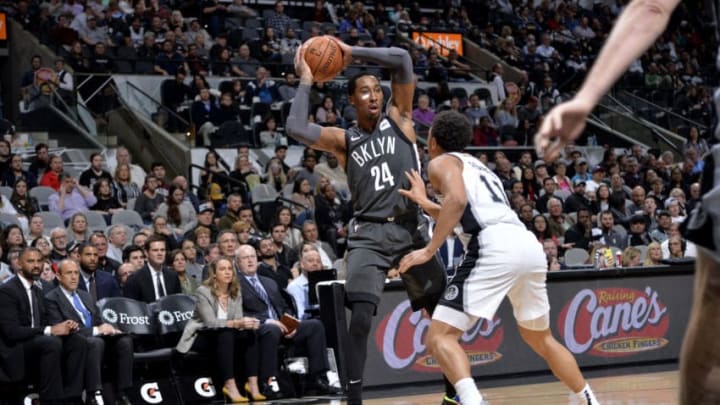 SAN ANTONIO, TX - JANUARY 31: Rondae Hollis-Jefferson #24 of the Brooklyn Nets handles the ball against the San Antonio Spurs on January 31, 2019 at the AT&T Center in San Antonio, Texas. NOTE TO USER: User expressly acknowledges and agrees that, by downloading and or using this photograph, user is consenting to the terms and conditions of the Getty Images License Agreement. Mandatory Copyright Notice: Copyright 2019 NBAE (Photos by Mark Sobhani/NBAE via Getty Images) /
Things didn't quite work out for Rondae Hollis-Jefferson in Brooklyn, but he may be a low-risk, high-reward option for the San Antonio Spurs in free agency.
Hustle and energy cannot be understated in the modern NBA, especially out of the frontcourt. With three-point shooters dominating the game, the power forward position is leaned upon to defend multiple positions and close out on shooters, regardless of their regularly-assigned matchup.
For the San Antonio Spurs, a team on the cusp of filling their cap space, these players do not come cheap. This is why general manager R.C. Buford could take a long look in the direction of Rondae Hollis-Jefferson, a 6-foot-7 forward with the athleticism and heart to make up for his lack of height. Hollis-Jefferson has spent the last four seasons watching a culture develop in Brooklyn and was a valuable member of the team's locker room despite a limited role last season.
The 24-year-old is a talented finisher near the basket with succinct body control and timing on his layups. He's got enough bounce to take off from distance and throw down a ferocious jam, but often times opts for an acrobatic layup to confuse his defender and secure his two points. He made just 41.1 percent of his field goal attempts last season, but played under a system that never harbored or even welcomed his style of play.
After Brooklyn declines to make a qualifying offer, F Rondae Hollis-Jefferson will become an unrestricted free agent, league sources tell ESPN. Hollis-Jefferson, 24, defends multiple positions well. For now, Nets have $46M in cap space.
— Adrian Wojnarowski (@wojespn) June 17, 2019
Last season needs to be taken as a wash when considering Hollis-Jefferson, who averaged 13.9 points, 6.8 boards and one steal in 28 minutes per game in his third season as a Net. Hollis-Jefferson showcased poise as a rim-running forward along with a versatile range of dribble moves that opened up the floor for himself and others.
Three-point shooting is a detriment to his game, as Hollis-Jefferson is a career 22.3 percent outside shooter. Similarly to others in the Spurs lineup, Hollis-Jefferson simply doesn't take many of these shots since he knows he's not an effective jump shooter from range. This is a skill he'll need to develop to ensure his long-term future in this league.
More from Air Alamo
Hollis-Jefferson makes sense for the Spurs because of their blatant lack of physicality and energy from the power forwards and centers. Besides LaMarcus Aldridge and Jakob Poeltl, San Antonio's roster Is relatively weak in the frontcourt with lengthy shooter Davis Bertans slotting at the backup four-spot. Adding a player like Hollis-Jefferson on a comparatively low contract would give them some depth and security at the position that was sorely lacking last year.
More so than anything, Hollis-Jefferson makes sense for the Spurs as a low-risk, high-reward candidate. If he can learn under Gregg Popovich and reestablish himself as a legitimate NBA starter, then the Spurs will hit have hit a home run. Inversely, Hollis-Jefferson could fade into oblivion and move on to his next venture in the 2019-20 season, reopening a roster spot for an emerging young talent or free agency acquisition next season.
This isn't the kind of player I'd offer too long of a contract since he needs to prove himself, but it's also the kind of signing that could really pay off for a team that only has the Mid-Level Exception and a few first-round draft picks to restructure their roster for next season.
Spurs rookies generally don't even play much more than garbage time in San Antonio, so the allocation of the Spurs' MLE will be a deciding factor in the success of this offseason.
Hollis-Jefferson was an unexpected addition to the free agent market and may not acquire the level of hype that other free agents will. If the Spurs strike out on bigger names and need to fill a roster spot, taking a flyer on Hollis-Jefferson could prove to be very fortunate.