San Antonio Spurs: Three questions R.C. Buford needs to address this summer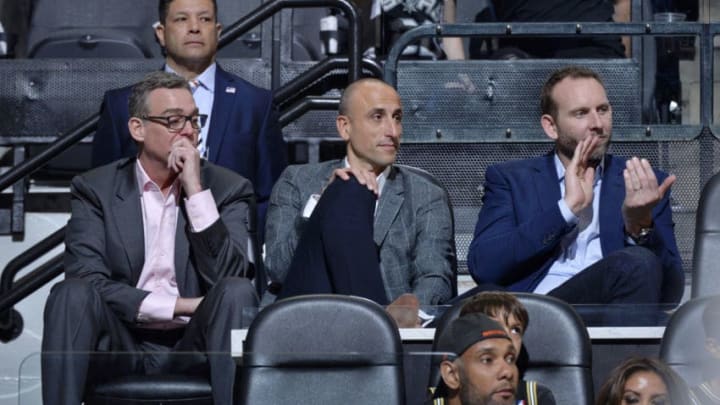 SAN ANTONIO, TX - MARCH 28: RC Buford, Manu Ginobili, and Sean Marks attend a game between the San Antonio Spurs and Cleveland Cavaliers on March 28, 2018 at the AT&T Center in San Antonio, Texas. NOTE TO USER: User expressly acknowledges and agrees that, by downloading and or using this photograph, user is consenting to the terms and conditions of the Getty Images License Agreement. Mandatory Copyright Notice: Copyright 2018 NBAE (Photos by Mark Sobhani/NBAE via Getty Images) /
SAN ANTONIO, TX – MAY 1: Daryl Morey, General Manager of the Houston Rockets, R.C. Buford, General Manager of the San Antonio Spurs and Kiki Vandeweghe, Vice President of Basketball Operations at the NBA chat (Photo by Mark Sobhani/NBAE via Getty Images) /
After facing a first-round exit for the second consecutive season, San Antonio Spurs general manager R.C. Buford has a few questions to ponder in the offseason.
Another exciting year of San Antonio Spurs basketball came to a close with a devastating Game Seven loss at the Pepsi Center against the rising Denver Nuggets. With the cards stacked against them, this year's Spurs group rallied around each other to create a fun, winning environment that exceeded many of the expectations placed on them from last year's offseason.
This served as a transitionary year for the franchise, moving on from the core of the 2014 championship team and the dynasty of previous seasons. With Tony Parker, Manu Ginobili, Kawhi Leonard and Danny Green on to their next ventures, the Spurs turned to an unlikely core of players to learn the system and adapt to the heated Western Conference.
While Gregg Popovich is the mastermind heading the basketball components of the organization, general manager R.C. Buford is behind the scenes building his own legacy by finding talent in unlikely places and putting Pop in the best position to succeed.
A first-round exit, while anticipated, was not an ideal outcome for this organization; especially after succumbing to the Golden State dynasty in the first round of the 2018 NBA Playoffs.
Buford has his work cut out for him this offseason, especially when considering the team's questionable payroll and opportunity to grow the roster with two first-round picks. For as important as loyalty is to the dynasty's success, sometimes changes are necessary for the betterment of the team.
The general manger will have his work cut out for him this summer.
Next: Is it time to move on from some vets?
SAN ANTONIO, TX – DECEMBER 11: Marco Belinelli #18 of the San Antonio Spurs and Patty Mills #8 of the San Antonio Spurs seen on court during the game (Photos by Mark Sobhani/NBAE via Getty Images) /
Is it time to move on from some vets?
Arguably the most exciting part about San Antonio's roster as currently constructed is the amount of young talent developing within the system of this organization. As defensive phenom and vocal leader Dejounte Murray prepares for his return to the hardwood, the Spurs have found a blossoming star in combo guard Derrick White.
Year Three of the Bryn Forbes experience was a delight for fans to see and the hard work established by the trio of Lonnie Walker IV, Chimezie Metu and Drew Eubanks in the G League provides a glimmer of hope for the next generation of Spurs.
Unfortunately, that means some familiar faces must prepare to be phased out of the rotation and into the next stage of their careers. Both Patty Mills and Marco Belinelli were serviceable during the regular season in spite of defensive deficiencies, but neither player performed up to standards in the playoffs and may be on the trading block this Summer.
Buford needs to at least explore the market value for some of his veterans, especially when taking into account the loyalty contract for Mills that has strained the team's cap space for the foreseeable future. Plenty of teams could use a veteran point guard with championship experience, especially when taking into account his shot creation and distribution at the point guard position.
As for Belinelli, there's a solid chance that Walker will absorb more of his minutes regardless of whether or not he's on the team. Buford may want to look at acquiring something in return for his expiring contract in 2020.
Lastly, small forward Rudy Gay will hit the free agent market with no restrictions. He's free to sign wherever he pleases, although it's clear that both parties have mutual interest in securing a long-term deal. Buford needs to evaluate Gay's value to the team in contrast with his age and the price tag associated with his services.
For as valuable as Gay is off the bench and in the locker room, they simply cannot afford to overpay him or offer a loyalty contract that would hurt their outlook for the future.
Next: Can we Improve the team's depth on the wing?
SAN ANTONIO, TX – APRIL 25: Rudy Gay #22 of the San Antonio Spurs looks on before Game Six of Round One of the 2019 NBA Playoffs against the Denver Nuggets (Photos by Mark Sobhani/NBAE via Getty Images) /
Can we Improve the team's defense and athleticism on the wing?
There's not a whole lot of money to work with considering the Spurs have 10 players under contract through 2020 along with three draft picks this summer, but Buford needs to address the team's perimeter defense and lack of firepower on the wing. They allowed opponents to hit 35.9 percent of their three-pointers this season; tying the Blazers and Hawks for the 18th rank in the league.
The Spurs weren't a great switching team this year, partly due to the fact that they turned to small ball in their lineup. While Derrick White was a phenomenal individual defender, starters Bryn Forbes and DeMar DeRozan were subpar defensively despite some earnest and noteworthy effort by both parties. Neither is a natural-born defender and sometimes lack the physicality to pair up against other swingmen, so the Spurs couldn't keep up with teams who rostered elite-level wings.
As for Rudy Gay, his defense was average  and his athleticism has been on the decline since his Achilles rupture back in 2017. He does a solid job of contesting shots, but his defensive stats leave something to be desired.
There are a few different routes Buford could proceed with in addressing the team's wing. First and foremost, the Spurs need to draft at least one small forward in the first round of the 2019 NBA Draft. Players like Matisse Thybulle and Nassir Little have been noted as potential targets, but there is a plethora of ample players available to choose from.
There's also the option of addressing this through free agency or a trade. There's not a whole lot of money to work with, but the Spurs could attach a player and a pick to gauge interest of opposing general managers. This way, they ensure that wing depth is secured without going through the hassle of developing a new player for the entire season instead of inserting a fresh face immediately.
Next: How do the Spurs proceed with their stars?
SAN ANTONIO, TX – APRIL 18: DeMar DeRozan #10 and LaMarcus Aldridge #12 of the San Antonio Spurs look on against the Denver Nuggets during Game Three of Round One (Photos by Mark Sobhani/NBAE via Getty Images) /
How do the Spurs proceed with their stars?
In their first season as a duo in the Alamo City, LaMarcus Aldridge and DeMar DeRozan put their unique skill sets to use and complimented each other nicely. The duo gained some interesting chemistry and did a great job of leading by example. They set the tone for their younger cohorts by showing up to practice and working their tails off day-in and day-out.
Each of the duo is eligible for an extension through the Summer, putting the pressure on R.C. Buford to create an outline for the team's future including their plans for these two stars. Aldridge has a team-option for the final year of his deal while DeRozan can decide his fate with a $27.7 million player option for the 2020-21 season.
Age is a major deciding factor with both of these players, considering Aldridge will enter next season at 34-years-old while DeRozan turns 30 in August. The aforementioned young core needs to get paid eventually, both Dejounte Murray and Jakob Poeltl will hit restricted free agency after next season along with unrestricted free agents Davis Bertans and Bryn Forbes.
More from Air Alamo
It's yet to be seen just how far Buford is willing to go to keep this team's core intact. If he opts not to extend one or the other, does that mean he'd be willing to trade one of them? The new norm of the NBA is seeing star players force their way off of teams and you never know when another superstar-caliber talent is going to request a trade. San Antonio has flexibility with its assets and Buford knows it, now he has to figure out what and who he's willing to move.
Fans are still warming up to DeRozan, but his first year as a Spur can be chocked up as a success. He improved his game from top to bottom, becoming a more active defender, distributor and floor general along the way.
Aldridge, on the other hand, has been the anchor of this team for two consecutive years and has won over the hearts of the fanbase for his effort, dedication and demeanor.
Barring an unanticipated surprise, both players will sport the silver and black again in 2020, but for how long?