San Antonio Spurs 2018-19 Performance Review: Drew Eubanks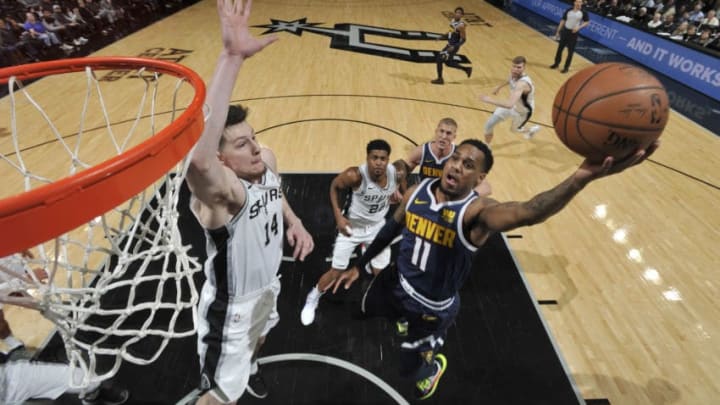 SAN ANTONIO, TX - MARCH 4: Drew Eubanks #14 of the San Antonio Spurs blocks the shot by Monte Morris #11 of the Denver Nuggets on March 4, 2019 at the AT&T Center in San Antonio, Texas. NOTE TO USER: User expressly acknowledges and agrees that, by downloading and or using this photograph, user is consenting to the terms and conditions of the Getty Images License Agreement. Mandatory Copyright Notice: Copyright 2019 NBAE (Photos by Mark Sobhani/NBAE via Getty Images) /
In the first edition of Air Alamo's 2018-19 San Antonio Spurs Performance Reviews, we look at two-way player Drew Eubank who left an impression on the organization.
Expert-level talent scouting is one of the most underrated aspects of crafting a winning organization in the NBA. Under the guidance of general manager R.C. Buford, the San Antonio Spurs have spent the last few years finding gems scattered throughout the once-glorious Pac-12 Conference. After selecting Chimezie Metu of USC in the second-round, the Spurs signed Oregon State's hybrid power forward/center phenom Drew Eubanks to a two-way deal.
Though his role was limited mostly to short bursts of minutes against lesser competition and garbage time, Eubanks left an impression for himself by playing a smart and efficient brand of basketball that aligns nicely with the Spurs' needs. He logged 113 minutes total and made 15-of-26 field goal attempts for 57.7 percent of his attempts while shooting an efficient 15-of—26 from the charity stripe.
Per 100 possessions, Eubanks finished with a total average of 17.7 points, 14.7 rebounds, three assists and 2.2 blocks with an offensive rating of 114 and a defensive rating of 108. Take these numbers with a grain of salt, since most of his minutes came on the trail end of blowouts, but Eubanks showed off some serious potential in limited time.
Eubanks still has a long way to go as an all-around player. His screening needs work since he has a tendency to set weak screens and rush to the rim too quickly for his ball handler to create a play while his shot selection has been mostly limited to layups, dunks and hook shots.
With that said, Eubanks has shown off an impressive motor with great length and athleticism for a shot-blocking rebounder at 6-foot-10. He attacks the glass with intensity, boxing out the opposition with ease and fighting over top for tip-ins. He has solid hands and has shown an ability to catch the ball in the low post despite the entrapment of his defender on the block.
Eubanks took full advantage of his time in Austin by showcasing his skills and working with the Spurs' staff to ensure that he's ready to compete on the next level. In 25 minutes per contest, the former-Beaver averaged 16.3 points per game on a stellar 64.8 percent shooting from the field long with 7.8 rebounds and 2.6 blocks nightly.
The 22-year-old ranked third in the G League in blocks per game and was one of the most tactile scorers in the circuit. Although he didn't display this side of his game in the NBA quite as much, Eubanks has a soft and sound touch on his mid-range jumper. He is adept with both his left and right hands, bringing an ambidexterity that Gregg Popovich could appreciate.
More from Air Alamo
Now that his season with the Spurs has concluded, the team will be faced with the decision of bringing him back to the active roster or allowing him to walk onto his next opportunity. Forward Jaron Blossomgame went on to have an exciting year for the Cleveland Cavaliers after shining with the Austin Spurs; a fate that Eubanks could share.
Still, Eubanks was an active member of the team's beloved 'Coffee Gang' and appears to have the work ethic that aligns with Spurs values. He could provide some valuable bench minutes for the Spurs with the proper athletic training and dedication through the offseason.
There's a solid chance that Eubanks returns on a training camp deal closer to the start of the season where he'll have a chance at proving himself worthy of another contract in San Antonio. If he returns to the team in the offseason, they'll be working with a talented young player with a winning mentality and personability that fits the Spurs' dynamic.
Want your voice heard? Join the Air Alamo team!
All things considered, Eubanks had an excellent introductory season for the San Antonio Spurs.
Check out our other 2018-19 Performance Reviews: