Ranking the San Antonio Spurs bench players by importance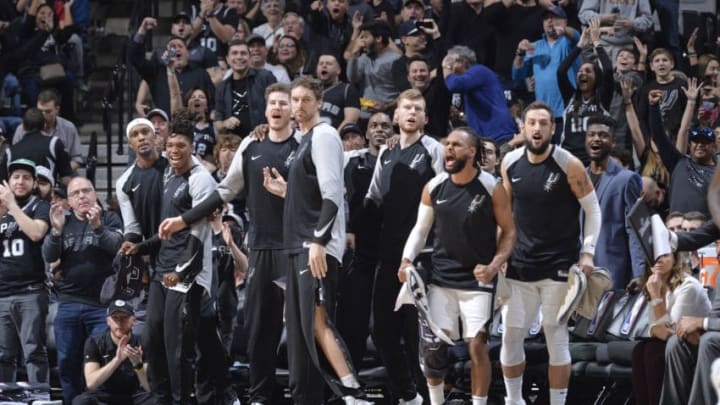 SAN ANTONIO, TX - JANUARY 3: The San Antonio Spurs bench reacts during the game against the Toronto Raptors on January 3, 2019 (Photos by Mark Sobhani/NBAE via Getty Images) /
LOS ANGELES, CA – DECEMBER 5: the San Antonio Spurs bench reacts against the Los Angeles Lakers on December 5, 2018 (Photo by Adam Pantozzi/NBAE via Getty Images) /
Bench scoring has been a prime contributor to the recent success of the San Antonio Spurs. With a group of unique and explosive players in the second unit, Pop has access to a wide array of specialists off the pine.
A major factor in the recent success of the San Antonio Spurs is the explosive scoring of one of the league's best second units. While the Spurs only rank out as the 11th best bench scoring team, they hit the fourth best percentage of their field goal attempts at 46.6 percent and hold the best three-point percentage of any bench at 41.6 percent from beyond the arc.
In different ways, each of San Antonio's bench participants adds something else to the mix. While center Jakob Poeltl may specialize in rebounding and pick-and-roll scoring, wing Marco Belinelli focuses on shot creation and three-point shooting. Dante Cunningham was signed for defensive versatility and Patty Mills is hanging around for his floor general mentality.
No two Spurs bench players impact the team in the same way which is a large reason why the team has been so successful as of late. Head coach Gregg Popovich has had an array of assets at his disposal this year whereas last year's squad could hardly get the ball in the basket.
Everyone's contributions have been important in their own ways but some players have filled more important roles than others. When considering the influence that veteran players have over their younger counterparts and the floor spacing provided by two individuals in particular, each of the rotational players adds a new cog to the Spurs machine that keeps on trucking after all of these years.
For the purposes of this article, players deemed as "G Leaguers" will not be included in this list. That includes Lonnie Walker IV, Ben Moore, Drew Eubanks and Chimezie Metu. While each of these players have found roles within the organization, the tiny sample sizes of playing time makes their statistical significance unfair.
Next: Back End of the Rotation
LOS ANGELES, CA – DECEMBER 05: San Antonio Spurs Forward Quincy Pondexter (3) before the Phoenix Suns game versus the Los Angeles Lakers (Photo by Icon Sportswire) /
7. Quincy Pondexter
If you see Quincy Pondexter entering the game any time before the last 6 minutes of a blowout, it's a bad sign for the San Antonio Spurs. This means one of three things: someone is in foul trouble, the rotational players ahead of him are failing to meet Popovich's expectations or both. Other than that, Pondexter has not been a useful addition to the Spurs on the court.
He's appeared in 34 games this season, averaging 1.9 points per game while shooting a career-high 55.7 percent effective field goal percentage. Clearly Pondexter has benefitted from his role statistically but the team hasn't necessarily benefitted from his presence from a basketball perspective. Still, he's become a valued member of the squad for his veteran presence and relationships established within the Spurs family.
SAN ANTONIO, TX – JANUARY 5: Pau Gasol #16 of the San Antonio Spurs warms up prior to the game against the Memphis Grizzlies (Photos by Mark Sobhani/NBAE via Getty Images) /
6. Pau Gasol
Though it's become abundantly clear that Pau Gasol is not the same player he was even a year ago, the potential Hall of Famer still has a powerful presence in the Spurs locker room. He's come to understand the values of this team's culture well, instilling them in teammates while working with them to achieve their full potential.
Gasol may better serve the Spurs as a player coach at this point in time because his effectiveness on the floor is limited to rebounding and ball movement with the occasional defensive stance thrown in. The stress fracture in his left foot certainly didn't help but Gasol's mobility is worse than ever at this moment in time. I recently touched on the idea of ending the relationship between Gasol and the Spurs in favor of a new role player or draft compensation.
Next: Specialists with Versatility
SAN ANTONIO, TX – DECEMBER 15: Dante Cunningham #33 of the San Antonio Spurs is defended during the game against the Chicago Bulls (Photos by Mark Sobhani/NBAE via Getty Images) /
5. Dante Cunningham
Though his minutes have sharply declined over the course of recent weeks, multi-positional forward Dante Cunningham has been a swiss army knife for the San Antonio Spurs. His main use within Popovich's system has been as a lockdown defender, going head-to-head with the likes of LeBron James, Giannis Antetokounmpo and Anthony Davis earlier in the season.
What been most impressive about Cunningham this year has been his ability to jump into a game at any point in the night and give his best effort. In the last 14 games, Cunningham has received four DNP's at Pop's discretion because of match up issues or standout performances from other members of the second unit. Even so, Cunningham has been extraordinary shooting the ball this year.
In roughly 17 minutes a game, Cunningham has averaged 1.3 three-point attempts for game and has connected on them at a whopping 49.1 percent clip. He fits in excellently with the second unit because of the off-ball movement and open opportunities for threes. Cunningham is a perfect 25-of-25 on assisted threes this year. He has his 57.1 percent of threes from the right corner and 61.1 percent of threes from above the break.
The point here is that Cunningham, while limited in his use, makes the most of the time he's been given and should play an important defensive role in the postseason.
DENVER, CO – DECEMBER 28: Mason Plumlee #24 of the Denver Nuggets and Jakob Poeltl #25 of the San Antonio Spurs compete for a loose ball (Photo by Justin Tafoya/Getty Images) /
4. Jakob Poeltl
It's simple to see that third-year Austrian center Jakob Poeltl has found his role with the San Antonio Spurs. It took a bit of time before the young big man could grow acclimated to Gregg Popovich's system and quite frankly, it took some time for Pop's system to become acclimated to Poeltl's game. Once his chemistry began to develop with the backcourt and Pop started pairing him with DeMar DeRozan more often, Poeltl has excelled in San Antonio.
Part of the appeal of keeping Poeltl on the floor is that he simply doesn't miss very often. He's well aware of his own limitations but has also worked to improve upon his downfalls. He's come more mobile both on and off the ball and has utilized his presence as a screener effectively.
Poeltl attacks the offensive glass with reckless abandon, averaging a career-best 7.3 offensive rebounds per 100 possessions. He takes smart shots, resulting in a 63.1 percent field goal percentage on the season for 5.5 points per game. Between the aforementioned injury to Pau Gasol and larger offensive load shouldered by LaMarcus Aldridge, Poeltl has become San Antonio's go-to rebounder any time he steps on the court.
As the season has settled, Poeltl has shown major signs of growth as a rim protector and shot blocker. His 1.7 blocks per 36 minutes is a testament to the way he's gotten after slashers and cutters near the rim, though the presence of Aldridge and combo guard Derrick White often registers the blocked shots for San Antonio when sharing the court. Going forward, it would be nice to see Poeltl command more attention on the offensive end of the floor while increasing his touches.
Next: The Prodigal Son's Return
SALT LAKE CITY, UT – DECEMBER 04: Marco Belinelli #18 of the San Antonio Spurs brings the ball up court against the Utah Jazz (Photo by Gene Sweeney Jr./Getty Images) /
3. Marco Belinelli
Recency bias would say that Marco Belinelli is the most valuable bench piece for the San Antonio Spurs. The fan favorite is in the midst of a terrific shooting streak over the last two weeks, so he has a real chance to inflate his numbers this season. Superior shooting nights in the middle of the season are stabilizing Marco's numbers after a frigid start to the year shooting the ball.
Belinelli is scoring 10.8 points per game on 38.6 percent shooting from behind the arc along with roughly two assists and two rebounds. Numbers don't do justice to the impact that Belinelli has on the second unit with his crafty off-ball movement and undying ability to shoot off of screens. On a team led by players who focus on scoring from the mid-range, Belinelli's shooting prowess is absolutely necessary.
Over his last four games Belinelli has averaged 19.8 points per contest while hitting 16-of-16 free throws and 15 threes. His offensive outpouring helped to lead his team to victory in three of their last four games including the Double OT thriller against Oklahoma City.
Marco's return to the Alamo City came at the perfect time with Tony Parker and Manu Ginobili onto new things. His championship experience and familiarity with the team culture helped ease the transition for newcomers while instilling the values and strategies of the Spurs organization. By bringing Belinelli back to San Antonio, general manager R.C. Buford implanted a little spark of previous Spurs teams to the next generation of players. In many ways Belinelli serves as the glue of the team because of his easy fit next to any accompanying group of players. He'll often run with the starters as an outside scorer and cutter that works around DeRozan and Aldridge.
Belinelli's triumphant return to the team has sparked a scoring phenomenon in the second unit but he'll need to continue producing down the stretch of the season in order to move up this list.
Next: Ol' Reliable
2. Patty Mills
Though Patty Mills hasn't varied much in his on-court production since becoming the longest tenured Spur this past offseason, his role within the organization is drastically changed. For many years, Mills was another face in a long list of budding contributors in the twilight of the Big Three era. Now, Mills serves as a bridge between the Spurs of the past and the next generation of rising talents in the Alamo City.
Leadership has been discussed heavily in correlation with the San Antonio Spurs since the retirement of basketball icon Tim Duncan. The torch was passed to Kawhi Leonard and LaMarcus Aldridge once Duncan retired and Parker took a backseat to other effective guards that were relegated to the bench. Through thick and thin, Patty Mills is a spark of energy off the bench for head coach Gregg Popovich.
Through 47 games, Mills has put up 9.3 rebounds and 2.9 assists per game with only 1.1 turnover while hitting 39.2 percent of his three-pointers. Mills has fulfilled his role as perfectly as anyone could ask this season. His guiding voice and encouraging attitude have been crucial to integrating a lineup of fresh faces into the Spurs way.
Patty has come up clutch on multiple occasions this season, most notably with a game-winning shot against the Los Angeles Lakers in overtime early in the season slate. At 30 years old, Mills continues to unlock new ways to transform San Antonio's lineup without commanding attention away from his teammates. Few players are as consistently unselfish as Mills, who constantly gives up opportunities of his own to involve his teammates.
It's undeniable that Mills is a staple of the Spurs roster and will provide a shining light over this franchise for the foreseeable future.
Next: San Antonio's game-changing Sixth Man
SAN ANTONIO,TX – DECEMBER 21: Davis Bertans #42 of the San Antonio Spurs reacts after hitting a three against the Minnesota Timberwolves (Photo by Ronald Cortes/Getty Images) /
Davis Bertans
Versatility is key in the modern NBA, so having a deadeye shooter like Davis Bertans who can put the ball on the deck and set up teammates for easy buckets is invaluable to the San Antonio Spurs.
No, Bertans won't finish the game with the gaudiest stat line or highest scoring output, but that's not his job. Bertans is there to set screens, hustle, move the ball, switch on defense and more importantly, knock down threes with a high degree of difficulty.
Now in his third year in San Antonio, the Latvian Laser has become the most important contributor off the pine. His presence alone opens up the floor immensely for the rest of the team to operate; especially the Spurs' mid-range aficionados.
More from Air Alamo
Of lineups that have been deployed in 10 or more games this season, Bertans is the only player featured in all four lineups producing a Net Rating of 28 or higher. Furthermore, Bertans is featured in all four of the Spurs three-man lineups producing an offensive rating of 121 or higher.
Bertans leads the NBA in three-point efficiency, knocking down treys at a remarkable 48.6 percent clip on roughly 4 attempts per night. In a league where shooting and floor spacing is absolutely necessary to team success, Bertans spaces the floor better than anyone.
It's easy to gawk about Bertans as a three-point specialist but he's become much more in this third season. Even over the course of this season so far, Bertans is showing signs of growth as a passer, ball handler and finisher while playing some of the most effective defense of his life.
It remains true that Bertans lacks the strength of many players that he matched up against, but he makes up for it with extreme length and sinister intensity.
Want your voice heard? Join the Air Alamo team!
Davis Bertans gets better with each game and will continue to increase his numbers as the season progresses but he's already been outstanding in 2019.