Orchestrating a San Antonio Spurs trade for Nikola Vucevic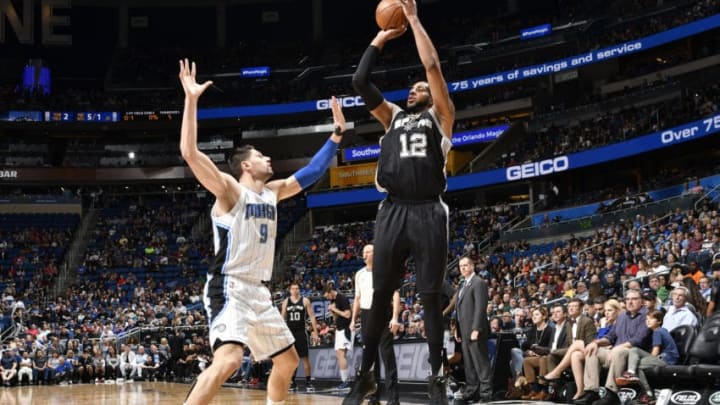 ORLANDO, FL - FEBRUARY 15: LaMarcus Aldridge #12 of the San Antonio Spurs shoots the ball against Nikola Vucevic #9 of the Orlando Magic (Photo by Fernando Medina/NBAE via Getty Images) /
ORLANDO, FL – FEBRUARY 15: LaMarcus Aldridge #12 of the San Antonio Spurs shoots the ball against Nikola Vucevic #9 of the Orlando Magic (Photo by Fernando Medina/NBAE via Getty Images) /
In a heated race for positioning in the ultra-competitive Western Conference, the San Antonio Spurs would greatly benefit from adding center Nikola Vucevic to the squad.
The offensive boom that took the NBA by storm at the start of the 2018-19 season was largely unanticipated by the general public. As time passes and the next generation of talent emerges, the professional game is shifting dramatically toward a scoring-first mentality with an ever-growing emphasis on three-point shooting.
In his search for the right package to ship Kawhi Leonard off during the summer, general manager R.C. Buford constructed a group of misfits who filled roles around his shiny new duo of LaMarcus Aldridge and DeMar DeRozan. He re-signed Bryn Forbes and Davis Bertans with the expectation that they'd space the floor while bringing in veterans such like Dante Cunningham and Marco Belinelli to guide younger players.
The team he constructed, while very talented on paper, has unfortunately been inconsistent on defense and can be frustratingly stagnant in their half court sets. Without Aldridge playing at his absolute best, the rest of the squad often looks lost as opposing frontcourts focus their attention solely on limiting the All-NBA power forward, who has spent the season out of position at the center.
Enter Nikola Vucevic, a versatile seven-footer who is benefitting tremendously from the NBA's shift toward the three-point line. In the duration of his eight seasons in the league, Vucevic has shown flashes of who he could be as a shooter. Head coach Steve Clifford has empowered him to utilize it this year and Vucevic is soaring with the opportunity.
So, what would it take to land Vucevic in the silver and black?
Next: What would the deal look like?
ORLANDO, FL – OCTOBER 7: Nikola Vucevic #9 and Jonathon Simmons #17 help up teammate Jonathan Isaac #1 of the Orlando Magic (Photo by Fernando Medina/NBAE via Getty Images) /
What would the deal look like?
First and foremost, the Raptors' 2019 pick would likely be the crowned jewel of this trade for Orlando. As a rebuilding team, the Magic are more inclined to add young pieces through the draft than they are to sign them in free agency or trade for them mid-season. Focusing on the first rounder could allow for some flexibility in the deal.
The Magic have a blistering need for point guard depth and Patty Mills' contract matches up well with Vucevic's. This season, Mills is making $11.6 million while Vucevic will make $12.8 million in the final year of his current deal, so it would be a fair trade from a financial standpoint. By acquiring his current contract, San Antonio could use his Bird rights to re-sign him either during or after the season ends.
Mills and a protected first would likely be a lowball offer for R.C. Buford considering the way Vucevic has performed this season, but there's always a chance that the pick itself is enticing enough for Orlando to pull the trigger. Still, there's a more logical deal that could be in the cards, but not quite yet.
Veteran center Pau Gasol is out indefinitely with a stress fracture in his foot, but the injury isn't anticipated to affect him for much longer. He's only a matter of a few weeks from returning to game shape and will eventually become eligible to be traded.
The Spurs may consider packaging Gasol, the Raptors pick and third-year guard Bryn Forbes for Vucevic and a salary filler. To make the money work and help San Antonio boost its second unit defensively, Buford may ask that Orlando includes Jonathon Simmons in this deal.
One thing to consider is that the Magic could ask for the Spurs' first round pick instead. This is a dangerous risk considering Vucevic is on a one-year deal and San Antonio is in danger of missing the playoffs for the first time this decade.
Noted at 3:46 PM PST on Sunday, Dec. 16: Forbes was re-signed using Early Bird rights and is ineligible to be traded until Jan. 15.
Next: Why does this deal make sense?
PORTLAND, OR – NOVEMBER 28: Nikola Vucevic #9 of the Orlando Magic warms up before the game against the Portland Trail Blazers (Photo by Sam Forencich/NBAE via Getty Images) /
Why does this deal make sense?
For the Magic, acquiring either Mills or Forbes would help them establish an offensive rhythm with a primary ball handler. Their current starter is veteran guard D.J. Augustin, who has spent most of his career as a bench player. While effective within his role, Augustin leaves a lot to be desired as starter so acquiring one of these sharpshooting guards should open up the offense for a young Orlando team.
Bringing in Forbes to fill the starting role would increase Orlando's three-point shooting and would push the team in a younger direction to fit the pieces around the third-year guard.
Moving Vucevic has always made sense for Orlando but his improved play throws a wrench in the trade talks. General manager John Hammond selected defensive anomaly Mohamed Bamba with the sixth pick in the 2018 Draft and Vucevic's breakout campaign has left the rookie with limited minutes to work with. For as surprising as the Magic have been thus far at 14-15 on the season, their chances of making a splash in the playoffs are slim to none.
For that reason, moving Vucevic in the last year of his deal for future assets and veterans that can guide Orlando's youth is the logical next step. If Gasol were to be added to the trade, he would be massively important to teaching and guiding Bamba in his pursuit of NBA greatness.
After the best single season of his career in 2018, Jonathon Simmons is struggling with a decreased role. His field goal percentage and three-point percentage both plummeted from last year with Terrence Ross and Jonathan Isaac earning consistent roles within Clifford's rotation. This is a low-risk move for San Antonio, who could use his gritty defensive effort and hustle off the bench.
From the standpoint of both sides, a deal centered around Vucevic could change the trajectory of these team's futures. If the Magic want to embrace the rebuild, this could be the way to go. As for San Antonio, the presence of another borderline All-Star would surge this team back into postseason legitimacy.
Next: Vucevic's fit in San Antonio
ORLANDO, FL – NOVEMBER 9: Nikola Vucevic #9 of the Orlando Magic dunks the ball against the Washington Wizards (Photo by Fernando Medina/NBAE via Getty Images) /
Vucevic's fit in San Antonio
Through 28 games this season, Vucevic is putting up 20.8 points and 11.5 rebounds along with 3.7 assists, one block and one steal per contest. His scoring, rebounding and passing averages are all career-highs, as is his 58 percent effective field goal percentage. He's only taking 3.1 threes per night but Vucevic is making 40.7 percent of his shots from range.
Amongst centers playing 25 or more minutes per game, Vucevic has the 11th best EFG. Keep in mind that other big men such like Rudy Gobert, Clint Capela and DeAndre Jordan ranked higher but primarily stick to the paint, so Vucevic's status must be taken with a grain of salt. His superb shooting from three-point land is essential to his fit in the Alamo City.
More from Air Alamo
Vucevic is the type of player that could fit in with any team because of his flexibility and well-rounded skill set. Adding a player that can make an instant impact in so many different ways could transform the season outlook for San Antonio. Putting Vucevic into the lineup as starting center would allow Aldridge to return to his natural position, where he oftentimes bullies defenders with his massive frame and keen instincts.
Because of his high IQ and great size, Vucevic would be an excellent pairing with DeRozan for his ability to find offense off of screens. The pick-and-roll was his bread and butter early in his career but with his improved offense, Vucevic is also a master at the pick-and-pop. He doesn't command the ball too often, though he has the ability to take over if necessary.
We all know that head coach Gregg Popovich has great affection for European skill players, so integrating Vucevic into the Spurs' game plan shouldn't be too difficult. He is already an unselfish teammate and a willing passer, so Vucevic could prove to be a vital cog in executing the motion-centric offense of the Spurs.
Everyone gets theirs in San Antonio's brand of basketball and Vucevic is no exception.