Can the San Antonio Spurs take down the Golden State Warriors?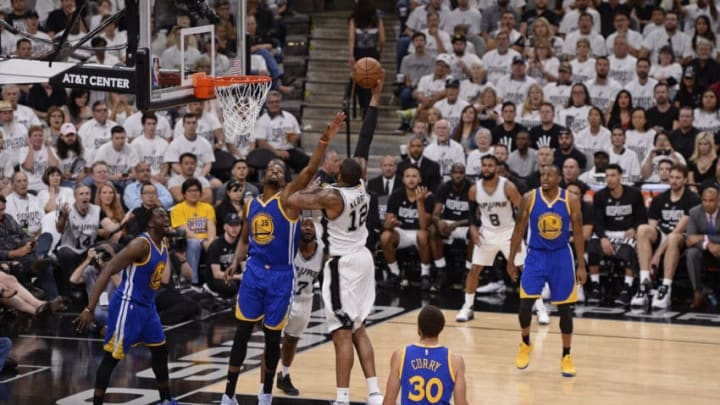 SAN ANTONIO, TX - MAY 22: LaMarcus Aldridge #12 of the San Antonio Spurs shoots a hook shot against the Golden State Warriors in Game Four of the Western Conference Finals during the 2017 NBA Playoffs on MAY 22, 2017 at the AT&T Center in San Antonio, Texas. NOTE TO USER: User expressly acknowledges and agrees that, by downloading and or using this photograph, user is consenting to the terms and conditions of the Getty Images License Agreement. Mandatory Copyright Notice: Copyright 2017 NBAE (Photos by David Dow/NBAE via Getty Images) /
ESPN created a Warriors Competition Rating for the 2017 NBA champions. How did the San Antonio Spurs stand in this?
The San Antonio Spurs faced the wrath of the Golden State Warriors in the 2017 Western Conference Finals. Game 1 saw the Spurs have a glimmer of hope, with a double-digit lead. However, a Kawhi Leonard ankle injury put him out for the rest of the series. The Spurs lost their Game 1 lead and never won a game, as they were swept.
The 2017 NBA Finals featured Warriors domination, too. They defeated the Cleveland Cavaliers in five games and won their second championship in three years.
Taking down Golden State might be impossible for anyone in a playoff series. In ESPN's preview of the 2017-18 NBA season, they created a Warriors Competition Rating. It determines the team with the best chance at defeating the reigning champions.
The Spurs placed third on the list. They were given a 44 percent chance at beating the Warriors, with an average final score of 108-106. The Houston Rockets (No. 1) and the Cavaliers (No. 2) were ranked ahead of San Antonio.
More from Spurs News
The 2017-18 season's story is all about who can top the Warriors, if anyone. Teams looked to add superstar players at any cost in the offseason, in an attempt to combat a lineup of Stephen Curry, Kevin Durant, Draymond Green and Klay Thompson. They're some of the best players in the NBA, and a team of just-as-good athletes (if not greater) is needed to defeat this Goliath.
Do the Spurs have the team to do this? Their superstar is Leonard, with LaMarcus Aldridge a distant second on the team's player rankings. Aldridge, once expected to be the team's star before Leonard's rise, will look to return to his Portland Trail Blazer totals in his third season on the Spurs.
Outside of them, Pau Gasol, Danny Green, Tony Parker and Patty Mills are next in the pecking order. Are they a strong enough supporting cast for the Spurs?
Must Read: 25 forgotten players that were on the Spurs
The Spurs and Warriors will go head-to-head on Nov. 2.