B/R suggests the San Antonio Spurs target Aaron Gordon this offseason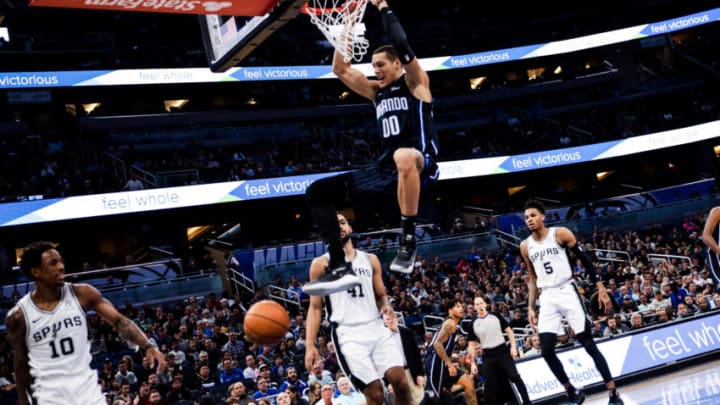 ORLANDO, FLORIDA - NOVEMBER 15: Aaron Gordon #00 of the Orlando Magic dunks against the San Antonio Spurs in first the quarter at Amway Center (Photo by Harry Aaron/Getty Images) /
Bleacher Report suggested the perfect trade target for every team and their target for the San Antonio Spurs was unsurprising — Orlando's Aaron Gordon.
For years now, there have been links between the San Antonio Spurs, Aaron Gordon and the Orlando Magic. Maybe it's all fictitious but after two full seasons of the same names being tossed around, there has to be some legitimacy to it… right?
Bleacher Report's Andy Bailey added fuel to the fire on September 25 with his piece entitled 'The Perfect Trade Target for Every NBA Team,' which did exactly what the title suggests. When he arrived on the San Antonio Spurs, Bailey brought Gordon's name up once again.
So what's the deal here? Why is there so much hype between Gordon and the Spurs?
How does Aaron Gordon fit with the San Antonio Spurs?
An athletic freak of nature with a developing skill set, Orlando Magic forward Aaron Gordon is bursting with potential at this stage of his career. In his final 20 games of the 2019-20 regular season, Gordon averaged 16.9 points per game on 47.3 percent shooting and 35.5 percent from beyond the arc. While these numbers alone may not stand out too much, it was his superb impact elsewhere that made Gordon a serious threat.
Out of seemingly nowhere, Gordon became a serviceable playmaker who the Orlando Magic could facilitate offense through. In that stretch, he posted 5.4 assists per contest in addition to 8.7 rebounds, 1.1 steals and just under a block. Instead of being a player that fades into the background, Gordon became the center of attention for an Orlando team that's struggled to break through the glass ceiling as a perennial first-round out in the Eastern Conference.
More from Air Alamo
Gordon would be a great fit for the Spurs' current timeline — Especially when you consider that he's only 25 years old. The one caveat in this suggested pairing is that the Magic would most likely only move Gordon if they're getting DeMar DeRozan back in a deal. Whether that's on a one-year rental or a sign-and-trade is up in the air, but there aren't many routes for Gordon to land on the Spurs besides this one.
No matter how it ends up, Gordon is someone that San Antonio Spurs fans and analysts have had their eye on for quite some time. B/R was right in suggesting that if any team is going to help Gordon hit his ceiling, it's going to be San Antonio.
If Gordon is going to end up in a San Antonio Spurs uniform, it'll probably have to be during this offseason. This is the final year of DeRozan's contract and Gordon is under contract until the offseason of 2022. All of the Spurs' major contract expires next offseason, leaving the door open for many possibilities in 2021. Unfortunately, that doesn't line up with Gordon's next trip to free agency, so the most likely outcome is the timing never works out.
The Gordon to San Antonio pipedream has a window and it's closing fast.