San Antonio Spurs may pivot philosophy with major cap space next year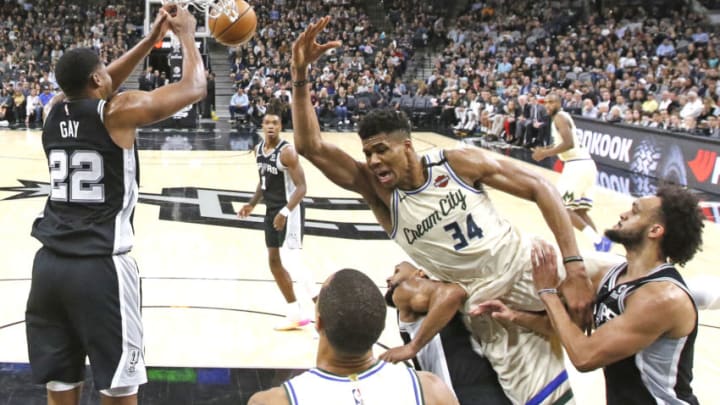 SAN ANTONIO, TX - JANUARY 6: Giannis Antetokounmpo #34 of the Milwaukee Bucks can't get to a rebound against the San Antonio Spurs during second half action at AT&T Center on January 6, 2020 in San Antonio, Texas. NOTE TO USER: User expressly acknowledges and agrees that , by downloading and or using this photograph, User is consenting to the terms and conditions of the Getty Images License Agreement. (Photo by Ronald Cortes/Getty Images) /
Winning teams aren't built today the same way they were when the San Antonio Spurs began their reign of the Western Conference.
Historically, the San Antonio Spurs don't build their teams through NBA free agency. This is one of the best organizations in professional sports when it comes to drafting and developing talent beginning with their leader, head coach Gregg Popovich. As a coach, Popovich knows how to identify a player's strengths and highlight them in his system, which makes him such an appealing man to play for.
However, that's not a strong enough factor for most players to sign in San Antonio. The most crucial free-agent signing in recent history for the silver and black is potential Hall of Famer LaMarcus Aldridge, who inked his deal in 2015. Usually, the majority of the Spurs' salary is tied up in other players, but that's going to change next season.
The vast majority of the Spurs' salary sheet is set to expire after the 2020-21 season. This lines up perfectly with an offseason stacked with talent in which players are expected to switch teams and find new paths. San Antonio has enough for two max contracts, which makes them a viable landing spot for players looking to team up.
That 2021 free agent pool includes Giannis Antetokounmpo, LeBron James, Kawhi Leonard (been there, done that) Paul George, Victor Oladipo, Rudy Gobert and Anthony Davis. There are also a lot of interesting restricted free agents from the 2017 NBA Draft class who may or may not get rookie extensions this offseason.
More from Air Alamo
Those restricted free agents are those who the Spurs should be more interested in. Some of the players who may be on the market include De'Aaron Fox, Bam Adebayo, Donovan Mitchell, Jayson Tatum and John Collins. Of that group, most should be expected to get extensions with the most likely candidates to hit the free-agent market being Collins and Bam.
Of every player on the list, there's only one that would be absolutely perfect for this Spurs team: The Greek Freak. It's a pipedream, but San Antonio has enough money to bring him in longterm and add talent around him to create an instant title contender. It places him with a model franchise that's willing to cater to his game and pair him with young talent that fits his game.
When you've got names of that caliber to consider and more cap space than just about any other team, tradition goes out the window. San Antonio should and probably would sell the farm to bring Giannis and a handful of these listed players to the River City.
Only time will tell how this actually plays out, but the Spurs could build a contender in 2021.