Four players we hope the San Antonio Spurs recruited in the Orlando Bubble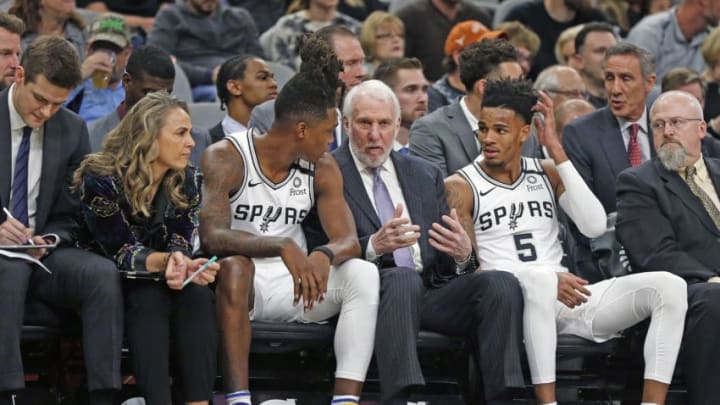 SAN ANTONIO, TX - FEBRUARY 26: Head coach of the San Antonio Spurs Gregg Popovich talks with Lonnie Walker #1 and Dejounte Murray #5 during first half action at AT&T Center (Photo by Ronald Cortes/Getty Images) /
San Antonio Spurs shooting guard Lonnie Walker (L) vies for the ball with Phoenix Suns small forward Mikal Bridges during a game in Mexico City (Photo by PEDRO PARDO / AFP) (Photo by PEDRO PARDO/AFP via Getty Images) /
The San Antonio Spurs made their Orlando bubble objectives known prior to the NBA restart.  Here's hoping more work is being accomplished behind the scenes.
The San Antonio Spurs publicly declared that their goals for the Orlando restart were twofold: Reach the NBA playoffs for a record 23rd straight season and development of the young players. With one game to go and the Spurs standing at 5-2 largely as a result of contributions from the youngsters, it is safe to say the second goal can be checked off the proverbial "to-do list."  San Antonio needs to take care of business against the Utah Jazz and hope for a little luck to reach the playoffs.
One thing that might not have been publicly mentioned but could work behind the scenes is the Spurs' recruitment of players in Orlando who currently don another team jersey. The Spurs roster has a nice blend of veterans and promising young players, but the team still needs help.
Here's hoping the Spurs are wining and dining other players to the Alamo City.  Below is a list of players (one 2018 draft pick and a string of 2017 draft picks) who are all young, can play team basketball, are not franchise players that would be difficult to lure away and will be available in free agency in the near future.
Small forward Mikal Bridges of the Phoenix Suns
Drafted #10 in 2018
Contract status: Team Option in 2021-22 followed by Qualifying Offer in 2022-23
Although Mikal Bridges would still be a solid addition to the Spurs roster, it appears this is less and less likely for two reasons: 1) His price tag keeps going up and 2) The revelation of Keldon Johnson.
Bridges is a solid rotation player averaging 28.8 minutes per game in the last two seasons. He was knocked by draft pundits for entering the 2018 draft as a 22-year-old.  Despite getting plenty of minutes, Bridges was overshadowed by Kelly Oubre Jr. as the sidekick to All-Star Devin Booker prior to Orlando.  Now, Bridges is playing heavy minutes for a surging Phoenix team on the verge of sweeping the Orlando games.
Although Bridges is still under Phoenix's control for several seasons, it is unlikely the Spurs will have the funds to pay Bridges as a free agent.  And that may be okay if Keldon keeps playing the way he has.
Next: Promising young power forwards
BROOKLYN, NY – JUNE 22: The 2017 NBA Draft class gathers on stage for a posed photo following the first round (Photo by Nathaniel S. Butler /NBAE via Getty Images) /
Power forward Jonathan Isaac of the Orlando Magic
Drafted #6 in 2017
Contract status: Qualifying Offer for 2021-22
Forward Jonathan Isaac is teeming with potential — He's tall, long, and athletic. Isaac also loves to play defense.  Yes, his offensive game is limited and yes, his injury history is concerning as he, unfortunately, tore his left ACL during Orlando's second game in the bubble. Despite this injury, Isaac is still a great young player (22) that is worth monitoring from afar.
He has the motor and physical tools to be a great player.  When one watches Isaac, it's easy to see the resemblance to Tim Duncan's Hall of Famer nemesis that guarded him for many years, Kevin Garnett. If nothing else, it wouldn't hurt for Spurs' young players to make a connection and wish Isaac a speedy recovery.
Power Forward Zach Collins of the Portland Trail Blazers.
Drafted #10 in 2017
Contract status: Qualifying Offer for 2021-22
Blazers power forward/center Zach Collins is a solid rotation piece with the size and skill set to play both big man positions in today's NBA. He has an offensive skill set that could blend nicely with the Spurs' young frontcourt of Jakob Poeltl and Luka Samanic while providing solid contributions on the defensive end of the court.
Collins must compete with several other bigs on the Blazers roster, which affects his playing time.  It was even mentioned by team member Dylan Carter that Collins could be part of a return package in a LaMarcus Aldridge trade with the Blazers, who are in win-now mode.
Whether Collins is added via trade or as a free agent, he is a player who would fit in nicely both in the short and long term.
Next: A center who needs a second chance
LAKE BUENA VISTA, FLORIDA – AUGUST 02: Harry Giles III #20 of the Sacramento Kings dunks the basketball against Mo Bamba #5 of the Orlando Magic in the second half of an NBA game. (Photo by Kim Klement-Pool/Getty Images) /
Center Harry Giles of the Sacramento Kings
Drafted #20 in 2017
Contract status: Free Agent 2020 offseason
More from Air Alamo
Thanks to the Sacramento Kings' decision of not extending center Harry Giles a qualifying offer, he will be a free agent at the end of this season. Despite having a rough first couple of years in the league, Giles was a very promising prospect at one point. Back in 2016, Giles was ranked No. 2 on Rivals' top 150 basketball prospects of 2016.
But as mentioned with Jonathan Isaac, injuries are an unfortunate part of the game and they have plagued Giles at all levels of competition. This was the case in high school, college and now in the NBA.  With Kings franchise big man Marvin Bagley missing the Orlando games, Giles has had more playing time to showcase his skills.  If nothing else, Giles is worth a camp invite to the Alamo City.
The San Antonio Spurs have played well during the Orlando games and are still within reach of making the playoffs.  It will take a win and some luck, but the door is still open. What is happening behind closed doors is anyone's guess, but it would be wise for core players to start recruiting the previously mentioned players amongst others to join forces in San Antonio.
That core can be broken down by seven players: Patty Mills, DeMar DeRozan, Dejounte Murray, Derrick White, Lonnie Walker, Johnson and Poeltl.