San Antonio Spurs: Dejounte Murray and Lonnie Walker are a force to be reckoned with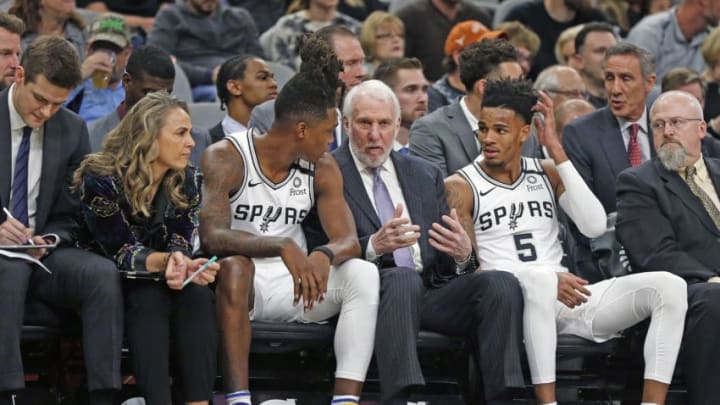 SAN ANTONIO, TX - FEBRUARY 26: Head coach of the San Antonio Spurs Gregg Popovich talks with Lonnie Walker #1 and Dejounte Murray #5 during first half action at AT&T Center (Photo by Ronald Cortes/Getty Images) /
San Antonio Spurs guard Dejounte Murray joined his teammate, Lonnie Walker in buzzing off his hair in preparation for the league's restart.
Just a few short weeks ago, San Antonio Spurs wing Lonnie Walker IV told the gripping story of what his hair symbolized to him. As a victim of sexual abuse at a young age, Walker said that he used his hair as a mask and one of the few things he could control in his life. He said that he's found "peace and internal happiness" with the strength to cut his hair.
Whether it was coincidental or in solidarity is up to speculation, but just yesterday, starting point guard Dejounte Murray did the same thing. He's got a clean, short cut similar to Walker with a fade on the sides and a small layer of hair left on the top.
Shit It Be Like That!!! ????? pic.twitter.com/h5NlQLYtRv
— Dejounte Murray (@DejounteMurray) July 4, 2020
Dejounte and Lonnie have a strong relationship already, which was amplified earlier this season in an Instagram post by Walker with the caption "In order to succeed, people need a sense of self-efficacy, to struggle together with resilience to meet the inevitable obstacles and inequities of life." Murray responded with the following: "I Swear We Gon Take Over This Sh*t When We Get That OPPORTUNITY Brother!!!!!!!"
More from Air Alamo
Well, Dejounte, the time is now because you're heading into the end of the season without LaMarcus Aldridge to lean on. Spurs fans have been waiting patiently for this dynamic duo  — trio if you count Derrick White — to take the reins. San Antonio fell out of the picture this year and has way more players with less than three years of experience than it does players with more than three full seasons in the league.
Whether head coach Gregg Popovich is ready for it or not, the youth movement isn't just a notion anymore — It's the team's best-case scenario. No one's winning in 2020 with two mid-range-heavy veterans leading the way, which is why the Spurs are inevitably going to transition into a team that leans into its youth.
That means unleashing Walker and Murray together, even if they make some mistakes along the way. This duo has the ambition, talent and athleticism to lead the way in the River City for a long time.
Something tells me, the Orlando segment of the season will give us better insight into what's to come for Spurs basketball.