Spurs: Knee injury complicates Jakob Poeltl's much needed return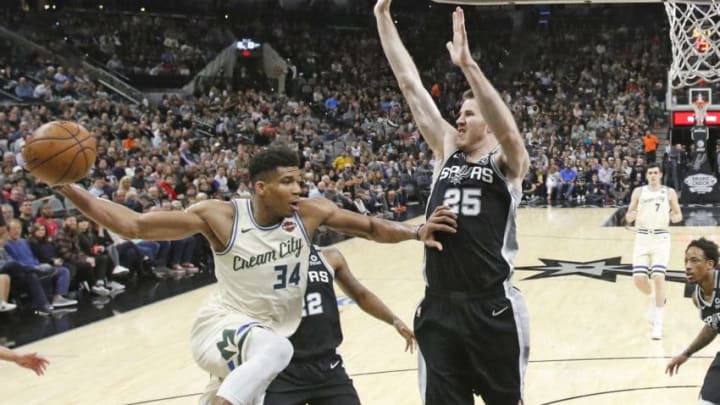 SAN ANTONIO, TX - JANUARY 6: Giannis Antetokounmpo #34 of the Milwaukee Bucks drives past Jakob Poeltl #25 of the San Antonio Spurs during second half action at AT&T Center (Photo by Ronald Cortes/Getty Images) /
The San Antonio Spurs need to be cautious with Jakob Poeltl's knee
In the 2019 NBA Finals, we got an up-close and personal look at what can happen when a player is rushed back from injury. After suffering a right calf strain in the Western Conference semifinals, Kevin Durant sat out nine games before returning in Game 5 of the Finals. We all know what happened next. Durant tore his Achilles, missed the rest of the series, and watched the Toronto Raptors capture their first championship. Now the San Antonio Spurs are facing a similar predicament.
Spurs fans were thrilled to hear that the team would be one of the 22 heading to Orlando to wrap up the regular season and potentially set up a 23rd consecutive playoff appearance. Those feelings of happiness were quickly sandbagged when the news came out that LaMarcus Aldridge would miss the remainder of the regular season and any playoff games after undergoing surgery on his right shoulder.
Since then there's been a lot of speculation about how the team will go about trying to replace the seven-time All-Star. They could take a risk on a veteran like DeMarcus Cousins, or they could bring up someone such as Chimezie Metu from Austin. But the most obvious solution would be to split the burden between Trey Lyles and Jakob Poeltl and start the two together.
Now Poeltl isn't Kevin Durant and instead of chasing a championship the San Antonio Spurs are fighting to keep their playoff hopes alive but the question of how quickly to bring a player back remains one the Spurs must answer before they return to play in late July.
San Antonio Spurs should make sure Poeltl won't re-injure his knee
Poeltl's impressive season was cut short by an MCL sprain caused him to miss the final games before the season was ultimately suspended. It's been a while since then but it's better to use caution when returning from an injury, especially when it's a big man's knee.
This is something that's on the Spurs radar as well as Poeltl's. When speaking with German outlet DiePresse last month he weighed both sides of the argument for returning to play.
"On the one hand, I would be happy to be able to play basketball again after the knee injury, if only for a few games. On the other hand, I also wonder how useful it would be to train up just for a few games after the injury…Although I have no experience with knee injuries, I expect that I will have no problems if the season continues."
It's a nice outlook to take and to be fair Poeltl should be okay by the time the Spurs take the floor in late July. He injured his knee almost three months ago, there's not too much of a reason to be concerned at this point but the Spurs medical staff needs to be 100 percent sure he's ready before putting him back on the floor for the final eight games of the regular season.
More from Air Alamo
Without Aldrdige on the floor, San Antonio is going to rely heavily on Poeltl's rim protection as a backstop. In his second year with the team, Jakob took off to led San Antonio in block percentage (7.7 percent) and blocks per 100 possessions (4.2). Those figures helped him rank 12th in overall block percentage and 5th in the league in blocks per 100 possessions. He's slowly climbed up the ranks to be one of the best defensive big men in the league.
As he is up for a contract extension this summer, Poeltl could use these final few games of the regular season, as well as any potential playoff games, as a final exhibition to show the Spurs front office why he deserves to get paid.
He definitely deserves to be a part of the team's future, but the financials are still up in the air. If he holds down the paint and helps the team secure that record-setting playoff appearance it'll be hard to deny him the pay raise he very much deserves.
He was one of the team's most impactful players all season long and barring any health concerns the San Antonio Spurs are going to continue to lean on Jakob Poeltl as they prepare for their final playoff push.