2020 Draft: Should the Spurs trade up to chase James Wiseman?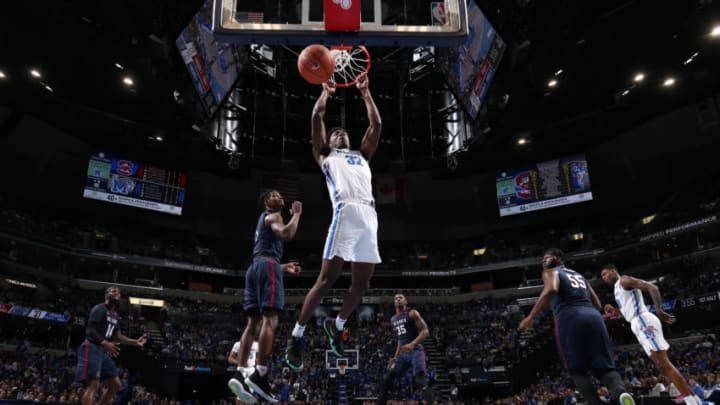 MEMPHIS, TN - NOVEMBER 5: James Wiseman #32 of the Memphis Tigers dunks the ball against the South Carolina State Bulldogs during a game on November 5, 2019 at FedExForum in Memphis, Tennessee. Memphis defeated South Carolina State 97-64. (Photo by Joe Murphy/Getty Images) /
He's been compared to David Robinson, should the San Antonio Spurs look at trading up to select James Wiseman in the 2020 draft?
With their highest pick in the draft since they selected Tim Duncan in 1997, there is pressure on the San Antonio Spurs to nail their selection this year. But given the limitations imposed by a global pandemic, teams are unable to scout they normally would.
This makes scouting a player like James Wiseman even more difficult. One of the most exciting players in the draft, Wiseman played in just three games for the Memphis Tigers before being suspended by the NCAA and eventually leaving the university. The Spurs don't have a lot of film to go off but what they've got should be enough for them to take notice.
With physical traits that compare to David Robinson's, Wiseman is a top prospect. Even as one of the most impressive prospects in the daft Wiseman could be hurt by teams putting less of an emphasis on their centers. If he slides even a little bit the Spurs should think about moving up to snag him.
The first thing that stands out about Wiseman is his frame. Standing 7'0 with a 7'6 wingspan, it's easy to see why he's sometimes compared to The Admiral. He's young and still very thin, but there is a lot of room to add muscle to. When he does fill out he is going to be a force.
He"s an incredible athlete. He combines a quick first step with long strides and is more agile than most big men his size. That, along with his wingspan and leaping ability, could help him be a shot-blocking machine at the next level.
The same skills that make him a potentially great rim protector help him work as a lob threat on the other end. He was a frequent alley-oop target for the Tigers guards. He's in the DeAndre Jordan level where all his teammates have to do is throw it up and trust that he will find it.
The physical talents are all there but there are still areas of his game that teams will question. He can be a dominant defender but he will have to improve his timing in order to avoid foul trouble. And while he will step in as a rim running threat from day one, the rest of his offensive game isn't as polished.
While he's got the frame, he doesn't have the muscle quite yet. He can be moved off his line easily by stronger defenders and will settle for a mid-range jump shot. He has nice form and looks like he can be a consistent outside threat given the time to develop but he's not there yet.
More from Air Alamo
Even if his offensive game never develops past the three-point line he's still going to be a solid weapon give his size and quickness. He would play best surrounded by guards and shooters and left to be the lone man patrolling the paint. It's not hard to see him playing well with the Spurs younger players.
Dejounte Murray, Derrick White, and Lonnie Walker running with Wiseman would be Showtime level entertainment. But none of these hypotheticals matter unless San Antonio is able to pull off a deal to move up.
Luckily the team that's projected to have the top pick seems open to the possibility of trading down. If the Warriors or any other high picking team aren't sold on a player at their position the Spurs should think about trading up.
Doing so would likely cost them their first-round pick, as well as of their young players such as Keldon Johnson or Walker. It would be a tough decision to make but players with Wiseman's physical profile don't come around often. He could be perennial Defensive Player of the Year candidate if he reaches his potential.
The last time the Spurs were drafting in the lottery they came away with a star. Whoever they take this year won't likely ever reach Duncan's level but James Wiseman has the physical tools to be great. He's exactly the kind of big man San Antonio could build their future around.