Three San Antonio Spurs who are having career-years in the 2019-20 season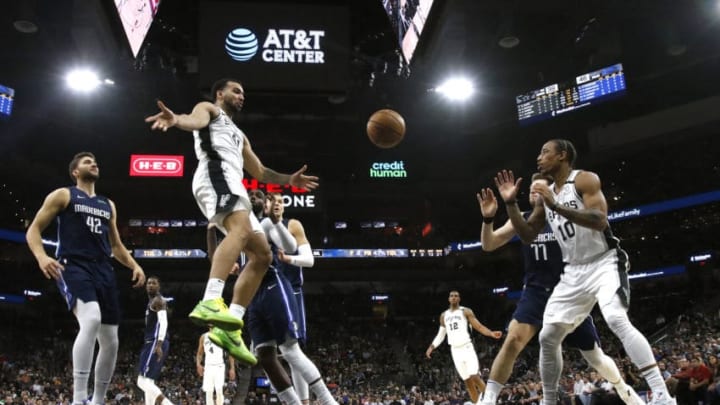 SAN ANTONIO, TX - MARCH 10: Trey Lyles #41 of the San Antonio Spurs passes off to DeMar DeRozan #10 during first half action at AT&T Center on March 10, 2020 in San Antonio, Texas. San Antonio Spurs defeated the Dallas Mavericks 119-109. NOTE TO USER: User expressly acknowledges and agrees that , by downloading and or using this photograph, User is consenting to the terms and conditions of the Getty Images License Agreement. (Photo by Ronald Cortes/Getty Images) /
SAN ANTONIO, TX – MARCH 02: Trey Lyles #41 of the San Antonio Spurs congratulates Lonnie Walker #1 after hitting a three against the Indiana Pacers during first half action at AT&T Center (Photo by Ronald Cortes/Getty Images) /
There's enough of a sample size to show which players are separating themselves from the pack in the 2019-20 San Antonio Spurs season.
With the 2019-20 NBA season at a halt, we've had enough of a sample size to determine how this year has gone for a large portion of the San Antonio Spurs rosters. Some players are regressing into lesser versions of themselves due to team construction or age, and others have come alive.
Today, we're going to celebrate three players who've been the best versions of themselves in the 2019-20 season with some being more obvious than others. Changing roles, evolving skill sets and hard work are paying off for certain players like Lonnie Walker IV, but I wouldn't consider his sophomore breakout a "career-year" per se.
The "career-year" is reserved for players who're already established in the league that are discovering new aspects of their abilities on the hardwood. It doesn't necessarily mean that they're setting career-highs across the board either, but could simply be having their most efficient season or seeming to put the pieces together to become better versions of themselves.
One player I'd consider a runner-up for the list is injured center Jakob Poeltl, whose development in his fourth year has been steady and helpful. Even though Poeltl's minutes have been roughly the same and his role is consistent with that we've previously seen from him, the fourth-year rim protector from Austria is making more of an impact in his minutes with a sky-high 7.7 percent block rate and 11.6 rebounds per 36 minutes.
Even though we've seen some exponential growth from Jakob in his limited time, he's still very much the same player whose rim protection and inside scoring aren't complemented by much else in his all-around game. The same cannot be said of the first player we'll highlight on the list.
Next: Trey Lyles finds his way
SAN ANTONIO, TX – FEBRUARY 26: Trey Lyles #41 of the San Antonio Spurs drives on Dorian Finney-Smith #10 of the Dallas Mavericks before a full crowd during second half action at AT&T Center (Photo by Ronald Cortes/Getty Images) /
Trey Lyles has come into his own with the Spurs
It hasn't been a traditional road to success for fifth-year power forward Trey Lyles. The 6-foot-9 big man bounced between the Denver Nuggets and Utah Jazz before landing with the Spurs on a two-year deal and likely won't be going anywhere soon.
Head coach Gregg Popovich has tapped into some of the former Kentucky prospect's potential by putting him in the right spots to play off of ball-dominant guards and wings. Lyles isn't a high-usage player, though we've seen him become more comfortable scoring the ball as time has gone on. Now, he's the Spurs' reliable starting-four in a role that requires him to do nothing more than be himself – a willing rebounder and passer who can step into jumpers and play around the rim.
Lyles is surprisingly reliable with the ball in his hands, giving him a bit of a Boris Diaw aura that fans in San Antonio can get behind. He's reviving his career after falling off and bearing a reduced role during his last year in Denver, playing behind Paul Millsap and a hodgepodge of tweeners.
Donning black and silver is not easy, especially for players just coming into the system. However, Lyles' basketball IQ makes him a great fit for the system as well as the culture.
This season, Lyles is shooting career-highs from the three-point line and charity stripe at 38.7 percent and 73.3 percent respectively. He's averaging a career-high 5.7 rebounds per game, which translates to another career-best mark of 13.3 boards per 100 possessions. He's set new single-game highs in blocks, offensive rebounds, defensive rebounds and total rebounds in a game this season while working hard to become the best two-way player he can be. Lyles is the real deal.
Next: We've reached the peak of DeMar's IQ
CHARLOTTE, NORTH CAROLINA – MARCH 03: DeMar DeRozan #10 of the San Antonio Spurs is defended by Cody Martin #11 of the Charlotte Hornets during the third quarter of their game (Photo by Jacob Kupferman/Getty Images) /
We've reached the best version of DeMar DeRozan
This is no longer Spurs shooting guard/small forward DeMar DeRozan's athletic prime. While he's still got some awe-inspiring bounce, he's no longer going to jump out the gym and make the Sportscenter Top 10 based on his physicality alone. As a matter of fact, his playstyle doesn't draw much hype at all nowadays, but that doesn't mean he's not playing incredible basketball.
In the 2019-20 season, we've seen a matured version of DeRozan who values efficiency and teamwork above individual statistics or accolades. DeRozan is putting up 22.2 points, 5.6 boards, 5.6 assists and a steal per game, none of which are career-best marks. What's setting DeMar apart this season compared to previous years is his shot selection and teamwork.
DeRozan is shooting a career-high 52.6 percent from the field this season, an entire 6.9 percent better than his career average and an effective field goal percentage 4.2 percent better than his last All-Star campaign. By being more methodical with his shot selection and nearly eradicating the three-point shot from his game, DeRozan is playing to his strengths and shedding his weaknesses.
All of his hard work has culminated in a new top offensive rating for a single season at a whopping 117, which is three points better than his previous best. DeRozan is taking the reins and running with his opportunity since coming to the Alamo City.
This refined version of DeRozan should be admired for his hard work and sacrifice. With that said, he might not be with the team for much longer, so Spurs fans should enjoy this while they can.
Next: Rallying the troops when they need him the most
PORTLAND, OREGON – FEBRUARY 06: Patty Mills #8 of the San Antonio Spurs handles the ball against Anfernee Simons #1 of the Portland Trail Blazers in the second quarter at Moda Center (Photo by Abbie Parr/Getty Images) /
The heart of Spurs basketball, Patty Mills leads by example
For so many years, veteran point guard Patty Mills was more of a cheerleader than a pivotal role player. He slotted behind the likes of Tony Parker, Dejounte Murray, Danny Green and others for years, waving his towel on the bench and hitting a few three-pointers in limited playing time. However, Patty is so much more than a bench warmer and should have some actual Sixth Man of the Year Buzz for the silver and black.
Mills spent his offseason leading the Australian National Team in the FIBA World Cup, unlocking a new level of his game in the process. This year for the Spurs, Mills is putting up a career-high 11.7 points per game on 55.7 percent effective field goal shooting. He's taking and making more shots than ever at 31-years-old.
More from Air Alamo
He's tying his career-high in offensive rating, 115, and is doing so while working his tail off on defense. This has been one of his best years as a pest on that end of the floor, swatting shots at every opportunity and putting some of his newfound muscle to use while battling with players who're much taller than him.
Patty has been a vocal leader for this team for quite some time, and his mentorship has been proved crucial to the growth of young players. As the spokesman of Spurs culture, Mills works each day to ensure that the Spurs' culture is being instilled in the team's locker room and the San Antonio community.
Both on and off the court, this is the most memorable season of Patty's career. There were a lot of folks scratching their heads when San Antonio inked him on that massive deal a few years back, but it's all starting to make sense nowadays.
They weren't just paying for a backup point guard, but for the spirit of the team to hold it down as times changed.