San Antonio Spurs: Top NBA Draft prospects to watch in the 2020 ACC Tournament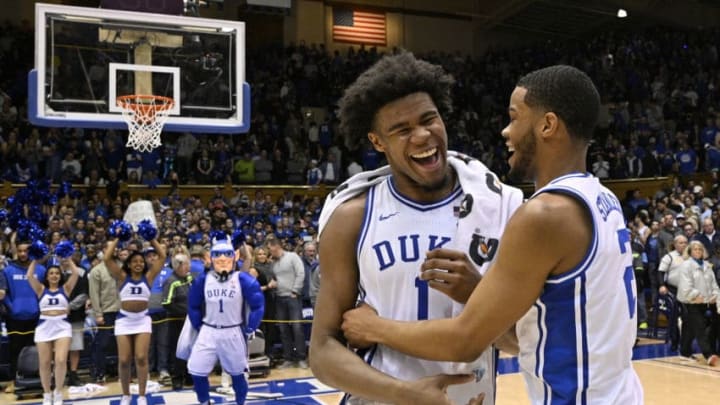 DURHAM, NORTH CAROLINA - MARCH 07: Vernon Carey Jr. #1 and Cassius Stanley #2 of the Duke Blue Devils celebrate after their win against the North Carolina Tar Heels and at Cameron Indoor Stadium on March 07, 2020 in Durham, North Carolina. Duke won 89-76. (Photo by Grant Halverson/Getty Images) /
DURHAM, NORTH CAROLINA – MARCH 07: Cole Anthony #2 of the North Carolina Tar Heels drives between Tre Jones #3 and Vernon Carey Jr. #1 of the Duke Blue Devils (Photo by Grant Halverson/Getty Images) /
With the San Antonio Spurs slipping in the standings, fans could pay some attention to this week's ACC Tournament featuring some of the top prospects in the NBA Draft.
For the first time since 1997, the San Antonio Spurs are on pace to be major players in the NBA Draft lottery this coming May. With a 0.419 win percentage, San Antonio is clinging onto the 12th seed in the Western Conference, which projects to land them the 11th pick in the 2020 draft. With this being the case, they need to start scouting early first-round talent to see who might benefit their roster the most, and there's no place better to begin their search than the ACC.
Short for the Atlantic Coast Conference, the ACC hosts 15 of the nation's premier college basketball programs including four teams in the Associated Press' Top 25, as of March 9, 2020. Only the Big Ten had more selections (six programs) but only had two in the top 15 compared to three from the ACC.
On March 10, the 2020 ACC Tournament tips off with a meeting between Spurs franchise star Tim Duncan's alma mater, #12 Wake Forest, and #13 Pittsburgh. This is the first of 13 games to decide who earns the title of 2020 ACC Champion just ahead of the NCAA Tournament.
March Madness is the best time to gauge the talent of some of the players we've been discussing all year long, including some players who could land in San Antonio via the draft. Usually, this isn't as pressing a matter for the Spurs, but a playoff berth is a long shot at this point in the year and the most important thing to emphasize is taking that next step in building a young core.
Most of the Spurs' needs come in the frontcourt, but on the off chance that the Spurs jump into the top four with the increased lottery odds implemented last year, they may want to look to a top guard talent like North Carolina's Cole Anthony.
Not every player is going to have their talent in college translate directly to the pros, but the ACC tends to pump out legitimate NBA players with powerhouses like Duke, Virginia and Louisville being examples of elite college programs that empower their player's futures.
With a lot of draft prospects coming from leagues overseas, it seems like the ACC is home to the juiciest prospect pool in college basketball this year.
Next: Devin Vassell
HARTFORD, CONNECTICUT – MARCH 23: Devin Vassell #24 of the Florida State Seminoles celebrates his basket against the Murray State Racers (Photo by Rob Carr/Getty Images) /
Devin Vassell, Florida State
To call Florida State forward Devin Vassell a 3-and-D prospect is underselling his well-roundedness as a player. Standing at 6-foot-7 with a wide reach and a high IQ, Vassell is one of the most intriguing players in the 2020 draft class because of his versatility on both ends of the floor and mature polish at the collegiate level.
In his 29 games as a sophomore Seminole, he played just as many minutes on average and posted a loaded stat line of 12.9 points, 5.2 boards, 1.4 steals and a block per game. Vassell uses his size, smarts and hustle to make his opponent uncomfortable regardless of their position. He can switch between positions two through four with ease and has done a solid job faring against point guards and centers as well.
Vassell's exquisite shooting from all around the floor makes him one of the most highly touted players in his class. He shot 53.5 percent on two-point field goals and 41.7 percent from three this season with an impressive ability to step into jumpers from anywhere on the floor.
In one seamless motion, Vassell can catch-and-shoot from the perimeter or create his shot with a few nifty dribbles. He's adept off the pump fake and is fearless with his shot, but not for a lack of selflessness on the court.
He's not going to jump out of the gym as some other prospects may, but Vassell has underrated athleticism that he uses to assert himself on the glass, defensively and around the rim. His vertical leap allows him to play above the rim, finishing slam dunks and putback jams that would be much more difficult for other players his size.
Not only does FSU have the No. 1 seed in the tournament after winning the ACC, but it's the favorite to win it this year. This is going to be an incredible setting for Vassell to improve his draft stock and potentially land in the Alamo City. He's a perfect fit for what they need right now, so this wouldn't be a surprising selection come draft-time.
Next: Cole Anthony
CHAPEL HILL, NC – FEBRUARY 25: Cole Anthony #2 of the University of North Carolina dribbles the ball during a game between NC State and North Carolina (Photo by Andy Mead/ISI Photos/Getty Images) /
Cole Anthony – North Carolina
If there's one word to describe North Carolina point guard Cole Anthony, it's fearless. Even though UNC didn't win a whole lot of games this year, the freshman has been wildly impressive in his limited playing time. Through 20 games this season, Anthony led the Tar Heels in average points, assists and steals as a high-usage scoring machine.
Even though he's not the strongest or fastest player in the draft, Anthony never backs down from a challenge. He attacks the basket without hesitation, which is a gift and a curse for his teams. He takes roughly six free throw attempts per game and makes 75.6 percent of them, but he also misses a lot of shots near the basket when hunting for fouls.
Still, he makes up for some recklessness as a slasher by creating shots for himself and others with dazzling dribbling displays. Standing at 6-foot-3, Anthony has the size he needs to compete at the next level without fear of being too undersized for his position.
Anthony hit 35.6 percent of his threes on 6.6 attempts per game this past year. Since UNC didn't have much of an offensive presence for him to build around, opposing teams knew to throw doubles and smother the star guard. That won't be the case at the next level—at least not as he begins his NBA career. Former-Tar Heel Coby White is a great example of a point guard from this program who wasn't wildly efficient in college that's been great in the pros.
San Antonio doesn't really need another guard, but if they decide to truly blow it up and Anthony is the best available player remaining according to their speculation, then he would be a smart player to invest this year's draft pick in.
Next: Patrick Williams
SOUTH BEND, IN – MARCH 04: Patrick Williams #4 of the Florida State Seminoles is seen during the game against the Notre Dame Fighting Irish (Photo by Michael Hickey/Getty Images) /
Patrick Williams, Florida State
A freshman from Charlotte, NC, forward Patrick Williams burst onto the scene this year and asserted himself as one of the most explosive players in this draft class. He uses a combination of size, strength and bounce to use a high-octane playstyle that translates to both sides of the game.
Standing at 6-foot-8 with a step quicker than that of most players his size, Williams can play positions 3-through-5 with relative ease because of his verticality and the intensity with which he plays. While the aforementioned Vassell is the 3-and-D prospect that most draft scouts will have their eyes on, Williams presents a skill set that offers the shooting and perimeter defense amongst many other skills.
https://twitter.com/accmbb/status/1237002224599027713
It'd be easy to cornhole him as a Jaren Jackson Jr.-Esque player for his projected three-point floor spacing and enticing defensive upside, but he's not quite as big or bulky as Jackson is. Williams has a flexible build that allows him to switch on defenders of various strengths, weaknesses and sizes.
Williams averages a steal and a block along with 9.2 points and four boards off the bench for FSU. Since he's in a limited role this year, Williams is a bit of a draft sleeper with the potential to go in the first-round or slip into the second. This is the kind of player that teams looking to build for the future will covet for his moldability and innate defensive prowess.
Athleticism is important, but harnessing that into actual basketball skill is hugely important to the development and draft security of a young player. Williams brings both to the table, and the ACC Tournament is going to be a stage large enough for him to grow his draft stock before the June draft. If he slips to the second round, Williams would be an incredible addition to the Spurs' budding young core.
Next: Cassius Stanley, Duke
NEW YORK, NEW YORK – NOVEMBER 05: Cassius Stanley #2 of the Duke Blue Devils celebrates his dunk in the second half against the Kansas Jayhawks (Photo by Elsa/Getty Images) /
Cassius Stanley, Duke
You've probably already seen Duke freshman Cassius Stanley's highlights on your social media feed, but he's more than just a fantastic athlete. The 6-foot-6 guard, if we can even call him that, has been stellar as the third-option for the Blue Devils this season. He's averaging 12.6 points, 4.9 boards and one assist per game behind two of the best players in the NCAA this season.
Even though we don't really know what Stanley's evolution will be as he progresses in his basketball career, we do know it'll be a spectacle to watch. Last year, high-flyer Zion Williamson set a record for the highest vertical leap recorded in Duke program history. Just one year later, Stanley broke that record with a leap higher than Zion's 45 inches.
Stanley is a talented defender both on and off the ball, wreaking havoc by intercepting passing lanes and generating transition offense as a one-man freight train. Dunking is one of his best skills, but he's a strong and versatile finisher besides that with a solid floater and soft touch near the basket.
Shooting isn't one of his strong suits, although that's nothing the Spurs couldn't harness with the assistance of shooting guru Chip Engelland. More importantly, Stanley has the makings of a multifaceted professional defender, slasher and rebounder. He's a bit of a raw prospect, which is why he's projected by many to go outside of the lottery.
However, this wouldn't be the first time that a player at a major program like Duke has their role diminished despite being a top recruit. This isn't an inditement against Winston's exciting future as an NBA talent. If he slips to the second round of the draft, he should be the Spurs' No. 1 target at that point.
Next: Vernon Carey Jr.
EAST LANSING, MICHIGAN – DECEMBER 03: Vernon Carey Jr. #1 of the Duke Blue Devils reacts after a second-half basket against the Michigan State Spartans (Photo by Gregory Shamus/Getty Images) /
Vernon Carey Jr., Duke
It's a surprise that freshman center Vernon Carey Jr. isn't higher on draft boards, because the 6-foot-10 center has been dominant at the collegiate ranks. Bearing some bulk and verticality on his NBA-ready frame, Carey is a man amongst boys in the ACC and continues to impress as the conference's Rookie of the Year for his stellar play through 31 games.
Hitting 57.7 percent of 11.1 field goal attempts, Carey averages 17.8 points, 8.8 rebounds and a block per game as the leading scorer for one of the NCAA's most prominent programs.
At only 19 years old, Carey already boasts a wide range of post moves that he uses to get efficient shots off near the rim. He can finish through contact pretty easily, especially when he gets matched up with players who fall under his weight class. His 31 percent usage rate at Duke suggests he can carry a large workload offensively, and his knack for rebounding helps him score on second-chance opportunities.
Vernon Carey Jr. was the runaway pick for Rookie of the Year!
? Averages 17.8 ppg ? Leads @DukeMBB in scoring and rebounding? 15 double-doubles this season
— ACC Men's Basketball (@accmbb) March 9, 2020
Maybe he's not the most mobile defender, and oftentimes gets knocked for being too traditional of a big, but he also hit eight of his 21 shots from three-point land this year, proving he has some potential as a floor spacer down the line.
Landing somewhere like San Antonio would empower Carey to hone his strengths and polish over his weaknesses before getting fully assimilated to the NBA. The Spurs offer him the perfect opportunity to discover what it means to be a pro, and how to fulfill his potential to the highest degree. They have an appreciation for traditional big men and know how to make that work even in today's modern game.
Carey is projected to go late in the lottery, even though he's one of the most talented players in college basketball today. Something tells me that will change though, as Carey has the biggest stages he could ask for in the ACC Tournament and subsequent NCAA Tournament to prove himself worthy of an NBA lottery pick.
Next: Jordan Nwora
LOUISVILLE, KENTUCKY – JANUARY 04: Jordan Nwora #33 of the Louisville Cardinals dribbles the ball against the Florida State Seminoles at KFC YUM! Center on January 04, 2020 in Louisville, Kentucky. (Photo by Andy Lyons/Getty Images) /
Jordan Nwora, Louisville
Three-level scoring is the name of the game for 21-year-old small forward Jordan Nwora out of Louisville. The junior spent his previous two seasons in northern Kentucky honing his skills and learning how to establish himself as a volume scorer. Now that he's matured and more polished, Nwora is anticipated to be one of the gems of the draft come mid-June.
An All-ACC First Team selection, Nwora averaged 18 points and seven rebounds per game on 44.0/40.2/81.2 percent shooting splits while leading the Cardinals to 24-7 record including 17-1 on their home floor. Nwora's jump shot is something to be admired, as his quick release and long-range are sure to make some NBA team very happy in the longterm.
Being a junior player, Nwora may get some second-glances. Many teams find players above the age of 20 to be tainted since they're less impressionable and more set in their ways. This isn't going to be the case with Nwora because he's spent every minute of his time in the NCAA working to be a better version of himself—a trait that's not likely to change any time soon.
He proved that he can play within a team-based scheme, but nothing about Nwora's game screams that he's a strong defender. It's not an area where he struggles per se, but it's definitely not his forte. However, defense can be taught as long as a player is willing to put their motor to use and lock into the teachings of their coaching staff.
More from Air Alamo
Nwora is a proven student of the game with a basketball IQ that surpasses that of many of his peers. His 1.3 assists per game don't do justice to his potential as a playmaker, as Nwora oftentimes gives the ball up to his teammates based on what his defenders are throwing at him.
He's not going to jump out of the gym, but Nwora's performance at the NBA Draft combine is likely to surprise some people because of his underrated athleticism and 6-foot-7 build. He maintains an underappreciated wingspan and overall size that could prove crucial to his rising draft stock. The ACC and NCAA Tournaments are going to be very important to his potential ranking amongst NBA scouts.
Nwora is mature, poised, smart and has a keen attention to detail that would entice San Antonio to pick him, whether it be in the first round or beyond. He's the kind of player the Spurs seek out, which is pretty telling of a rising prospect.
It'd be nice to land him in the second round, but if he ends up going somewhere in the mid-to-late first round, he could be worth trading up for the silver and black.