San Antonio Spurs News: Looking to find a new home for DeMarre Carroll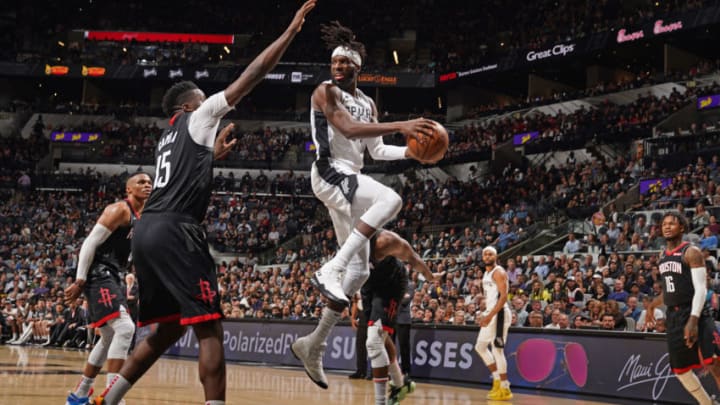 DeMarre Carroll of the San Antonio Spurs. (Photos by Darren Carroll/NBAE via Getty Images) /
The NBA trade deadline is rapidly approaching and it sounds like the San Antonio Spurs are starting to get in on the action.
Trade deadline week is always one of the most exciting parts of the NBA season. Things are slow right now but all it takes is one tweet from Woj or Shams to send shockwaves around the league. They haven't made any moves yet but recent San Antonio Spurs news indicates that the team could be getting in on the action soon.
CNBC's Jabari Young recently reported that the Spurs have been working with DeMarre Carroll to find a new team for the 33-year-old forward while also looking for a partner to take Marco Belinelli. Young also reported that other team executives would be interested in Rudy Gay but believe that San Antonio would ask for too much in return.
All of this, according to Young's sources, is to help San Antonio gear up to make a run at a playoff appearance that they are "100 percent obsessed with." As we touched on yesterday, making the playoffs should come as a side effect of a larger strategy and not as the sole goal for the Spurs.
If San Antonio is able to send off Carroll, and possibly Belinelli, in order to get younger players or ones on less expensive and shorter deals, to help them prepare for a playoff push it could be a win-win.
More from Air Alamo
But they should draw the line there. Trading away young, talented players like Derrick White or Jakob Poeltl in order to secure the eighth seed would be a foolish move but one that I don't think San Antonio is likely to make.
Tanking was never in the cards for San Antonio, if they do make a deal before Thursday's trade deadline it seems like it will be in order to help them chase that record-setting 23rd consecutive playoff appearance.
A funny little sub-note in Young's report was that other teams around the league are not as willing to help the Spurs in their time of need due to San Antonio's long track record of excellence. I guess being too good for too long does have its consequences.
All of these rumors combine to indicate that this year's trade deadline could be the most active the San Antonio Spurs have been at the deadline in quite some time. They've got several playoff-tested veterans who can help a contending team like the Philadelphia 76ers get back to where they want to be.
This week is certainly going to be an exciting one, if what Young has reported is true, and there's every reason to believe that it is, the Spurs could make several moves before all is said and done.