San Antonio Spurs v. Lakers: Betting odds, preview, predictions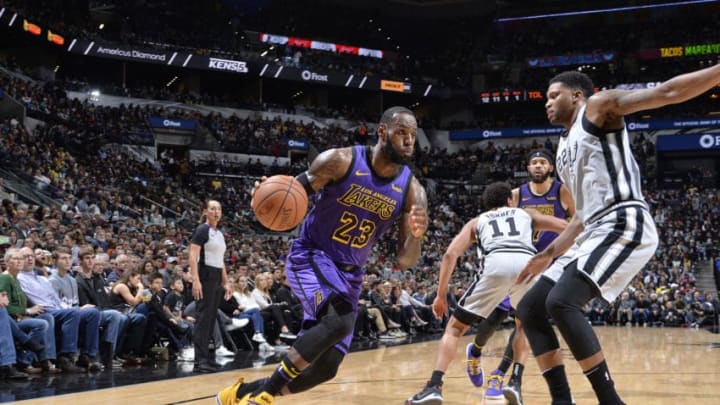 LeBron James of the Los Angeles Lakers handles the ball against the San Antonio Spurs. (Photos by Mark Sobhani/NBAE via Getty Images) /
The San Antonio Spurs will close out a difficult week of Western Conference matchups when they host the Los Angeles Lakers on Sunday.
The mid 200s gave us plenty of legendary matchups between the San Antonio Spurs and Los Angeles Lakers. The two legendary franchises have jockeyed for position atop the Western Conference for the better part of the last three decades.
Today's matchup doesn't have the greatest impact, it is after all just a regular-season game in early November, but it does come at a time when both franchises are entering into new eras. The Los Angeles Lakers have sold off their assets, traded most young players, and gone all-in on the Anthony Davis experience. San Antonio has ramped up the pace, handed most control over to their cadre of young guards, and are gradually becoming Dejounte Murray's team.
Beating the Lakers would mean a lot for San Antonio. Before their weeklong trip around the Western Conference, we touched on how these matchups would give us a better idea of where this team stands among the competition.
San Antonio has gone 2-1 on the week, with solid wins over the Portland Trail Blazers and Golden State Warriors. Those wins confirmed what we knew thought about this year's Spurs group. San Antonio's near league-best depth can help them withstand the wear and tear of the regular season and likely secure a playoff spot.
Against Portland, the Spurs depth helped them pull themselves back into the game in the third quarter. The Blazers had just come off of a long game in Dallas the night before and clearly looked worn down. San Antonio took advantage of that in their comeback win. Then they rolled over the Stephen Curry-less Warriors thanks go an impressive 31-point eruption from Patty Mills on the bench.
The game with the Lakers will be different. Los Angeles last played on Friday against the Dallas Mavericks. They'll be coming into the AT&T Center on a full day's rest and will give San Antonio their best shot. The Spurs weren't able to withstand that from the Clippers but will look to fare better against the other team vying for control of LA.
Beating injury-depleted and exhausted teams can sustain a team in the regular season, but if San Antonio wants to make payoff noise they will have to take down teams on their best nights. They weren't able to do so against the Clippers but if they beat the Lakers tonight it's a great sign for the Spurs postseason potential.
Gameday Bets
Moneyline: Los Angeles Lakers -1
Over/Under: 217.5
Intriguing Prop Bets
All betting information is courtesy of The Action Network.
This game is going to be close, or at least Vegas thinks so. The spread is only set at one point, there clearly isn't a definitively better team. The Lakers are viewed by many as the stronger team but the homecourt advantage afforded by the AT&T Center makes it hard to pick against San Antonio.
The prop bets are a bit more appealing. Dejounte Murray has gone over 6.5 rebounds in three out of four games this season. He's one of the best rebounding guards in the league and will have the additional motivation of playing against his Klutch Sports comrades in LeBron James and Anthony Davis to motivate him. I'd bet on him collecting at least seven rebounds in this one.
Danny Green's point total is set at 8.5 which I think is far too low. He's beaten that number in three of five games this season and could be in line for a big game. Maybe the Lakers look to get him involved early and often in his return to the Alamo City. Green is a lights-out shooter playing next to LeBron James, that's a dangerous recipe. It would only take three shots for Green to surpass this total. You have to like that.
It's going to be a prime time Sunday showcase between two of the best in the West. San Antonio should be able to close out the week strong and come away with the win. Tip-off is from San Antonio at 6 pm CST.