The Spurs are playing faster than ever and putting the league on notice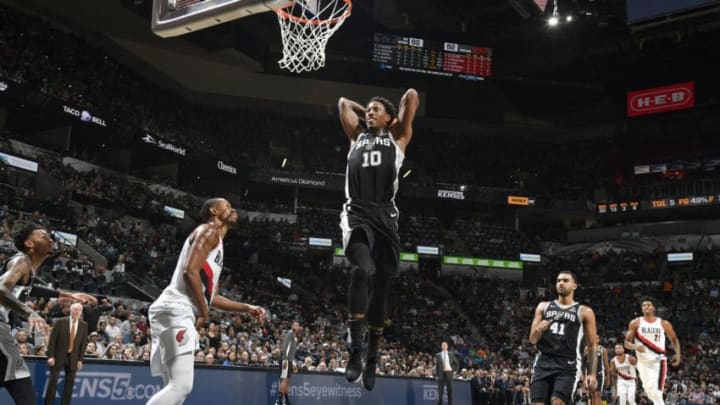 DeMar DeRozan of the San Antonio Spurs. (Photos by Logan Riely/NBAE via Getty Images) /
The San Antonio Spurs are making the most of their youth movement and playing faster than they have in decades.
Throughout franchise history, the San Antonio Spurs have typically avoided playing at breakneck speed. There were times when they would push the pace but in general, they preferred to grind it out and beat you with precise ball movement and excellent shot selection. That's changed this year as the Spurs are making the most of their youngest roster in years.
There were plenty of hints that the Spurs would be picking up the pace this season. In training camp, Gregg Popovich raved about how fast Dejounte Murray was while also noting that Lonnie Walker might be even faster. San Antonio hasn't had players with this level of speed and athleticism in quite some time so it wasn't clear exactly how Pop would integrate those elements into his gameplan.
Now three games into the regular season we have a pretty good picture of how the Spurs are going to play. Keep in mind, this isn't a player opening up the season on an otherworldly hot streak. San Antonio changing their style of play to accommodate new personal seems deliberate and those kinds of stylistic changes aren't something Pop does lightly. This is the new reality for the Spurs.
The new reality is a team that is currently ranked eighth in the league in pace and is playing faster than they have since the 1972-73 season. The message has been sent to all of San Antonio's guards that they have the green light to push the pace and attack the rim early and often.
This fast-paced revolution begins with the return of Dejounte Murray. We had sky-high expectations for Murray this year and yet he's managed to exceed them. He's been as dynamic as anyone could have hoped and is still playing on a minutes restriction. Through three games Murray is averaging a jaw-dropping 23 points, 13 rebounds, and 9.4 assists per 36 minutes.
That rare combination of rebounding and playmaking plays right into the Spurs gameplan. Murray is one of the best rebounding guards in the league and is very comfortable corralling the board and going straight into attack mode. He's got the defense on their heels as soon as he comes down with the ball and his teammates are following his lead.
Welcome back, @DejounteMurray. pic.twitter.com/niGAzn6Z1B
— San Antonio Spurs (@spurs) October 24, 2019
He's been putting the league on notice with his improved finishing and aggressive style of play. As defenses adjust to try to slow Murray down in transition they will send additional defenders to try to stop him. That's going to open up more opportunities for shooters like Patty Mills and Bryn Forbes to connect on long-distance attempts by sprinting to the corners and waiting for Murray to find them. It's still early but Murray is looking awfully like Russell Westbrook in his ability to put pressure on the defense early on.
Another player who's received the message to push the pace has been Derrick White. In his command of the second unit, White has looked comfortable taking the ball to the rim himself rather than waiting for his teammates to get into position.
More from Air Alamo
White was critical in the Spurs come from behind victory over the Portland Trail Blazers on Monday night. His 21 point effort off the bench helped keep the Spurs in the game in the early going's and eventually helped them take over mid-way through the third. One constant theme throughout the night was White's willingness to attack the basket.
The early returns on this new style of play have been fun. The Spurs are 3-0 with a healthy offensive rating of 111.3. Not only are they winning, but they look like they're having fun too. It's certainly fun for Spurs fans to watch.
As impressive as the Spurs have been early on, they can be much better. While they've been pushing the pace they've also gone through cold stretches of being unable to score the ball and have struggled with turnovers in each of their first three games. Lonnie Walker, the fastest player on the team according to Popovich, has still yet to see meaningful playing time. Think the Spurs have been exciting so far? Just wait till he gets added to the mix.
These aren't the Spurs of the early 2000s. Gone are the days of grinding it out in half-court sets on the way to a 94-86 victory. These young Spurs are born to run. They might just run right into the record books as San Antonio chases its record-breaking 23rd consecutive playoff appearance.