San Antonio Spurs vs. Orlando Magic 2019-2020 season preview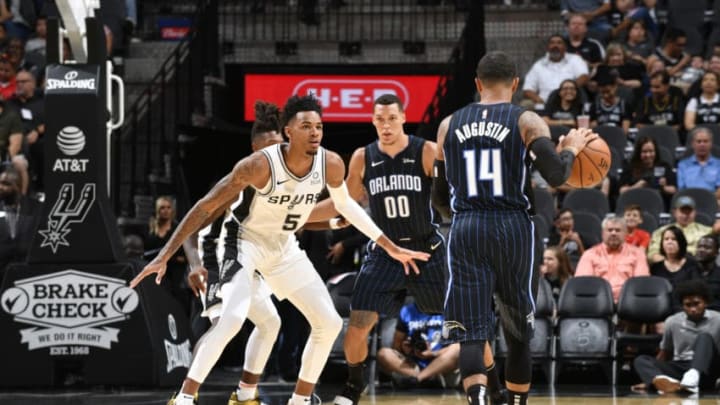 Dejounte Murray #5 of the San Antonio Spurs. (Photos by Logan Riely/NBAE via Getty Images) /
Dejounte Murray #5 of the San Antonio Spurs. (Photos by Logan Riely/NBAE via Getty Images) /
The San Antonio Spurs and Orlando Magic are in for two more intense matchups this year. What does San Antonio have to do to sweep the season series?
With the days of Dwight Howard led squads long gone, the Orlando Magic have once again put a solid group together. After years of inferiority and countless confusing front office decisions like trading away players like Tobias Harris and Victor Oladipo for nada and an overall re-boot of the Orlando Magic brand, the Magic have seemed to turn it around.
The unique thing about this Magic team is that it isn't led by a superstar level talent. Not only is their playoff berth last season impressive by that standard, but it's also a testament to how well-coached and selfless these players are. Winning without a star in this league is downright difficult. The Orlando Magic, coached by Steve Clifford, are one of the most intriguing squads in all of the NBA.
The 2019-20 Orlando Magic will be even better than last year. With relentless effort and attention to detail on the defensive side of the court, this Magic team truly is the opposite of what you see in this era of the NBA. With a strong defensive mindset, instilled by Clifford, and a true old-school era of slow-paced offense, the Magic keep themselves in many close games.
Orlando has a decent blend of young players and players in their prime. While unlikely to contend for an NBA title, they are in shape to improve on their performance from last year.
With plenty of mismatches, this matchup will be very interesting to watch. The Magic are a very long, defensive-minded squad who likes to feed their frontcourt, I can easily see how that style of offense could either benefit them or become a detriment.
All of that said, the first question is: How does this Orlando Magic team match up against the San Antonio Spurs?
Next: The 2019-2020 Orlando Magic
Aaron Gordon and Nikola Vucevic of the Orlando Magic (Photo by Brian Sevald/NBAE via Getty Images) /
The 2019-2020 Orlando Magic
With a group of players who have all bought into the Steve Clifford system, this Magic team is once again ready to make some noise come the post-season. That's right, the Orlando Magic will be a lock to make the playoffs again this season.
This Steve Clifford coached bunch performed above and beyond all expectations last season. This club is miles better than what we all thought. Last year, many thought of this team as one who might be counting on ping-pong balls in May. Their impressive progression will continue into this upcoming season.
The Magic are helped by their interesting blend of young up and comers and veteran role players. That blend also asks a lot from the players who are in their prime. Players like Nikola Vucevic, D.J. Augustin, Terrence Ross, and Evan Fournier. Of these vets, all but D.J. are in their twenties, and all are asked to do more than just show up. From providing leadership and consistent scoring outputs to mentoring Orlando's group of young talents, the veterans are key to the success of this team.
But players like the newly acquired Markelle Fultz, as well as Aaron Gordon, Mo Bamba, and Jonathan Isaac, are ones Orlando needs to truly progress as their time in the Disney City continues.
Gordon and Isaac are a very talented pair of forwards who can give San Antonio problems. Mo Bamba showed how much of a scoring impact he can have in the preseason game between the two teams. He tallied 18 points and was a monster on the boards as well. Containing Orlando's young big men is an important key to victory for San Antonio.
Next: Orlando Magic Defense
Josh Richardson #0 of the Philadelphia 76ers drives to the basket during a pre-season game against the Orlando Magic (Photo by Fernando Medina/NBAE via Getty Images) /
The Orlando Magic defense
Last year, the Orlando Magic were the eighth-best defensive team in all the NBA. They have crazy length and height and emphasize not giving up many easy buckets. Their guards are talented, with the continuous high effort given by Michael Carter-Williams leading the way defensively. Their forwards and centers were able to give up the 9th lowest points given up in the paint. Orlando has shown that there will be a lot of long nights offensively for opposing teams when they have to play them.
This season, I believe their defensive presence will be even better. Their biggest acquisition this off-season was the addition of nine-year veteran Al-Farouq Aminu. Aminu has proven to be a very versatile defender, adding to Orlando's already impressive length and versatility on the defensive side of the court.
I think a big piece of this team defensively will be the increased playing time for center Mo Bamba. Bamba is a superb defensive paint presence. His outstanding athleticism, shown off when playing against pick and roll, will pay dividends with more playing time. Since his time at Texas, Bamba has shown flashes of his insane defensive ability in nearly every area. With more playing time he could put it all together consistently.
With Mo Bamba's increase in minutes, I also expect the defensive progression of Jonathan Isaac to continue. Isaac has shown that he's a versatile on-ball defender who can use his length to his advantage.
Early on in his rookie season, he proved to be a solid defender. Isaac's defense has always been an advantage for him. While still cleaning up some technical things, Isaac has shown progression since his rookie season. His progression, along with Bamba, makes this Orlando team very hard to score on.
Next: Orlando's offense
Terrence Ross #8 of the Orlando Magic shoots a three-point basket. (Photo by Scott Cunningham/NBAE via Getty Images) /
The Orlando Magic offense
Last season the Orlando Magic were a back-end middle of the pack offensive team. With the 18th best field-goal percentage and 15th most three-point attempts per game, the Orlando Magic showed that they won't shoot themselves out of games, but won't necessarily shoot themselves back into a game either. Scoring what was ranked 24th in points per game, showing off their 22nd ranked offensive rating and lastly posting one of the slowest paces of play in the league, this team has a ton of room for improvement.
It will be tough for them to be very much better this season. Nicely put, they are an inconsistent group of shooters and scorers. Jonathan Isaac, Aaron Gordon, while posting improving shooting splits, are still combined, 43% shooters. Evan Fournier, Michael Carter-Williams, D.J. Augustin, Terrence Ross all hover around 38%-45% in terms of their field-goal percentage.
The shooting worries me and is something I feel will hurt them in many games. While Orlando was the 12th best team in terms of win percentage in close games last season, their inconsistent shooting could easily bend those wins into losses this coming year.
The Orlando Magic's slow pace of play is a blessing and a curse. They don't make the most out of every offensive possession, they weren't even being in the top half in terms of field-goal percentage last year. With their athletic group of forwards, they should pick up the pace and try to get some easy transition buckets.
This can very well put them in very tough spots, especially in the playoffs. Even as the game slows down, if you're not hitting shots, the slow pace will not work in your favor. For context, the Spurs play at one of the slowest paces in the NBA as well, the difference is, they are the second-best shooting team in terms of field goal percentage. Slowing the game down works in their favor.
At the same time though, the Magic's stout defense and ability to have teams play at their pace could very easily be one of their strengths. Clifford's offense has a lot of off-ball movement involved, with a trio of plays that work for their team.
One option is where Aaron Gordon gets to have a clean jumper from the short corner or the consistent flashing of their bigs. This opens the foul line jump-shots for everyone or gives their roll-man an easy roll to the bucket. I enjoy watching them use the "Handback-Twist" which feeds a shooter like Terrence Ross, Gordon, or Evan Fournier from three-point land. Steve Clifford's offense shows a lot of screens, and consistent cuts to the basket, and strong use of their frontcourt to open up the offense for the guards.
Next: Season series prediction
Markelle Fultz #20 of the Orlando Magic drives to the basket against the San Antonio Spurs. (Photos by Logan Riely/NBAE via Getty Images) /
Season series prediction
I believe the Spurs take both games against the Magic this season. Orlando's slow pace of play will feed right into San Antonio's hands. With every possession counting, I believe Orlando's inability to hit shots consistently will lead to their demise against San Antonio.
I believe Orlando's inconsistent shooting outputs from three will haunt them, as they're going against the NBA's leader in three-point percentage last season. With shooting not being a strong suit, and the tough matchup of Jakob Poeltl and/or LaMarcus Aldridge defending their best player, Nikola Vucevic. These will be tough nights for the Magic.
Comparing starting lineups and bench lineups, I feel Orlando is very much outmatched. The Spurs come into this season will have a unique blend of athleticism, three-level-scoring, and a totality of a defense that was needed to be upgraded coming into this season.
However, Orlando does have the length and defense to keep up with the Spurs in the half-court, and if a combination of two of either Gordon, Ross, Fournier, or Vucevic get it rolling they could lock up San Antonio on one side while playing stretching the floor to their advantage on offense.
I don't see that happening though. Orlando, while having a group of solid defenders, will have trouble keeping up with the ball movement, and the arsenal of screens San Antonio uses frequently.
While the Magic did take a game against the Spurs last season, I feel the seven-point loss was proven to be a little out of the ordinary. In the rematch in mid-December, a 39-point victory for San Antonio, the Spurs proved they are the superior team.
Matchup to watch: Jonathan Isaac vs. DeMar DeRozan
More from Air Alamo
Isaac has proven to be a versatile defender who can shut down opponents, has one fatal flaw in his defensive game: his footwork. Against a player with some of the best footwork of his era, like DeMar DeRozan, your footwork must be at an elite level to keep up.
DeMar has proven to be explosive in bursts offensively whether it be in transition or the half-court. He's always calculated in the half-court and has a variety of different dribble moves to pair with a side of his lethal pump-fake.
DeMar's high IQ has defenders guessing as to where he goes next, and what he will do. With his passing ability and improved playmaking role, DeRozan's offensive game has expanded. His passing opens a lot in terms of the spacing of the offense and the ability to get open looks for this team. He affects every area of the offense.
If Orlando wants to win, they cannot let DeMar DeRozan get going. Jonathan Isaac will have the largest tasks of these nights, while he can play a decent game against DeRozan, you very well could see DeMar hit his season-high in points against Orlando.
It'll be a couple of good games for sure, but ultimately, I think the Spurs will get it done. I predict the San Antonio Spurs to sweep the season series.