San Antonio Spurs: Rudy Gay should play more small forward this year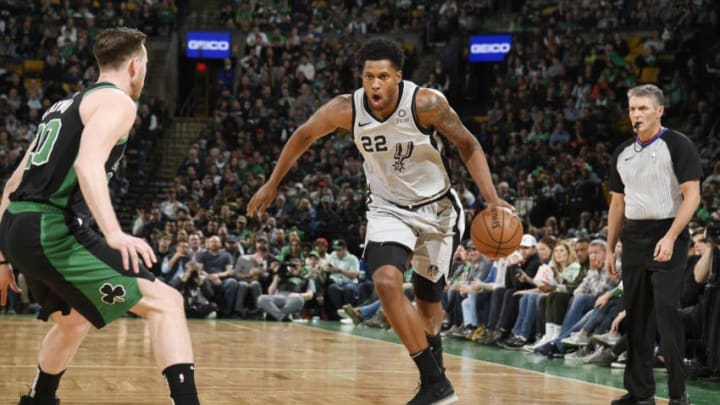 Rudy Gay (Photo by Brian Babineau/NBAE via Getty Images) /
In his first two years with the San Antonio Spurs, Rudy Gay shifted away from his career norm and played primarily power forward. Now in year three, it's time for Rudy to spend more of his minutes at the small forward position.
When the San Antonio Spurs first signed Rudy Gay back in the summer of 2017 I will admit, I was skeptical. It seemed like an interesting signing and one that the Spurs wouldn't have made in years past. A player who was more known for his affinity for mid-range jumpers rather than an appreciation for defense and corner three's was hardly the stereotypical Spur.
Now, after two years with San Antonio, Rudy has established himself as one of San Antonio's key players and a valuable stretch four. Gay has filled a niche for the Spurs that had long been empty. He has turned himself into a reliable three-point shooter and was the Spurs go-to forward option along with LaMarcus Aldridge.
In year three, however, it may be time for Rudy to spend more time at his original position of small forward. The addition of bulldog defender and three-point shooter, DeMarre Carroll, gives San Antonio head coach Gregg Popovich additional lineup possibilities. More than a few of those should feature Rudy at small forward.
In his time with the Spurs thus far Gay has only played 22.5 percent of his minutes at small forward. That's a sharp contrast to his career average of 74 percent.
The main idea behind playing Rudy more at small forward would be to unlock the defensive potential of lineups featuring both Gay and Carroll. In these lineups, the two players are essentially interchangeable. However, Carroll is the stronger defender and is, I believe, more capable of handling larger power forwards than Rudy.
More from Air Alamo
Playing Carroll at power forward would work to his strengths as well. Like Rudy, he spent most of his career playing the three. But again, like Rudy, he has shifted to predominantly power forward over the past two years, playing 74.5 percent of his minutes at the four.
In a lineup featuring Gay, Carroll, and Aldridge, the Spurs would have an interesting combination of size and three-point shooting. As mentioned earlier, Rudy has developed a very consistent three-point stroke. A career 35 percent shooter from deep, he set a new high mark last year by connecting on 40 percent of his attempts from behind the arc. Carrol is no slouch either, he is a career 36 thee-point shooter.
Combine that size and shooting at the forward positions with any pairing of San Antonio's stable of guards and you could have something very special.
Popovich is sure to be cooking up quite a few lineups that will create matchup problems. Deploying Rudy Gay at small forward could give San Antonio the edge they need to stay in playoff contention in the highly competitive Western Conference.
Starting lineups have yet to be solidified but you can be sure Rudy Gay will play a key role for the Spurs again this season. We will have to wait and see exactly what that role is.