San Antonio Spurs: Coping with Kawhi Leonard's greatness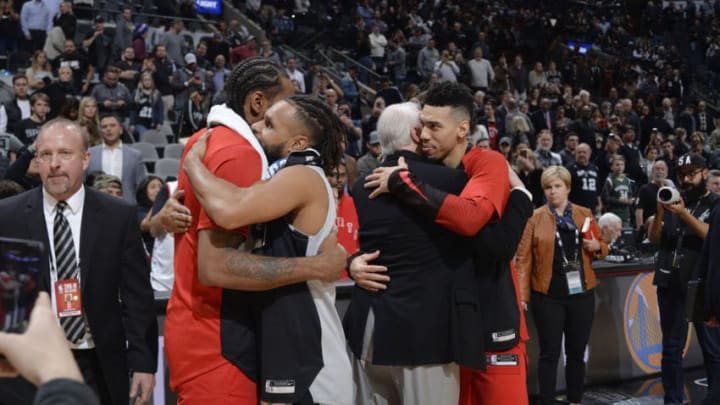 SAN ANTONIO, TX - JANUARY 3: Kawhi Leonard #2 of the Toronto Raptors Patty Mills #8 of the San Antonio Spurs Head Coach Gregg Popovich of the San Antonio Spurs and Danny Green #14 of the Toronto Raptors exchange hugs after the game on January 3, 2019 at the AT&T Center in San Antonio, Texas. NOTE TO USER: User expressly acknowledges and agrees that, by downloading and or using this photograph, user is consenting to the terms and conditions of the Getty Images License Agreement. Mandatory Copyright Notice: Copyright 2019 NBAE (Photos by Mark Sobhani/NBAE via Getty Images) /
Fans of the San Antonio Spurs always pictured Kawhi Leonard overthrowing the Golden State Warriors dynasty, just not as a Toronto Raptor.
Since 2011, San Antonio Spurs fans rallied around the best kept secret in the NBA – a shy, lengthy two-way athlete with an ever-growing skill set and winning demeanor. The Spurs fanbase believed in superstar Kawhi Leonard with all of their hearts, donning his jerseys and showing up to games with the sole purpose of watching him play winning basketball.
Leonard approaches the sport like no other. His quiet personality shined through more frequently than others outside of the fanbase had imagined, but he mostly kept to himself and his teammates in San Antonio. Things came to a head in the 2014 season, when Leonard thrust himself into the limelight of basketball greatness by winning Finals MVP while matched up against the game's greatest competitor in LeBron James.
Kawhi got better every single year, leading to a 2016-17 campaign that saw the Spurs finish with a 61-21 record for the second spot in the Western Conference. He led the Spurs past Memphis and (partially) past Houston in the second round before getting his chance at dethroning the surging Warriors.
Instead, Zaza Pachulia ripped that away from the fanbase that dedicated themselves to the franchise and Kawhi with all of their energy. For San Antonio-natives, the Spurs are the only major show in town besides a few minor league sports. With a simple extra step, leading to an ankle injury that subsequently led to a degenerative quad injury, Pachulia ended what these truly die-hard fans expected to be a championship contender.
After sitting out for all but nine games in the following season and finally getting himself traded away last Summer, Spurs fans patiently wait and watch as Leonard tears up the Eastern Conference Playoffs and leads the Raptors to their first Finals appearance in franchise history.
It's okay to be upset as a fan. For some, there's a desire to root for Kawhi and see him do well that's shrouded by a layer of salt that's been thrown on their fresh wounds. Social media will suggest that the Spurs lost the trade and screwed up by letting Kawhi go, but it was a matter that was mostly out of their control.
Leonard and his camp seemingly had an agenda that had nothing to do with the Spurs, but rather with changing his legacy and building a brand away from basketball. This left a core of devoted Spurs enthusiasts devoid of the future they saw brewing for an amazing city.
Trading away a player that the fans loved is difficult but watching him carry a new team to the NBA Finals reaches a whole new level. Who do you even root for in this scenario, the player who quit on your team or the team that put you in this position?
SPURS FANS! Who will you root for in the Finals? #NBAPlayoffs #GoSpursGo
— Air Alamo (@AirAlamo) May 26, 2019
More from Air Alamo
Every Spurs fan will deal with this in their own way, but the fact of the matter is that Spurs fans rally around good basketball and will probably watch some of these four-to-seven games despite the fact that it's difficult to take in.
Try to enjoy yourselves during these Finals, because the future is still bright in San Antonio too. Extraordinary young players are developing and learning from a core of Spurs that understand what is means to don those Silver and Black jerseys. Maybe this wasn't the year for San Antonio to regain its glory, but that may be coming sooner than you think.
And if not, well at least you've got the memory of five NBA Championships to hold on to. No trade request or Finals matchup can take that away from you.
Oh, and by the way, it's okay to be excited for Danny Green too. It was evident that he loved this organization and was put in an awkward position as a result of the DeMar DeRozan trade. Now he has a chance to win what many other players never get the chance at – a second ring.