San Antonio Spurs: Manu Ginobili's 3 best seasons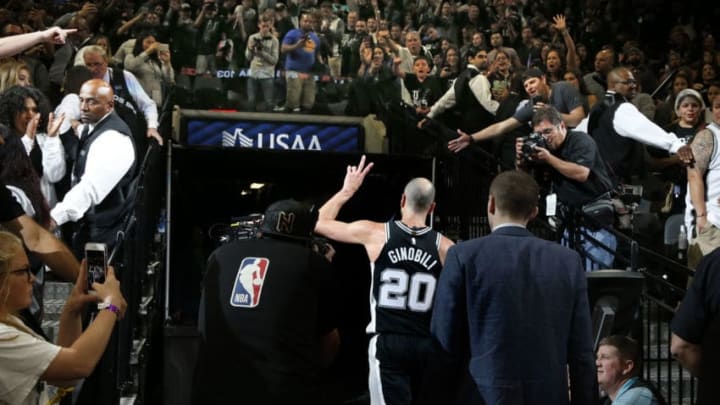 SAN ANTONIO,TX - APRIL 22 : Manu Ginobili #20 of the San Antonio Spurs leaves the court after a win against the Golden State Warriors in Game Four of Round One of the 2018 NBA Playoffs at AT&T Center on April 22 , 2018 in San Antonio, Texas. NOTE TO USER: User expressly acknowledges and agrees that , by downloading and or using this photograph, User is consenting to the terms and conditions of the Getty Images License Agreement. (Photo by Ronald Cortes/Getty Images) /
SAN ANTONIO,TX – APRIL 22 : Fans go wild after Manu Ginobili #20 of the San Antonio Spurs hit a three point shot late in fourth quarter against the Golden State Warriors in Game Four of Round One of the 2018 NBA Playoffs at AT&T Center on April 22 , 2018 in San Antonio, Texas. (Photo by Ronald Cortes/Getty Images) /
With Manu Ginobili's jersey retirement ceremony coming up on Thursday night, let's take a look back at his three best seasons with the San Antonio Spurs.
The San Antonio Spurs probably didn't know they were getting a future Hall of Famer when they selected Manu Ginobili with the 57th overall pick in the 1999 NBA Draft.
But thanks to a ton of hard work, buying in to San Antonio's unselfish culture, making sacrifices for the team, and transforming himself into one of the most dynamic players in the league, Manu built a reputation that will never be forgotten.
The Spurs are making sure that Ginobili's contributions to the franchise will be remembered forever as they plan to hang his jersey in the rafters of the AT&T Center on Thursday night.
Manu's jersey will join his teammate Tim Duncan's near the ceiling in San Antonio as well as many other Spurs who have received that honor.
Tony Parker's jersey will assuredly hang next to Ginobili and Duncan's when he decides to call it a career to complete the jersey retirement of the big three.
This jersey retirement ceremony allows us to look back at Manu's incredible career in more detail before he receives this honor on Thursday night.
Without further ado, let's dive in to Ginobili's three best seasons of his career with the San Antonio Spurs.
Next: 2004-'05
OAKLAND, CA – APRIL 24: Manu Ginobili #20 of the San Antonio Spurs in action against the Golden State Warriors during Game Five of Round One of the 2018 NBA Playoffs at ORACLE Arena on April 24, 2018 in Oakland, California. (Photo by Ezra Shaw/Getty Images) /
2004-'05
While Manu Ginobili came into the league as a 25-year-old rookie, it took him a couple of years to adjust to the NBA game and learn Gregg Popovich's system.
But he broke out in the '04-'05 season to make his first All-Star game while scoring 16 points per game, dishing 3.9 assists, and grabbing 4.4 rebounds per night in 29.6 minutes.
Manu was also getting it done on the defensive end swiping 1.6 steals per game.
Ginobili's efficiency matched his box score stats as he racked up a player efficiency rating of 22.3 while maintaining a 60.9% true shooting percentage, which was the third-highest mark of his career.
Manu took it up a notch in the postseason scoring a career-high 20.8 points per game with 5.8 rebounds, 4.2 assists, and 1.2 steals with an eye-popping 65.2% true shooting percentage as he helped lead the Spurs to their second championship in three seasons.
Ginobili was in a zone that most players can only dream of being in during that postseason, and it earned him his second of four championship rings.
Next: 2007-'08
SAN ANTONIO, TX – APRIL 19: Tony Parker #9 and Manu Ginobili #20 of the San Antonio Spurs before Game Three of the Western Conference Quarterfinals against the Golden State Warriors in the 2018 NBA Playoffs on April 19, 2018 at the AT&T Center in San Antonio, Texas. (Photos by Mark Sobhani/NBAE via Getty Images) /
2007-'08
The Spurs were taken down in the 2008 Western Conference Finals, but that season was one of the finest of Manu Ginobili's remarkable career.
Manu led the team in win shares for the first and only time of his career in '07-'08 while acheiving career-highs in points per game (19.5) and rebounds (4.8).
Ginobili also dished 4.5 assists per game with 1.5 steals, and his true shooting percentage of 61.2% was the best number of his career in which he played a full season.
Manu couldn't quite match his magical numbers of the 2005 postseason, but he still played well in 2008 scoring 17.8 points per game with 3.9 assists and 3.8 rebounds.
There really isn't any question that the '07-'08 regular season was Manu's best in a Spurs uniform.
Next: 2010-'11
LOS ANGELES, CA – APRIL 03: Tyrone Wallace #12 of the Los Angeles Clippers fouls Manu Ginobili #20 of the San Antonio Spurs as he drives to the basket in the first half of the game at Staples Center on April 3, 2018 in Los Angeles, California. (Photo by Jayne Kamin-Oncea/Getty Images) /
2010-'11
More from Air Alamo
It was hard to decide which season should take the third and final spot on this list, but Manu's second All-Star season of 2010-'11 is definitely worthy of a mention.
The Argentinian guard showed no signs of slowing down at age 33 as he scored 17.4 points per game with 3.7 rebounds, 1.5 steals, and a career-high 4.9 assists.
Ginobili was still able to remain efficient in his mid-30's with a PER of 21.7 and a true shooting percentage of 58.1%. Little did we know that Manu would continue to be a valuable piece of this organization into his 40's.
The 2011 playoffs were a rare disappointment for the Spurs as they bowed out in five games, but it wasn't Ginobili's fault as he scored 20.6 points per game in that series with 4.2 assists, 4 rebounds, and 2.6 steals, which was the best mark of the 2011 postseason.
Want your voice heard? Join the Air Alamo team!
It's extremely difficult to narrow down Manu's 16 seasons in San Antonio into his three best years because consistency is one aspect of Ginobili's game that made him so great.
This jersey retirement ceremony is well-deserved for one of the greatest Spurs that ever lived, and it's a great excuse to dive into the numbers of his storied career and watch Youtube highlights for hours on end.