San Antonio Spurs vs. Denver Nuggets: Game Preview & TV Info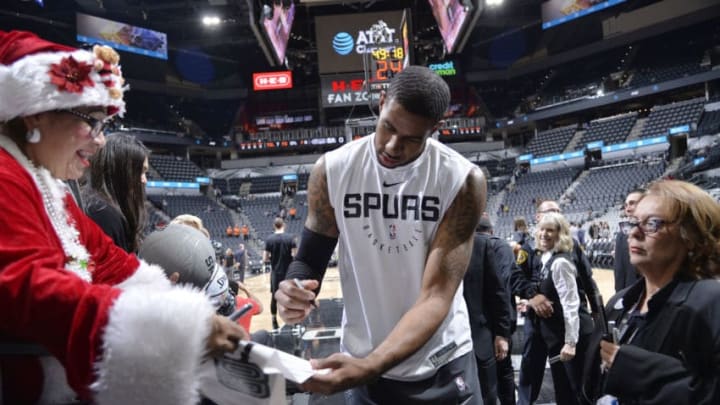 SAN ANTONIO, TX - DECEMBER 21: LaMarcus Aldridge #12 of the San Antonio Spurs signs an autograph for a fan prior to the game against the Minnesota Timberwolves on December 21, 2018 at the AT&T Center in San Antonio, Texas. NOTE TO USER: User expressly acknowledges and agrees that, by downloading and or using this photograph, user is consenting to the terms and conditions of the Getty Images License Agreement. Mandatory Copyright Notice: Copyright 2018 NBAE (Photos by Mark Sobhani/NBAE via Getty Images) /
Your San Antonio Spurs got a little rest for the holidays, but it's back to business against the Denver Nuggets at the AT&T Center on Wednesday night.
The Denver Nuggets hold the best record in the Western Conference and the San Antonio Spurs sit just outside of the playoff picture. Despite the wide margin in the standings, San Antonio should be able to give Denver all they can handle when they come to the Alamo City.
LaMarcus Aldridge has bounced back in a big way from his slow start and DeMar DeRozan continues to quietly put together an MVP resumé. The Spurs have leaned heavily on their All-Stars this season, so expect San Antonio to look to get these two going early and often.
Though the offense runs through LA and DeRozan, Rudy Gay has operated as an excellent third scoring option for the Spurs. The high-flying forward has averaged nearly 16 points a game in the month of December, with a shooting split of .597/.469/.900.
Gay is no longer the high volume low-efficiency shooter he used to be early on in his career. With that said, he's incredibly hot and cold on both ends of the floor and the Spurs will need his best effort to knock off the Nuggets.
Viewing details for the game are below:
Date: Wednesday, Dec. 26Time: 7:30 p.m. CSTLocation: San Antonio, TXVenue: AT&T CenterTV Info: FSSW-SA, ALTLive Stream: FuboTV
In regards to Derrick White and Bryn Forbes, they'll play a key part in giving San Antonio a fighting chance. The combo guards have little in common stylistically, but the combined threat of their playmaking and long-distance shooting will help keep Denver's defense honest and on their toes through the contest.
San Antonio's starters will get the ball rolling, but the bench will be integral to holding the pace. Led by the sharpshooting trio of Patty Mills, Marco Belinelli and Davis Bertans, the Spurs second unit has spaced the floor to perfection.
The Silver and Black will be hoping for more of the same from that group as well as some more strong play from Jakob Poeltl. Although the third-year big man doesn't stretch the floor quite like his teammates, his pure basketball skill allows him to contribute in ways that can't be expressed on the stat sheet.
He isn't flashy and I'm sure that sits well with head coach Gregg Popovich. Poeltl has become increasingly effective as the year has gone on and he's making a case to start with each passing game.
The Spurs have turned their season around this December, but a few bad games to end the month could put a damper on their whole operation. Denver didn't end up in first place by accident, they're an outstanding team with very few major flaws.
Although the casual NBA fan may not know Nikola Jokic, the Serbian sensation is a legitimate frontrunner for the 2018-2019 MVP. Coupled with rising star Jamal Murray, this duo has kept Denver surging through the season.
Nikola Jokic slings it over to Jamal Murray for one of his 10 first half ASTS!
Halftime in TOR:#MileHighBasketball 59#WeTheNorth 47 #NBA League Pass:https://t.co/L3VurkatG8 pic.twitter.com/EbmuBVQqPb
— NBA (@NBA) December 4, 2018
The Nuggets may not stand out in many statistical categories, but don't let that fool you into thinking they won't be a problem. Denver moves the ball as well as any team in the league and their team defense is absolutely stifling.
Fortunately for the Spurs, Denver's injury report is as long their arm. Will Barton, Gary Harris, Paul Millsap, Isaiah Thomas, Jarred Vanderbilt and Michael Porter Jr. are all unavailable for tonight's game.
As for San Antonio, Lonnie Walker IV is finally healthy and set to make his season debut. The highly touted rookie probably won't find major minutes in Pop's rotation right away, but it should be exciting to see what he brings to the table.
Lonnie Walker IV on whether he'll make his NBA debut tonight against the Nuggets: "It's all up to the coaches. I'm a rookie, so I'm just playing my part." #Spurs https://t.co/AF3HUiZUU9
— Tom Orsborn (@tom_orsborn) December 26, 2018
Pau Gasol remains out of commission with a stress fracture in his right foot. There's still no timetable for his return and Spurs fans shouldn't expect to see him anytime soon.
While Denver is one of the most talented teams in the association, they're still learning to win on the road. San Antonio has the pleasure of hosting the young Nuggets at home and they should pounce on any advantage they can find.
The AT&T Center audience has been loud and proud all year long and they should provide some major energy for the guys to feed off of.
The Spurs will come face to face with the Nuggets in Denver two days from now, so a win here would be ideal for San Antonio to build some momentum.