San Antonio Spurs vs. Houston Rockets Preseason Recap: Spurs lost more than the game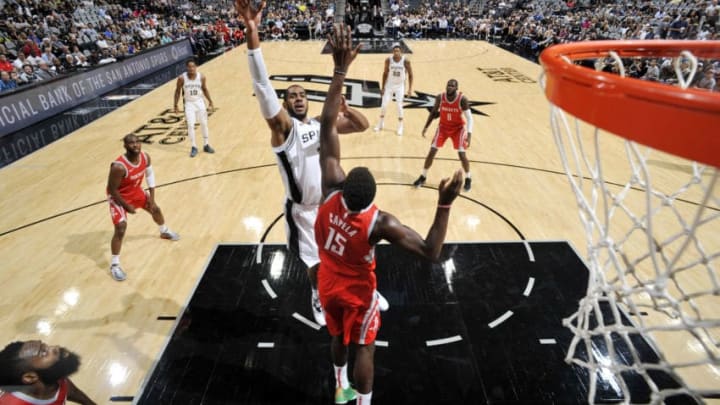 SAN ANTONIO, TX - OCTOBER 7: LaMarcus Aldridge #12 of the San Antonio Spurs shoots the ball against the Houston Rockets during a pre-season game on October 7, 2018 at the AT&T Center in San Antonio, Texas. NOTE TO USER: User expressly acknowledges and agrees that, by downloading and or using this photograph, user is consenting to the terms and conditions of the Getty Images License Agreement. Mandatory Copyright Notice: Copyright 2018 NBAE (Photos by Mark Sobhani/NBAE via Getty Images) /
The San Antonio Spurs lost to the Houston Rockets 108-93. However, it's not the final score that should have fans worried.
Everyone readied for the Sunday preseason rivalry matchup between the San Antonio Spurs and the Houston Rockets. All eyes continued being placed on third year guard Dejounte Murray as he came off an impressive showing against the Detroit Pistons by scoring 16 points, and collecting 11 rebounds.
Matters took a turn for the worse when Murray suffered an injury to his right knee during the second quarter of play. It initially appeared that he would be carted off the court, but he managed to walk off on his own, which is the best thing that happened throughout the entire game.
Dejounte might be the team's most important player as we quickly approach the regular season. Yes, DeMar DeRozan and LaMarcus Aldridge provide essential offensive firepower, but Murray has become the Silver and Black's defensive anchor and floor general, so this could be a deadly blow depending on how much time he ultimately misses. An MRI will occur on Monday in San Antonio to provide more clarity as to the seriousness of the injury.
DeMar DeRozan on Dejounte Murray's injury: "All you can do is hope for the best and hope it's not as bad as it looked."
— Jeff McDonald (@JMcDonald_SAEN) October 7, 2018
Not much went well for the Spurs during the game. DeRozan had his best preseason offensive showing, but he ended up with a team low -20 plus/minus. He contributed 22 points, 5 assists, 2 blocks, and 2 steals in 33 minutes. DeMar chimed in on Murray's injury by saying "All you can do is hope for the best and hope it's not as bad as it looked." One could almost utilize that quote for what transpired the rest of the game.
More from Air Alamo
Aldridge scored 10 points on 5-for-15 shooting, Rudy Gay had 13 points on an efficient 6-for-7, and Marco Belinelli provided 11 points off-the-bench.
Pau Gasol had a highly productive 14 minutes, in which he scored 8 points on 3-for-4 shooting and gathered 9 rebounds. In those 14 minutes, Gasol ended up with a +17 plus/minus. He didn't start for the second consecutive game, as Jakob Poeltl got the nod once again.
Poeltl also played 14 minutes, he finished with 2 points on 1-for-1 shooting, and did not grab any rebounds. Spurs head coach Gregg Popovich hasn't appeared set on who will be the starter during the regular season, and it's looking more like it will be matchup dependent.
The second half starting unit composed of Poeltl, Aldridge, Gay, DeRozan, and Derrick White did not click at all on either side of the floor. There were many defensive lapses, repeated turnovers on the offensive end, a clear packed-up paint leaving no room to operate, and James Harden dropping three-after-three. A Rockets 5-point halftime lead quickly ballooned to 15-points until Coach Popovich stopped the bleeding by making some lineup adjustments.
https://twitter.com/spurs/status/1049069351427559424
Aldridge began taking advantage of Carmelo Anthony in the low post late in the third period, and DeRozan could get anything he wanted against Harden. Look out for those matchups if the Rockets decide to play Melo extended minutes at the four during the regular season as LaMarcus could have a field day against him. P.J. Tucker won't provide much resistance against LA either, so in essence he could turn into a real nightmare for the Rockets.
In less than six minutes, the Rockets' 15-point lead turned into a 4-point deficit in the opening minutes of the fourth quarter with a lineup mainly including Gasol, Aldridge, Belinelli, DeRozan, and Patty Mills (although it morphed into Gasol, Davis Bertans, Belinelli, Bryn Forbes, and Mills during the middle of the run).
https://twitter.com/spurs/status/1049054601402626049
The team subbed in the usual 4th quarter reserves and the Rockets brought back their main players – that became the difference in the final period. Chris Paul nearly triple-doubled, finishing the game with 11 points, 9 assists, and 8 rebounds for Houston. Harden also had himself a game concluding with 21 points, 9 assists (against 7 turnovers), and 5 rebounds.
The Spurs struggled with ball movement throughout the game. They had only 16 assists against 12 turnovers during the matchup. Losing Murray must've thrown a wrench in the offensive scheme. Luckily this occurred during a preseason game, leaving plenty to clean-up before the start of the regular season.
Quick @TheAthleticNBA Popovich reaction…nothing new on Dejounte's injury and that pretty much it… pic.twitter.com/kEEqkMXDNC
— Jabari Young (@JabariJYoung) October 7, 2018
We all hope Murray can return as quickly as possible, but we must brace ourselves for the unfortunate potential that he may lose significant time from the court. Coach Pop may tag White as the new starting point guard as he hasn't been keen on changing Mills' role in the past.
If that's the case, this would be White's perfect opportunity to show how valuable he can be to this roster. Having said that, we really need Murray back healthy for a huge portion of the season as he provides many different services that most of the team currently lacks.
Next Up: San Antonio Spurs at Atlanta Hawks, Wednesday 10 Oct.