San Antonio Spurs: Schedule for first round of 2018 NBA playoffs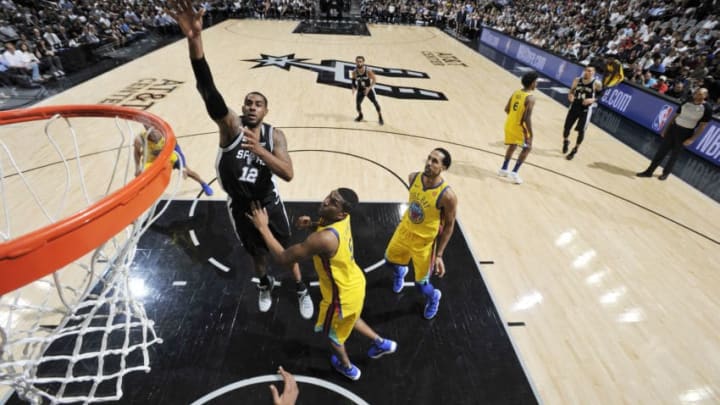 SAN ANTONIO, TX - MARCH 19: LaMarcus Aldridge #12 of the San Antonio Spurs shoots the ball against the Golden State Warriors on March 19, 2018 at the AT&T Center in San Antonio, Texas. NOTE TO USER: User expressly acknowledges and agrees that, by downloading and or using this photograph, user is consenting to the terms and conditions of the Getty Images License Agreement. Mandatory Copyright Notice: Copyright 2018 NBAE (Photos by Mark Sobhani/NBAE via Getty Images) /
The full playoff schedule was announced for the San Antonio Spurs in Round 1.
With the events of the 2017-18 season's final day, the San Antonio Spurs were matched up with the Golden State Warriors for Round 1 of the NBA playoffs. The Spurs finished as the No. 2 seed in the Western Conference, so they will play the No. 2 Warriors, who own homecourt advantage for this series.
The NBA playoffs start on Saturday, April 14, but will the Silver and Black also start their postseason campaign that day? Let's look at the full seven-game schedule for their matchup against Golden State, according to Spurs.com:
Game 1 (Away): Saturday, April 14 at 3:00 p.m. ET on ABC
Game 2 (Away): Monday, April 16 at 10:30 p.m. ET on TNT and FSSW
Game 3 (Home): Thursday, April 19 at 9:30 p.m. ET on TNT and FSSW
Game 4 (Home): Sunday, April 22 at 3:30 p.m. ET on ABC
Game 5 (Away): Tuesday, April 24 at TBD on TBD (if necessary)
Game 6 (Home): Thursday, April 26 at TBD on TBD (if necessary)
Game 7 (Away): Saturday, April 28 at TBD on TBD (if necessary)
The 1️⃣st round is set!
Each @FOXSportsSW ​broadcast will carry a one hour Spurs Live pregame show and a half hour Spurs Live post game show.#GoSpursGo pic.twitter.com/EGKow5gbJS
— San Antonio Spurs (@spurs) April 12, 2018
Four games will be at Golden State and the other three in San Antonio. Of course, that's if the series goes seven games. It can go a minimum of four, pending the Spurs or Warriors sweep.
This will be a rematch of the 2017 Western Conference Finals, when Zaza Pachulia infamously closed out on Kawhi Leonard, causing an ankle injury and him to miss the rest of the series. It happened in Game 1, when the Spurs were ahead by over 20 points. They lost the lead, when Leonard left, and were swept by the group of Kevin Durant, Stephen Curry, Klay Thompson and Draymond Green.
Next: Top 25 players in Spurs history
This time around, it does not appear that Leonard plays, either. However, it was also the case for all but nine games in the 2017-18 season. That may mean an uphill battle, even behind LaMarcus Aldridge's spectacular play, to move to Round 2.