San Antonio Spurs: Stephen Jackson rips treatment of Kawhi Leonard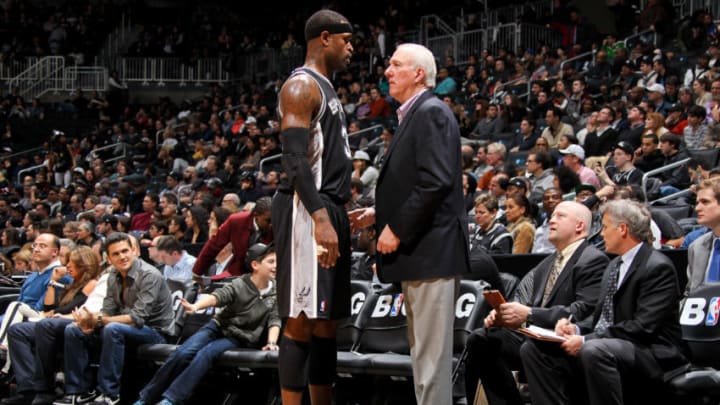 BROOKLYN, NY - FEBRUARY 10: Head Coach Gregg Popovich of the San Antonio Spurs instructs Stephen Jackson /
As the San Antonio Spurs remain without Kawhi Leonard, Stephen Jackson ripped the organization's treatment of its star player.
As noted, for all but nine games this season, the San Antonio Spurs have played without Kawhi Leonard. It's as the team reaches Game 75, with seven remaining afterward and the playoffs to follow. Each game that passes means one fewer opportunity for the Spurs to play with their superstar and a narrower window to get him on-court activity before the postseason — if San Antonio makes it.
Spurs players spoke out about the Leonard rumors in the media. Even David Robinson chimed in on the situation. No one ripped the organization, however, until Monday.
Stephen Jackson, who had two stints in the Alamo City, went on The Herd with Colin Cowherd (h/t The Big Lead), to discuss the Leonard saga and ripped the Spurs organization's handling of it. He believed the team signed off on Tony Parker's quadriceps injury contrast and that those comments came from head coach Gregg Popovich, making the former a "messenger."
"I lost a lot of respect for Tony… They don't just say things without talking to Pop."@DaTrillStak5 calls out the Spurs for how they're dealing with Kawhi Leonard pic.twitter.com/NVaPaVXLCw
— Herd w/Colin Cowherd (@TheHerd) March 26, 2018
More from Spurs News
These are interesting claims from Jackson, to say the least. If everything he told The Herd remains the case in San Antonio, then it places this situation at a crossroads. It's the Spurs veterans and Popovich vs. Leonard, something no one could have predicted when this quad injury became public knowledge in September.
If there's any organizational battle, and Leonard does not return this season, then the offseason becomes a playground for everything to unfold. It's the opportunity to make a roster change, pending the San Diego State product wants out or the management wants to trade him — an unprecedented move in franchise history. However, with each comment and rumor, are the odds of this increasing by the day?
Next: Top 25 players in Spurs history
This dilemma continues to be one of the NBA's most bizarre stories of the season and does not seem on its way to a conclusion anytime soon.