Spurs vs. Magic recap, reactions: A much-needed victory at home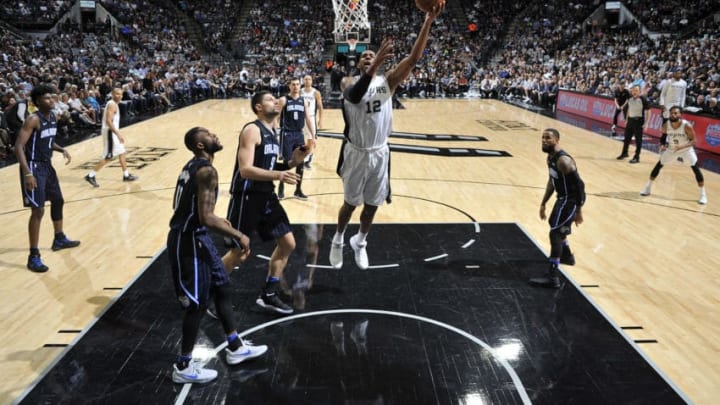 SAN ANTONIO, TX - MARCH 13: LaMarcus Aldridge #12 of the San Antonio Spurs drives to the basket during the game against the Orlando Magic on March 13, 2018 at the AT&T Center in San Antonio, Texas. NOTE TO USER: User expressly acknowledges and agrees that, by downloading and or using this photograph, user is consenting to the terms and conditions of the Getty Images License Agreement. Mandatory Copyright Notice: Copyright 2018 NBAE (Photos by Mark Sobhani/NBAE via Getty Images) /
The San Antonio Spurs walked into a must-win situation and snapped a three-game losing streak.
Panic mode set in after the San Antonio Spurs dropped three consecutive road games, along with a poor string of performances since the All-Star break. Monday's loss dropped them to No. 10 in the Western Conference, but barely out of the mix.
Well, if Tuesday's game was any indication, the Spurs looked just all right — so much that they torched the Orlando Magic for over 100 points in a blowout victory, compared to Monday's lopsided defeat.
Our 25 point lead is the largest halftime lead we've had at home this season.
Check out some of the highlights from the 1st half #GoSpursGo pic.twitter.com/dzQh5xBlsb
— San Antonio Spurs (@spurs) March 14, 2018
The game stayed close in the first quarter, with just a six-point margin. That quickly changed in the second and third quarters, as the Spurs blew the Magic out by double-digits in both. LaMarcus Aldridge led the way with 16 points in these quarters combined, and finished with 24 for the game. It was his first one back since missing time with right knee soreness, the same ailment that put him out before the All-Star break.
Kyle with his 4️⃣th assist to LaMarcus #GoSpursGo pic.twitter.com/9X51dlYHZc
— San Antonio Spurs (@spurs) March 14, 2018
Behind Aldridge, was a mostly balanced scoring attack. Five players contributed in double figures: Patty Mills (13), Dejounte Murray (11), Danny Green (11), Pau Gasol (11) and Tony Parker (10).
6️⃣ Spurs have scored in double figures in the contest:
– LaMarcus Aldridge (24)– Patty Mills (13)– Danny Green (11)– Dejounte Murray (11)– Pau Gasol (11)– Tony Parker (10) pic.twitter.com/c171iFtzc0
— San Antonio Spurs (@spurs) March 14, 2018
After coming off the bench since a return from food poisoning, Green moved back to the starting lineup. However, Mills remained and Pau Gasol shifted out. This left the Spurs a super-small lineup, with Aldridge, Green, Mills, Murray and Kyle Anderson.
What also helped? Defense, which contributed to Orlando's poor performance from the field. It shot just 34.6 percent and 30.4 from 3-point range, including just 3-for-13 from former Spur Jonathan Simmons. He and Nikola Vucevic were their leading scorers at just 10 points. That was while San Antonio hit 47.6 percent of their shots and 47.4 from behind the arc.
Will this game solve everything? Probably not. It was against one of the Eastern Conference's worst teams, and maybe the second-easiest game remaining, behind the matchup vs. the Sacramento Kings in April. The Golden State Warriors, Milwaukee Bucks, Utah Jazz and Washington Wizards are among the teams in the schedule's rear-view mirror, so the difficulty level will soar high, again, as the Spurs try to survive.
Regarding the standings, the Silver and Black will only move up if the Jazz and Denver Nuggets lose Tuesday night. As of this writing, both of their respective games remain in progress.
A win to start this home stand #GoSpursGo pic.twitter.com/dpokhYNJbf
— San Antonio Spurs (@spurs) March 14, 2018
Next: Top 25 players in SAS history
San Antonio will return Thursday, Mar. 15 vs. the New Orleans Pelicans at 8:00 p.m. ET.