Spurs vs. Lakers recap, reactions: Fourth-quarter meltdown dooms Spurs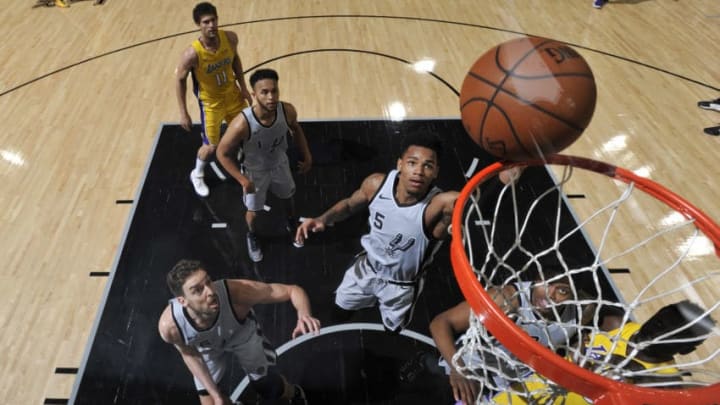 SAN ANTONIO, TX - MARCH 3: Dejounte Murray #5 of the San Antonio Spurs handles the ball against the Los Angeles Lakers on March 3, 2018 at the AT&T Center in San Antonio, Texas. NOTE TO USER: User expressly acknowledges and agrees that, by downloading and or using this photograph, user is consenting to the terms and conditions of the Getty Images License Agreement. Mandatory Copyright Notice: Copyright 2018 NBAE (Photos by Mark Sobhani/NBAE via Getty Images) /
After losing 5 of their last 6, the Spurs weren't able to put it together for the full 48 minutes in the 116-112 loss.
Ordinarily, a matchup with the 27-34 Lakers is one you'd pencil in as a victory every time. With Kawhi Leonard still rehabbing and the recent loss of LaMarcus Aldridge and the Lakers riding a hot streak, this game was anything but an easy win. The Lakers have fallen far from the Kobe Bryant glory days and played through some bleak seasons of late. In spite of their record, they appear to be on the upswing with a roster full of young talent. Despite putting on a solid team performance until the fourth quarter, a complete meltdown in the final period cost the Spurs the game.
A strong team performance with a solid showing by Rudy Gay, Patty Mills and Manu Ginobili gave the Spurs a 30-23 lead. Isaiah Thomas scored 9 in the second quarter to keep the Spurs from extending their lead, and the Spurs took a 60-53 lead into halftime. The Silver and Black continued to score at will in the third, going on a 9-2 run to extend the lead to 17. Los Angeles responded to cut it back to 11 by the end of the third quarter. In the fourth quarter, the Spurs inability to score and several key three-pointers by Lonzo Ball sparked a 10-0  to put Los Angeles up by three with 42 seconds remaining.
San Antonio turned it over on the following possession and Julius Randle threw in a layup to extend the lead to five. Rudy Gay was able to hit a three-pointer with six seconds remaining the bring the Spurs back within two, but the Spurs were forced to foul Isaiah Thomas while going for a steal on the inbound, and Thomas made both free throws to seal the victory for the Lakers.
Pau Gasol notched a double-double with 19 points and 10 rebounds in the loss. Gay added 15 points and 8 rebounds, and Mills scored 14 but made only one of five three-point attempts. Julius Randle scored 25 for the Lakers, and ex-Cavalier Isaiah Thomas scored 21. Kentavius Caldwell-Pope and Lonzo Ball added 18 each. The Spurs shot a dismal 7 for 30 from beyond the arc in the loss.
Next: Top 25 players in SAS history
The Spurs have now lost 6 of their last 7, and their playoff chances are in serious jeopardy. They will try to bounce back Monday against the Memphis Grizzlies. Gametime is 7:30 CST.