San Antonio Spurs release City Edition jersey; what do the fans think?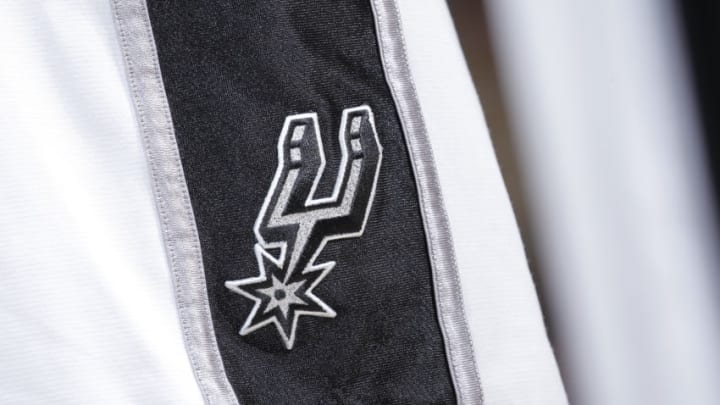 (Photo by Rocky Widner/NBAE via Getty Images) /
The San Antonio Spurs released its Nike City Edition jersey. What do the fans think of this fourth uniform?
Before the 2017-18 NBA season, all 30 teams received most of their new Nike jerseys, as part of the company's new uniform partnership with the Association. This included the San Antonio Spurs' Icon and Association jerseys, which have been on display in the first two-and-a-half months of the season.
On Wednesday, Nike and the Spurs revealed the final jersey of the quartet. It's the Nike City Edition, which paid tribute to San Antonio's military history. The camo design fills out the uniform, with the spur on the front and an off-centered player number that's adjacent.
The shorts have an identical design, so it's a full piece of military appreciation on the team's uniform. It can be seen below:
We are proud to call Military City, USA our home.
Our new #NIKExNBA uniform honors the service men and women of the U.S. Armed Forces, many who have also called San Antonio home. pic.twitter.com/KzgZ8DU5eB
— San Antonio Spurs (@spurs) December 27, 2017
Fan reactions poured in on social media, with overwhelming criticism for the work Nike did on the City Edition. Some fans didn't hate the jersey, but everyone called for a specific version:
we already have a camo one cmon man
— Matt Madrid (@mattmadrid81) December 27, 2017
WHAT ARE THESE WE WANTED A FIESTA UNIFORM pic.twitter.com/4gRrfHPWw9
— Bryan Moss (@itsbryanmoss) December 27, 2017
Agreed. I also really wanted the fiesta jerseys.
— GO SPURS GO (@TedTimmy) December 27, 2017
Please give us a jersey with "San Antonio" written across the chest!
— Joshua Avelar (@Joshua_Avelar) December 27, 2017
MAN I WANTED SOME FIESTA COLOURS pic.twitter.com/qtCyODRJnf
— rrrr (@ry4nmonsanto) December 27, 2017
Weak we need these instead pic.twitter.com/2AbNb56058
— ck (@ChrisLightOne) December 27, 2017
WE WANT FIESTA JERSEYS pic.twitter.com/GgePEyfeBh
— Nick (@NotNickColvin) December 27, 2017
https://twitter.com/ThegodPreston/status/946072817010962434
@JV1267 @b_hernz Not bad but where are the Fiesta Colors? Lol.
— Harley Trevino (@harlstee) December 27, 2017
Fiesta colors would of represented all of SA.
— andy rodriguez (@ando_0809) December 27, 2017
Everyone desired a Fiesta jersey. Of course, with all four designs revealed, there won't be this multi-colored version that the fans wanted, yet. When that will happen, if ever, remains unknown.
A Fiesta jersey had the potential to be interesting, given the fans' wishes for this. It could have created an influx of sales while appeasing the public. This can't be ruled out for the military jersey, however, once it's available and fans get a better look at it, rather than a photo tweet.
Next: Top 25 players in Spurs history
Either way, it's a new look that will debut in Spurs games soon. Kawhi Leonard will dunk in one of these, while LaMarcus Aldridge hits a fadeaway midrange shot in his No. 12 uniform. Maybe it becomes a good luck charm that brings the fans around, or, of course, if the design grows on everyone.