Spurs keep Nets at arm's length, 109-97: Recap, highlights and more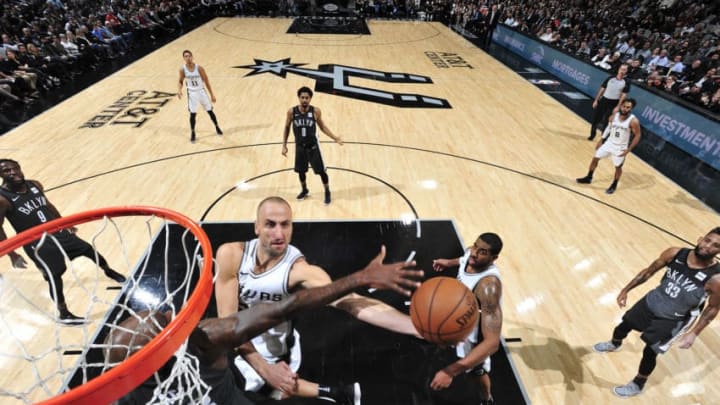 SAN ANTONIO, TX - DECEMBER 26: Manu Ginobili #20 of the San Antonio Spurs handles the ball against the Brooklyn Nets on December 26, 2017 at the AT&T Center in San Antonio, Texas. NOTE TO USER: User expressly acknowledges and agrees that, by downloading and or using this photograph, user is consenting to the terms and conditions of the Getty Images License Agreement. Mandatory Copyright Notice: Copyright 2017 NBAE (Photos by Mark Sobhani/NBAE via Getty Images) /
The San Antonio Spurs returned from the Christmas break to face the Brooklyn Nets.
On Tuesday night, the San Antonio Spurs returned home to face the Brooklyn Nets. Eyeing a two-game win streak, the Silver and Black had everyone healthy and attempted to hold down the No. 3 spot in the Western Conference. Would they do it?
It was a slow-moving first quarter, as both teams struggled to knock down shots, leading to an uneventful 12 minutes. However, one of the developing stories, Kawhi Leonard, had a solid start, while adding to it in the second quarter, totaling 14 points in the first half. Otherwise, the game was kept in an arm's reach for most of the opening 24 minutes.
During that time, the Nets heated up from behind the 3-point line, as they entered the game shooting the third most from behind the arc while landing 28th in percentage. They shot just above 33 percent in this game.
The second half was a different ball game. It was all San Antonio, who broke out in the middle of the third and overwhelmed Brooklyn. Especially in the frontcourt, where LaMarcus Aldridge did his work, with 20 points and 9 rebounds.
Getting back to Leonard. Tuesday was his best performance of the season, by far. He played a season-high 26 minutes, scoring 21 points on 8-for-17 shooting. There weren't issues with him and Aldridge playing together, and should mean an intriguing ride as the Klaw settles into heavier minutes.
Danny Green had just 4 points in his return from injury. However, he made the most of it, sending Nets center Jarrett Allen back to Texas, with this dunk:
https://twitter.com/spurs/status/945839859293241344
Any quality game from Manu Ginobili feels special. He looked sharper than ever at home, with 11 points on 4-for-7 shooting, featuring dazzling plays:
MANU DUNK!!
( Maun Ginobili #NBAVOTE ) pic.twitter.com/ADyDQzsbxj
— San Antonio Spurs (@spurs) December 27, 2017
The difference-maker was the free throw attempts. It was a 23-7 differential, with the Spurs owning this statistical matchup. Aldridge hit the line seven times.
This game started slow, but was led by the superior team in San Antonio. Quality nights from multiple players, Leonard's satisfying performance and 51.3 percent shooting from the field made this a solid night of Spurs basketball, as 2017 winds down.
Next: Top 25 players in Spurs history
The Silver and Black return to the court on Thursday, Dec. 28 vs. the New York Knicks. Game time is at 8:30 p.m. ET.