San Antonio Spurs: So far, so good through first quarter of the season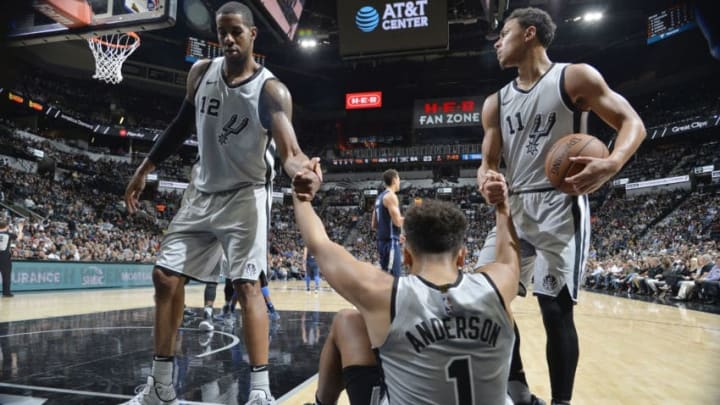 SAN ANTONIO, TX - NOVEMBER 27: Kyle Anderson #1 of the San Antonio Spurs is helped to his feet by his team as they play against the Dallas Mavericks on November 27, 2017 at the AT&T Center in San Antonio, Texas. NOTE TO USER: User expressly acknowledges and agrees that, by downloading and or using this photograph, user is consenting to the terms and conditions of the Getty Images License Agreement. Mandatory Copyright Notice: Copyright 2017 NBAE (Photos by Mark Sobhani/NBAE via Getty Images) /
Through the first quarter of the season, everything looks good for the San Antonio Spurs.
We're a quarter of the way through the season already and it sure has been an exciting one. The Celtics have emerged as the team to beat in the East, followed by the rising Cavaliers and Detroit Pistons. Meanwhile, in the West, injuries have taken their toll on a number of playoff contenders. While other stories have dominated the headlines the Spurs have remained under the radar, as they usually do. Through one-quarter of the season, they are 3 games out of first place and on pace to win 50+ games for the 20th straight season. Let's take a look at three factors that have helped the San Antonio Spurs maintain their position as one of the top teams in the West so far.
LaMarcus Aldridge
LaMarcus Aldridge's resurgent season is one of the biggest contributing factors to the Spurs early success. After signing a 3-year/$72.3 million dollar extension this summer Aldridge has been the player the Spurs needed him to be in Kawhi Leonard's absence. He's carried the load offensively, scoring 20+ in fifteen out of twenty-one so far. This consistency has contributed to his average of 23.1, the third highest of his career and good for 13th in the NBA.
More from Air Alamo
He's also had seven 20 pts-10 reb games after only recording three such games all of last season. As valuable as his offensive contributions have been, his leadership on and off the court have been equally important to the Spurs success. Gregg Popovich has taken notice of the leadership and consistency that Aldridge has provided. "He's been an All-Star. The defensive end, the offensive end, being a leader, everything combined", said Popovich. With the Spurs counting on contributions from their young players to carry them through Leonard's absence, this sort of locker room presence is great to see out of the 12-year veteran.
https://www.instagram.com/p/BcG8UMGFhsd/?taken-by=spurs
Reports came out over the summer alleging that Aldridge was unhappy in the Alamo City, that he wanted to move on. This is clearly no longer the case. Aldridge has been as productive as he has ever been, he has fully embraced the leadership role that the Spurs need him in, and the results speak for themselves. Expect his production to decline a bit when Kawhi eventually returns, whenever that may be, but until then look for Aldridge to continue to be the engine that keeps the Spurs machine running.
Injuries: The best attribute is availability
Injuries have taken an absolutely brutal toll on the Western conference thus far. Really quickly let's cover the players who have gone down so far: Blake Griffen, Paul Millsap, Rudy Gobert, Danilo Gallinari, Patrick Beverly, Milos Teodosic, and Mike Conely. You hate to see any player miss time due to injury but these are all either All-Stars or key contributors on playoff teams.The Clippers went from playoff contenders to considering a rebuild in less than two months. While other teams have been bitten by the injury bug the Spurs have remained healthy. There have been the typical bumps and bruises that come with each NBA season but nothing too significant. Tony Parker has come back from his injury and has looked completely healthy in his return.
https://twitter.com/NBA/status/935325352016179200
Easily the biggest issue presently facing the Spurs is the health of Kawhi Leonard. It's been a mixed bag of reports coming out of San Antonio regarding Leonards recovery. Before his return to the starting lineup, Tony Parker predicted that Kawhi could be back in a couple of weeks.  Popovich was quick to dismiss these predictions, per ESPN's Michael. C. Wright.
"I'm probably not going to consult Tony on when Kawhi is going to come back," Popovich said. "It's just me. Maybe I'm being shortsighted, but I'm probably not gonna go there."
The Spurs head coach has been fond of responding to questions about Kawhi's return with the tried and true answer within a non-answer response, "sooner rather than later." We probably won't know when Kawhi is going to be back until we see his name in the starting lineup. When that finally happens though, look out.
Young players rising to the occasion
It was no secret that the Spurs were going to have to count on young players to step up and fill the holes left by the injuries to Parker and Leonard at the beginning of the season. Two players who have really stood out so far have been Dejounte Murray and Kyle Anderson. Let's start with Murray. The 2nd year guard from the University of Washington was starting at the beginning of the season and was serviceable in that role. He was replaced in the starting lineup by Patty Mills on November 2 but remains a key part of the Spurs and a valuable contributor off the bench.
? @DejounteMurray https://t.co/nm9y19G2Et
— San Antonio Spurs (@spurs) November 8, 2017
Murray has improved drastically from his rookie season. After scoring in double digits only four times all of last season Murray has done so eight times this season, he has more than doubled his playing time, shown increases in rebounds and assists, and has shown a leadership ability that bodes well for the Spurs.
"He's a very motivated person, he takes everything personal in a good way."@aldridge_12 talks @DejounteMurray: pic.twitter.com/DbQgsJ9Vx3
— San Antonio Spurs (@spurs) November 13, 2017
Kyle Anderson has stepped up as well. The most versatile player on the Spurs, Anderson has been able to do a little bit of everything this year. His ability as a point forward has allowed the Spurs to put him in a variety of lineups. Anderson has taken the minutes opened up by Leonard's injury and ran with them. Early in his career, Slo-Mo seemed hesitant to shoot, opting to make the right pass and keep the ball moving more often than not. That hasn't been the case this year. Anderson is going after his own shot more and it's been working for him. He's not going to blow past his man but he's shown a solid handle and a crafty way of finishing, it seems like he always is able to find just the right angle to get the shot that he needs.
? @KyleAnderson5 https://t.co/jdmXE6f7xE
— San Antonio Spurs (@spurs) November 26, 2017
Anderson should also be recognized for his passing ability. While at UCLA he was often given the responsibility of bringing the ball up the floor and initiating the offense. This isn't something he's been asked to do as much in his time with the Spurs but has become a more common occurrence this year. Murray and Mills could better be described as scoring guards, Anderson is the most pass inclined of the bunch and has consistently shown his skill as a point forward.
that assist tho pic.twitter.com/33OaiLXVNO
— San Antonio Spurs (@spurs) November 26, 2017
Whenever Kawhi does return Anderson's minutes will undoubtedly see a decrease but he's proven that he belongs on the floor more. He could find a spot as the de facto point guard in a super-sized lineup featuring himself, Rudy Gay, Danny Green, Leonard, and Aldridge. That lineup would have the versatility, shooting, and defensive ability to stick with many of the best lineups in the West. Their size would help create mismatches against smaller teams such as Portland and allow them to compete for rebounds with bigger teams like New Orleans.
Must Read: 25 greatest players in Spurs history
The Spurs are just doing Spurs things. They're flying under the radar, happy to let other teams get the attention during the regular season. This team is missing arguably the best player in the NBA and yet they're still only three games out of first place in the West. With Aldridge reasserting himself as an All-Star and young players like Anderson and Murray stepping up the Spurs should have no problem holding their position until Kawhi returns.